4 Easy Tips To Follow For Home Appliances Maintenance
PUBLISHED: June 5, 2020
•
5 MINS READ
Your home appliance such as your refrigerator, washing machine, microwave, and dishwashers, are essential commodities for all members of your family. It is vital that they function smoothly so that they can be used to their maximum efficiency. The only way to receive supreme productivity from your home appliance is maintenance. 
Appliance maintenance requires effort from the homeowner's end, but it is important because these devices are one time purchases and cannot be bought too often. This post will guide you towards 4 easy ways of maintaining your home appliances.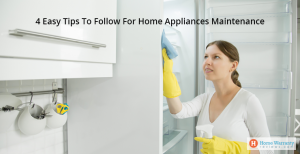 Easy Home Appliances Maintenance Tips Every Homeowner Must Follow
1.Clean Your Home Appliance Regularly
It is a necessity that you clean your appliances regularly so that they last longer. Dust and other waste particles are a major enemy, and if not removed properly, can really cause havoc to your devices. Here are some important points you can follow to easily clean your major appliances:
Empty your refrigerator, of all its contents and wipe the insides of the device with a wet cloth, make sure to remove all the dust and unnecessary items properly. Once completed you can add all the necessary items back inside. The cleaning of dust inside your refrigerator can be done under thirty minutes.

Remove all the existing clothes from your machine, and check for any unnecessary components stuck in the machine. Extract them if needed, and use liquid chlorine bleach, or cleaning vinegar with hot water in a normal washing cycle. This will clean the insides of your machine, and also leave a hint of pleasant smell behind. 

Cleaning your microwave is extremely easy. All you need to do is add a cup of water and lemon or orange juice, into a microwave-safe bowl, and place it inside the device. Turn the microwave on for 5 minutes, once you notice the window steaming up, close the microwave, and let it cool down for a couple of minutes. Once this is done, remove the bowl and wipe the insides of your microwave clean. 

 Dishwashers are very important appliances that must be cleaned regularly. Make sure to remove any food particles that are left behind after a cycle is complete. You must also rinse the filter of the machine every week, and wipe the outside of your machine for optimal performance. 
2. Always Use The Correct Equipment
While cleaning your appliances it is important that you use the correct equipment needed, so that you don't damage yourself or the device. Always wear gloves, and take all the necessary precautions needed to stay safe such as keeping the cords of the device away from water.
It is also important to note that you use the correct detergents while your appliances are in use. Using the wrong solution can really damage the insides of your devices, and can cause you thousands of dollars to repair. It is crucial that while your appliances are in use, you use them with care, as this can prolong their life, and avoid unnecessary damage.    
3. Reminders
Every appliance in your home is scheduled for maintenance by a professional, at some point in time. If your appliances are under the warranty period some companies provide free inspections every six months. Make sure to note down the dates of when your appliance needs to be serviced. When the trained technicians check your devices and ask him/her if any parts needed to be replaced, or if any repairs are needed, The technician will suggest the further course of action that you must follow. 
If you would like to protect your devices after they run out of the warranty period home warranty plans are your best bet. They protect your devices due to damage caused by normal wear and tear, and either repair or replace them. The best part is warranties are they not at all expensive. The main benefit of buying a home warranty package is that they protect a range of appliances under a single plan, and also can be transferred if you are selling your home.
4. Read The Manual 
When you buy a home appliances, they usually come with a manual that contains important information about the functioning of your devices. Always read the manual before attempting to clean or service your device, as it contains vital facts of the different intricacies relating to your appliances. At times, while cleaning your devices you may need to unscrew a particular part, read the manual on how to go about it. 
This will ensure that you follow the correct process and nothing goes wrong. If you don't have a manual or have lost it, you can reach out to the company's customer service team on how to remove a certain part or anything else related to the smooth functioning of your device.
Conclusion
Always maintain your devices with care, and never cause any damage to your appliances while they are in use. At the end of the day, you have bought these devices to help make your life easier. Proper maintenance will definitely prolong the life of these much-needed home appliances.