7 Questions To Ask Before Replacing Home Appliances
PUBLISHED: June 7, 2020
•
5 MINS READ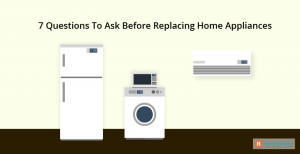 Home appliances and systems are a huge investment but also provide us with benefits and ease of life. On the other hand, there is a huge expenditure involved when they get damaged. So, when you are trying to save money, you will be in a dilemma over repair or replacement, since they can be equally expensive. Here are 7 questions to ask before replacing home appliances. 
1. How much would be the cost of repairs?
Expenses of repairs and replacements may be equally huge, and at times, it is better to choose the latter over the former. But, if your cost of repairs is more than half of the price of a brand new appliance, then it is time to change. 
On the other hand, if the logistics cost and installation complexity are too high when replacing an appliance, then you might want to choose repair. On the whole, if your appliance is experiencing "catastrophic failure," which requires regular replacement of parts and labor to fix it, then it is best to opt for a new appliance. 
Home warranty companies also replace the parts and components of your appliances.  You can choose to protect yourself with a home warranty plan as it is a more budget-friendly option than when you replace an appliance on your own. 
2. Is the appliance or home system very old?
Whether to repair or replace your appliance also depends on how old it is. If the age of the appliance is more than half of its expected life span and the repair costs are greater than its original price, then it's time to get a new one. 
So, this is one of the questions to ask before replacing home appliances. Another option is to buy a home warranty. The repair services by a home warranty company would be much cheaper, thereby negating the need for replacement options. 
3. Are you planning on buying an energy-efficient appliance? 
Another factor to consider when you want to replace or repair your appliance is energy efficiency. If you want to save a lot of money in the long run, then consider replacing your irreparable appliance. You would save up a lot instead of being burdened with a long list of repair bills. 
Some of the best home warranty companies have an appliance discount program where they replace components of energy-efficient appliances at discounted rates. So, buy a home warranty plan to avail such benefits. 
4. Do you want to style up your home? 
At a certain point in time, you may want to renovate and upgrade the look of your kitchen. So, your malfunctioning microwave can be a reason to get it replaced to match the refrigerator that you bought just a few months ago. 
5. Has the manufacturer's warranty expired? 
A manufacturer's warranty will help to reduce the cost of repairs every time your appliance encounters a problem. But once the manufacturer's warranty expires, it will be your responsibility to bear all the expenses. 
When the repairs are frequent, it will be burdensome due to financial exhaustion. It is then that you should consider replacing your appliance or home system. 
6. Will a brand new appliance be more beneficial? 
Your old appliances will be based on outdated technologies, will have fewer features, and wouldn't be as efficient as the latest ones in the market. You will get more benefits out of a brand new appliance than an obsolete one. Moreover, new appliances are much more energy-efficient. 
So, if you want to experience these benefits and make your life much easier, it is better to replace your appliance with a new one rather than repair the old one. 
7. Is your appliance a second-hand one? 
Second-hand appliances are cheaper because they are bought at a depreciated value. But that does not mean that they are going to last for a very long time. Moreover, some repair work might have already been done by the previous owner. 
So, once your second-hand appliance starts malfunctioning, it is a sign that even more repairs are to come in the future.  
Final Words
All in all, it is better to get your appliances and home systems replaced if the repair costs are too high, the appliances are old, obsolete, and second-hand; or if the manufacturer's warranty has expired. Replacements in such scenarios are much more cost-effective than repairs. So, these are some of the questions to ask before replacing home appliances.
If you are looking for a more money-saving strategy, consider home warranty coverage that lets you get repairs and replacement parts at much lower costs. In some instances, when your appliance's components and parts are impossible to fix, some home warranty companies might get them replaced. Home Warranty Reviews.com makes it easier for you to choose some of the top home warranty companies in America.