Best Dishwasher for Daily Use In American Homes
PUBLISHED: March 29, 2017
•
6 MINS READ
Anyone with a fully functional kitchen can tell you with confidence that a dishwasher makes a huge difference when it comes to reducing daily workload.
With the advent of new technologies and modifications in dishwashers, they have in fact become efficient in terms of water and power consumption as well. The newer models utilize even less water than hand washing dishes does!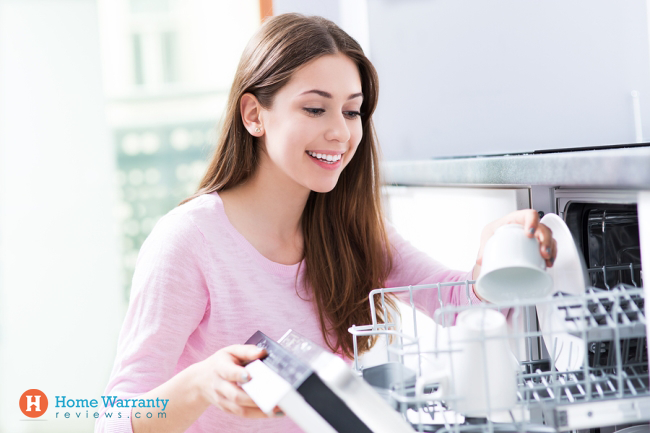 Most dishwashers are priced around $800-$1000, and within this range you are sure to get an efficient dishwasher with a reasonable capacity and silent motor. There are options within a lower price range but they tend to be louder and if you have a bigger load, then not all your dishes might come out clean. Having said this, they might still be adequate for your needs. At the end of the day, it does depend on how often you use it and to what degree. 
High-end dishwashers do come with their advantages, but in a sense, are very close to the mid-range appliances. They do tend to be quicker in washing a load with their additional racks and specialty zones with extra water jets. But if you dig deep enough, you might find something which is similar within a $1000. Any other major appliance can also break down suddenly, so one needs to look out for all the major appliances in the home along with the dishwasher.
If the consumption of electricity and water is compared, a dishwasher is without a doubt more efficient. One cycle of vessels washed in a dishwasher of medium capacity utilizes about 3 to 5 gallons of water and 1 kWh of energy. Now it isn't hard to believe that hand washing uses more water –in fact, 5 to 7 times as much– but interestingly even the electricity usage is higher when vessels are hand washed.  The electricity required to heat 20 to 30 gallons of water for hand washing vessels is three times what a dishwasher uses for a cycle.
According to these estimates, a dishwasher saves you anywhere between 300 and 400 kilowatt-hours of energy in a year, and a whole 3000 to 4000 gallons of water. There is no doubt, dishwashers are one way to efficiently utilize the resources we have.
What's more, the dishes washed in the dishwasher get a lot more sanitized than the ones washed by hands, for no other reason but the fact that the water inside reaches up to 160°F, a good 50 degrees more than an average hand can bear. These high temperatures handle grease and bacteria in ways that usual washing never can. This makes dishwashers an excellent addition to your list of household appliances.
What Not to Miss
Technology is always on the move and there is a new innovation every day! Dishwashers are no exceptions. Models are continually evolving. Before buying one, do your homework. Give it some time and try and map out your average load size and frequency. How many times do you use a dishwasher? Daily or twice a week? Do your vessels usually have high levels of grease and crust or are they easy to wash? The answer to these simple questions regarding your routine and style of cooking can help you narrow down a great deal from all the options that are now available.
Warranty is another extremely important feature, one or more years for free parts and repair is never something to take lightly. Especially when an appliance is used consistently, it is bound to need servicing and replacement of parts one way or another. It makes sense for every homeowner to know how to effectively take care of all of the appliances, let alone dishwashers!
Modern technology has improved the dishwasher to a get extent, and manufacturers have even come up with models that function at nothing louder than a low hum. With chic controls, efficiency in energy and water use, stainless steel body, and interiors for zero rust and perks like water softeners built into the system so that your dishes are sprightly clean without any hassle. These dishwashers are no longer aesthetic eyesores. In fact, you are going to want to show them off! That said, there is no doubt that they are priced proportionately to their features. So be prepared before you stray to the high-end aisle in the showroom.
The world of almost-robots being a part of our daily lives is here and has entered our homes and workspaces. Many companies have also introduced "Smart" Dishwashers, which use sensors to check cleaning during wash cycles, allowing for customization of your machine settings to meet your load settings and retain optimum efficiency.  If you are looking for something in which you don't have to interfere at all, then a smart dishwasher is what you need.
Buttons, Controls, Aesthetics and Styling
If machines can function fully with sensors, then there is no doubt that controls have become a lot simpler. Whirlpool has introduced a dishwasher which functions with just a single push of a button – a One-Touch control.
Dishwasher controls can be broadly divided into push buttons, dials, and electronic control pads. While mechanical controls such as buttons and dials are a lot more reliable and actually easier to use, the trend has moved towards electronic for its style and trendy aesthetic.
Besides just putting it on, there are usually three kinds of cycles a dishwasher offers – Light, Normal and Heavy. Some washers also provide for a Gentle cycle for people who wish to wash fragile dishes made of crystal and china in dishwashers as well.
The last control is one that adds a timer to the mix, allowing the user to set the load to start at a later time. Look for a dishwasher with dial controls to make it easier to use. Similarly, it will be simple to use with a dishwasher with mechanical controls.
Aesthetics have become extremely important when it comes to any room of the house, and appliances becoming trendier is the natural course that design is to take. Instead of hiding their dishwasher under a ledge or behind cabinet doors, people choose to customize the appliance to match the design of the kitchen. Usually, they come in tons of steel – white and black. Lately, companies have begun to offer customized finishes to match their cabinet surfaces and tiles. In fact, companies such as ASKO have started a Designers Series in home appliances, with a variety of colors that can even be matched exactly to the shade of your wall or cabinet.
Dishwasher Capacity
Conventional dishwashers are generally of the same size because they are made to fit under a standard height counter which is 24 inches wide. European models are usually smaller than American ones. The most important element when it comes to the capacity of a dishwasher is its flexibility in rack sizes and shapes. This allows you to snugly fit in a variety dishes and kitchen implements. Your options might include terraced racks, fold down trays, and adjustable or removable stands.
Energy-Efficient Dishwashers
Post the federal regulations that were imposed in the late 20th century, dishwashers have become twice as efficient in the use of both water and electricity. This minimized usage results in dips in the owner's electricity bill. Experts opinions and research shows that the maximum amount of energy used in a dishwasher is for the heating of the water. There are so many new models that have in-built water heating systems which are localized and efficient. If you invest in one such appliance, then you should be saving up to 20% more on electricity.
Another perk of newer models is that they no longer require you rinse dishes off before you place them in. This not only saves time but also lands up saving water and electricity as the entire process happens in one go without any human intervention. Instead of using soak cycles which waste water, dishwashers have begun to use pressurized sprays to get dishes clean and dry.
Dishwasher Energy-Saving Tips
As we already know, most energy in a dishwasher goes into heating water, then the drying cycles, running the pump and lastly, powering controls. While shopping for a new dishwasher, picking up an energy efficient model is the first step to energy saving. However, there are a few tips on how you could use your dishwasher to the best of its capability.
Dishwashers that are being manufactured now are quite powerful, especially when it comes to cleaning. Skip hand-rinsing your dishes, it would not only save water and energy but also it would let your dishwasher do what it is meant to!

Do not over fill your dishwasher. This might lead to dishes not getting cleaned properly making them require more than one cycle.

There is a huge variety of washing cycles in dishwashers that are in the market now. Experiment and choose what suits your needs the best. The 'power scrub'  or 'heavy load' option may not be necessary for every load.
Four Best Dishwashers Ideal for Daily Use
KitchenAid KDTE104DSS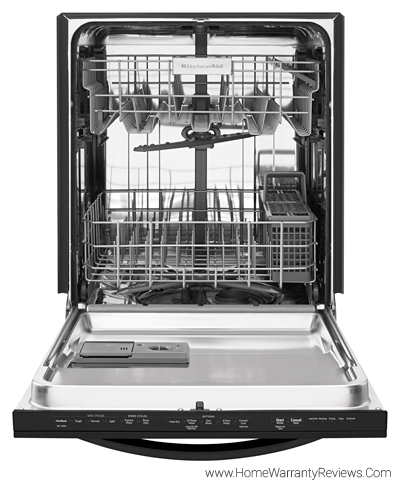 A trendy and efficient model which is also priced reasonably. The KitchenAid dishwasher is one of the quietest in its price range. It has electronic controls situated at the top of the unit. Its one-touch function comes with a Pro-Wash preset that can not only choose the right cycle type for the vessels you load but also alter its settings for more efficient cleaning while it is working. This real-time alteration of settings at such a price is one of its kind. It also has added features of increased temperatures that virtually kill all the bacteria present.
Bosch 800 Series SHX68T55UC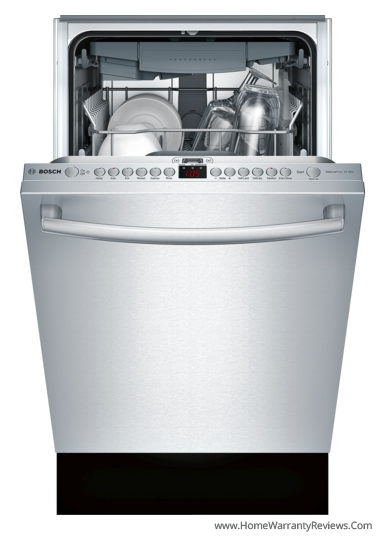 If energy efficiency is what you are looking for then the Bosch 800 series is the way to go. Even though its setting and cycles are standard, it has elements of modernity are instilled within its functioning, wherein it costs much less to operate as compared to others of its kind.
Electrolux IQ-Touch EI24ID50QS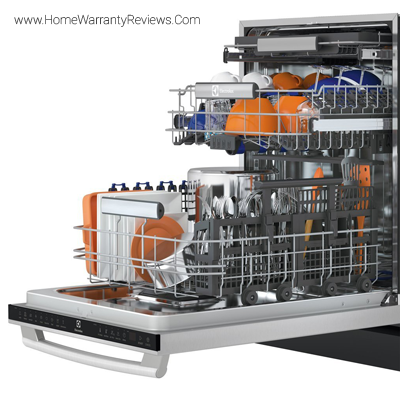 Electrolux is for individuals who want a dishwasher that can cater to a variety of dishes, materials, and sensitivities. With a very wide range of cycle options and controls, this dishwasher does include cycles that are energy efficient as well.
Samsung DW80F800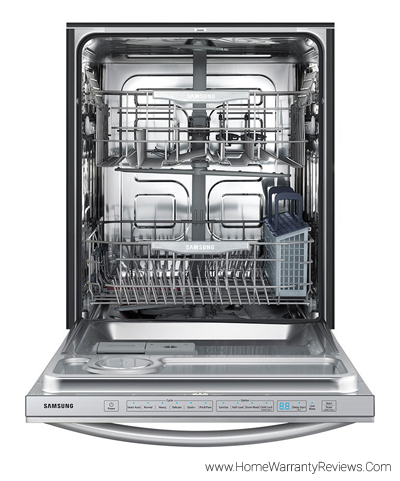 If you have dishes to clean with crusts and heavy grease stains, then the Samsung DW80F800 is your go-to machine. The jets on this unit surpass any other, and as it uses pressure over soak, this appliance is also energy efficient. As a perk, its interiors are stainless steel and resistant to any abrasions.
Home Warranty for your Appliances
Any daily use appliance is bound to sustain routine wear and tear, making its manufacturer's warranty insufficient. Very rarely do we discard appliances once their warranty gets over, but what we don't realize is that an appliance needs servicing and repair most once its company-given warranty runs out.
Enter Home Warranty, a simple solution for servicing of your home, its appliances, and systems. Everything from scheduled inspections to routine servicing and a claim coverage which will assure that you owe virtually nothing, Home Warranty is an investment worth making. HomeWarrantyReviews.com has a databank of articles, reviews, top ranked companies and guidelines, all catering to consumers who wish to purchase a warranty for their homes. Join the community and look at the research and tools to truly get to know its wide-ranging benefits and policy options offered by companies in your state.
Bosch
Electrolux
Jenn-Air
Maytag
Thermador. Whirlpool
While the KitchenAid might deliver the most value in terms of features and the price. When it comes to drying, Miele is the best based on the air system. Samsung is the best bet in terms of pricing. Bosch at $769 brings out the best features and quietness.
Best Overall: KitchenAid Architect Dishwasher at Home Depot
Best Budget: Amana Front Control Tall Tub Dishwasher at Home Depot
Best Under $500: Whirlpool Built-in Dishwasher at Home Depot
Best Portable: SPT SD-9241W 18-inch Portable Dishwasher at Amazon
Best Front Control: Maytag Front Control Dishwasher at Home Depot
Best Features: GE Profile Front Control Dishwasher at Home Depot
Best High-End: GE Adora Top Control Dishwasher at Home Depot
Best Energy Efficient: Bosch Ascenta Dishwasher at Home Depot
Best Quiet: Samsung 24-inch WaterWall Dishwasher at Home Depot
Best with Third Level Rack: Whirlpool Top Control Built-In at Home Depot