How To Choose The Best Home Washer-Dryers For Your Home?
PUBLISHED: April 21, 2017
•
6 MINS READ
The time of basic functionality appliances is long gone. Washers and dryers that required individuals to shift clothes from the washer drum to the dryer and make sure the water has drained are all things of the past. The 21st century has seen a surge in all household appliances, bringing to the fore mastery of form and function to make machines that are efficient in time, effort and energy.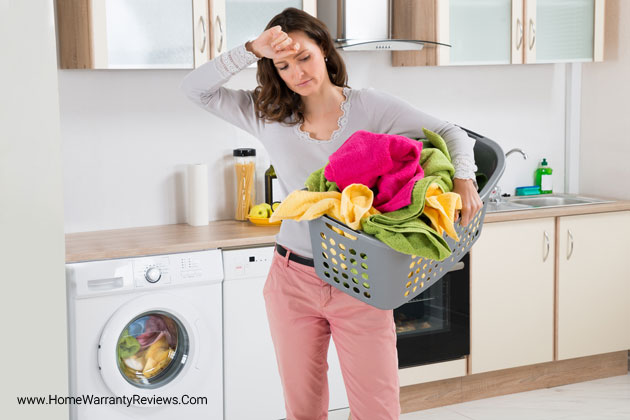 Keeping up with personalization and subjectivity as a thing of the present, you have a wide variety of washer-dryers to choose from. Each being tailor-made for individual requirements, usage, the frequency of use, capacity etc. You can bet that home warranty gothcha keeping all your appliances in check.
With variety comes confusion, so the question remains, how do you pick the perfect machine for your needs?
Capacity – Why Does This Matter?
The primary factor to narrow down the wide selection is capacity. Depending on how many clothes you expect to wash at once, choose a machine that can handle the quantity without overheating or inefficient washing and drying. It doesn't always depend on how many people are using it. A weekly load of an individual living alone could be a lot more when compared to two or three loads a week of a family of three. Don't buy a small machine because you live solo, choose the capacity according to your frequency of use as well.
How Much are Home Warranties?
Home warranties range at about $350 to $600 based on the type of home warranty company you choose and the type of plan. Also, you can opt for additional coverage by paying more than $100 to $500 more. This would cover things like the guest house, swimming pool, spa, etc.
Speed – How Can You Actually Use This?
Speed majorly plays a role in the dryer part of the machine, where the greater the revolutions per minute (RPM), the faster and better the clothes dry. The potential flipside though is that certain fabrics may get damaged by the high rate of spin, so if you plan on buying a machine with a high RPM. You need to make sure that the machine has a control to dial down the RPM when necessary. Usually, a cloth with high thread count cannot handle a high RPM rate as it causes the threads to split.
Efficient Use Of Energy
All washers now carry an energy label, including measurements for capacity, kilowatt consumption and noise emission. Laws state that all machines post 2013 December must have an energy rating of A+, and these machines are not the only environment-friendly but also very efficient when it comes to cutting down electricity bills. Simple hacks like using a lower temperature to wash clothes can greatly reduce the energy used to heat the water, hence reducing your bill.
Washer – Dryer: Pro's And Con's
Looking at it in terms of mechanics and function, washers and dryers are extremely different. In fact, when they are put together into one machine, they are bound to be less efficient than if they were separate.
It is a little bit like expecting a combination machine of a stove and a refrigerator. If the same machine is expected to do two opposite tasks, then the chances are that its internal mechanics are more complex than necessary for each individual task. In the same way, washers and dryers will be a lot lighter on your bills if bought as two separate units.
That said, the major reason why both have been combined into one is the space crunch. Apartments are not equipped with enough space for even the basic large appliances, so increasing the number is rather difficult to handle. The secondary reason for the combination machine is the fact that from start to finish the machine's sensor handles the process, leaving you free to continue your routine while your clothes are soaked, washed, spun and dried without the hassle.
Factors To Be Considered
While shopping for a washer dryer, you do need to look more than just a machine that can do both the jobs. There are design elements to consider that can make a huge difference, plus certain features can be chosen even depending on the weather conditions of where you stay. A very strong dryer, for example, is a good idea if your state is prone to winters, while sunny California homes can do without a dryer all together.
The major task is to differentiate between the washing capacity and the drying capacity. As you know, with an integrated machine, both functions occur in the same drum, but it does not necessarily mean that the drum can handle the same load size.  With an integrated machine, you will always be able to wash more clothes than you could dry, because to dry clothes, they need room to move and air needs to circulate.
You could look at this dilemma in two ways. You could load the machine for its drying capacity and then there are no worries, or you could go to the full washing capacity and remove a few clothes before starting the drying cycle.
Integrated Washing Machines Vs Free Standing Washing Machines
Besides capacity, another factor to be considered while buying a washing machine is its design. Besides front and top load, washers and dryers also come as either integrated or freestanding. While larger homes with specialized niches can accommodate very nicely for an integrated machine, freestanding ones are a better idea for those of you who would need to move the machine around from time to time.
Integrated machines also require professional help for installation whereas freestanding ones are much easier to put together.
Extra Features
Additional functions lead to higher prices. Most of the machines in the market now have settings according to the fiber of the cloth, but with some additional features, the process truly gets more efficient, making it a worthy investment. For instance, fast wash, baby cycle, heavy duty, child lock, delay timer and temperature control sensors all come in handy, but at the end of the day, it depends on your usage of the machine.
Noise can be a consideration, especially if it is in or adjacent to a room where you spend time. The decibel level on the specifications is normally both for wash and spin, with sounds around 50dB for wash cycles is considered quiet.
The Best Part – Four Washers to Look Out For
Each known for its own unique features and use, here are four Washing machines for daily use that are the best examples of appliances that have been personalized according to individual needs.
Known for its ability to handle the most adamant of stains at a remarkable pace, this Electrolux washer is ideal for homes with children and pets. This $900 machine is Energy Star certified so you need not worry about your electricity bill.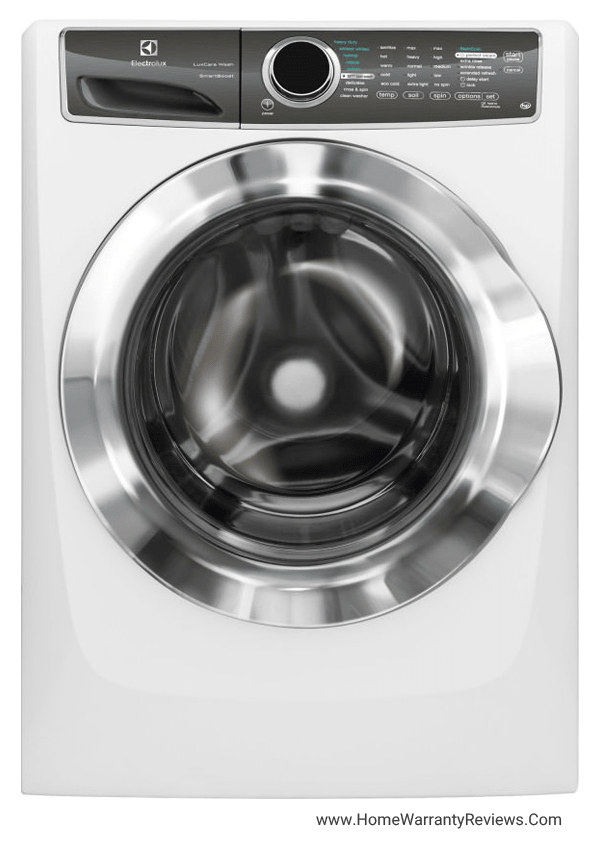 It comes with a setting which works in a stain remover into the detergent before the cycle starts, making sure that every thread in the cloth is exposed to the remover. This combined with steam makes sure that your clothes are squeaky clean – and all this in a fifteen-minute cycle if you're in an exceptional hurry!
Another machine that boasts of speed and the ability to get clothes squeaky clean, this LG washer uses steam and a high-pressure nozzle to not only get clothes spotless but also wrinkle-free.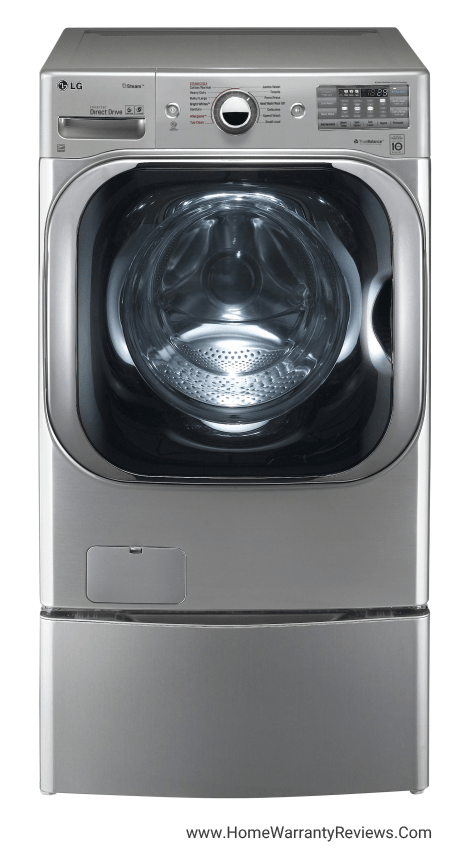 To further boost its performance, this washer comes with a cold wash deep cleansing cycle that saves a lot of electricity by cutting out the hot water step. Zero damage and shrink, the cold water makes sure your clothes stay as good as new. It is a little bit on the expensive side of appliances at $1,500, but if you're ready to shell out the money then you won't be sorry!
At $900, this Samsung Top Load Washer is the best of both worlds. Inbuilt with a pre-washing mechanism, your stains will be gone for good and you can skip the soak and scrub that we are ever so used to.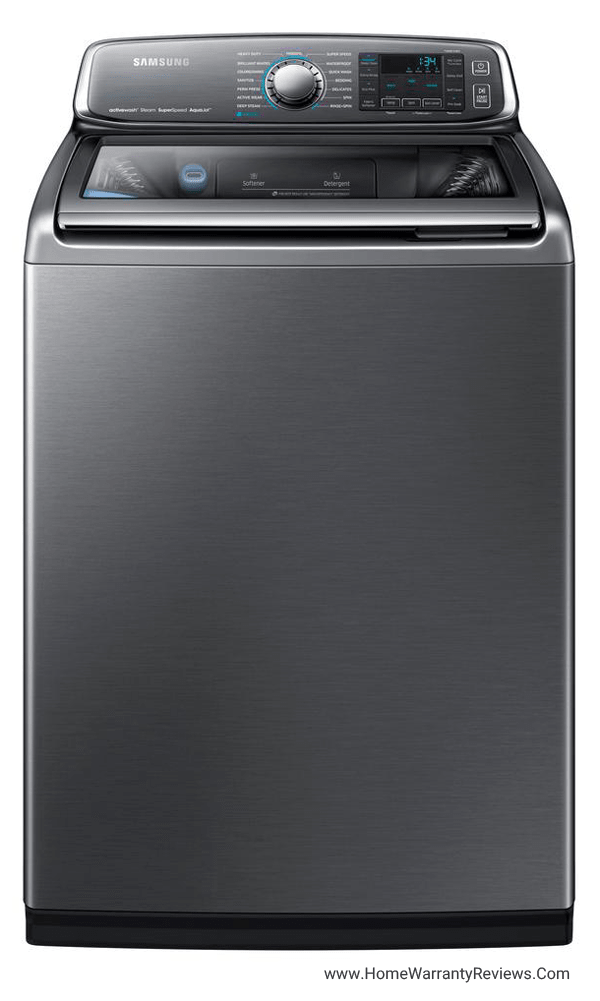 With a large tub that can hold an individual's weeks' worth of laundry, this machine is also set with eleven preset washing cycles, each one tailor-made for specific cloth types and load sizes.
A steal at $1,199, this Whirlpool machine is all American. Loaded with features like a number of preset cycles to sensors that can gauge the type of fabric you load and utilize a cycle according to its specification, this front load washer functions without the supervision of any kind.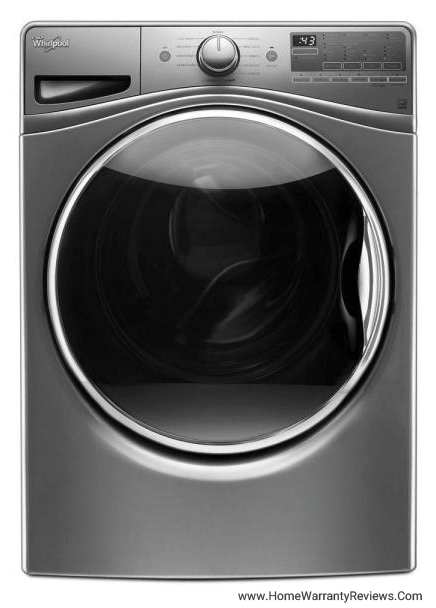 This adaptive wash technology is not all this washer provides. It also has a remarkable capacity, being able to wash up to three baskets full of laundry in one go. The technology has also mastered the efficient use of energy and has a few features that act as extra perks. One such feature is the 'fanfresh' option, where the machine will keep your clothes dry and fresh for up to twelve hours even if you forget it in the machine.
Home Warranty for Home Appliances – The Real Story
The care and research we put into buying an appliance for our home translate into a year, maybe two, of worry free utilization. After that it's the same old grind of getting parts fixed, calling service centers to figure out whether or not the machine is on the verge of breaking down and scrounging up money for replacements when the appliance stops working altogether.
Why get into this continuous cycle when a simple investment in a Home Warranty policy covers not only all servicing and repair costs of your home and its appliances but also replaces appliances which fall under its purview? Looking at Home Warranty as not only cost effective but also convenient and hassle-free. Purchasing Home Warranty gives you peace of mind for the years to which the claim is valid.
Introducing HomeWarrantyReviews.com, a website which uses consumer research and reviews to generate data regarding Home Warranty spanning the entire United States. Curious as to how Home Warranty works, whether or not it is your cup of tea and what coverage laws apply to your state? Browse through the website and get comprehensive information ranging from objective as well and customer reviews and remarks to expose you to the views of current users. It is always better to be an informed buyer rather than being kept in the dark!
Samsung and LG, popular Korean brands have overtaken Maytag and Whirlpool as the most reliable laundry units.
Our Top Picks
Best Overall: Samsung Washer and Steam Dryer at Home Depot
Best Smart Top-Loading: GE Washer and Smart Dryer at Home Depot
Best High-End: Bosch 800 Series Front Load Compact Pair at Home Depot
Best Energy Efficient: Whirlpool 3.5-cubic feet Washer and Dryer at Lowes
The best top loading is the GE Washer and Smart Dryer. On average, front-loading machines use 40% less water than top loading machines. Front loaders are often rated higher than top loaders which are rated poor or fair.
Buy a washer which is around 4 cubic feet to wash 12-16 pounds of laundry. A bigger capacity unit at 4.5 cubic feet can hold up 20 pounds of laundry. Rule of thumb is a queen size comforter can fit 3.5 cubic feet while a king size comforter fits 3.8 cubic feet.