10 Most Common Air Conditioner Issues
PUBLISHED: August 6, 2018
•
6 MINS READ
Do you suffer from common Air-Conditioner issues? Well, most air conditioners are essential to homes as it provides relief from the extremes of weather. 
Similarly, air-conditioners are no more considered a luxury in homes and they work well together with HVACs. But, it can be worrisome to most homeowners when your air-conditioner is sending out a puff of smoke from time to time. This is why we have listed the common air-conditioners and how a home warranty will take care of them.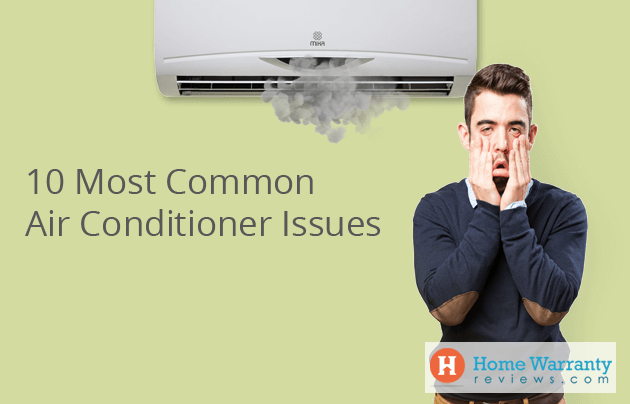 Since summer's here, there's a good tendency that you'd be likely to use your air-conditioner all the more. This being said, you need to ensure that your air-conditioner functions in the best possible condition.
Is Your Air Conditioner a Necessity or a Luxury?
If you are a consumer that runs their house on a budget then you would think twice before signing up for an air conditioner. This because you'd want to reduce your utility bills. That being said, the bulk of these monthly bills usually cover heating in winter and air conditioning in summer.
In modern homes, the glass door or wall usually acts as a barrier to the dust and could cause your homes to heat up. This is where air-conditioning comes in which includes lowering temperatures and ensuring that you can breathe easy and stay cool.
That being said, conventional wisdom states that you can keep cool air in even during the hotter parts of the day. This means that you can keep your home constantly cool and within the 80s all year round.

So, sit back grab a soda, and spend more time with your family and stay hydrated during these hot summer months. This would mean that you could consider doing some of your hobbies while you're at it. In a way, you're combating the heat waves and letting your family enjoy the summer like never before!
Common Air Conditioner Problems
You need to look for signs if your air conditioner needs repair and let your technician sort out this issue. One of the many problems could result from faulty wiring, lack of maintenance or even if some of the machine parts have worn out.
Before you bin it, you might want to take a look at why it's blowing hot air. Also, you can learn about how to fix your air-conditioner leaks in a jiffy.
So, how do you rectify this error?

1. Cleaning Condensation Drain Line: Check if your condensation drain line is clogged and use chemical or natural methods to fight this clog. What you will have to do is to clean the condensation pan by turning off the HVAC, locating the pan, checking for stagnant water and cleaning the remaining dirt with a vacuum and with bleach.

2. Examine the filter: You need to check if the filter is clogged and whether it decreases the efficiency of the air-conditioner in the process. This would then drain the machine and reduce the extent of cooling. This is why filters of central AC units should be cleaned once a month especially if you have pets at home.
3. Is there a leak? The first thing you need to check is if you feel there are leaks in the unit and also if there are leaks in the window seals. This means that you should consider weather-proofing your home and resealing windows.

4. TV Positioning: You should avoid placing lamps, TV sets near thermostats as this could taper the temperature reading and control the central. Also, if it is placed near the window unit, then this can also pose a problem. Why do you ask? This is because your thermostat would sense heat from these appliances and this would cause the air-conditioner to run longer than necessary.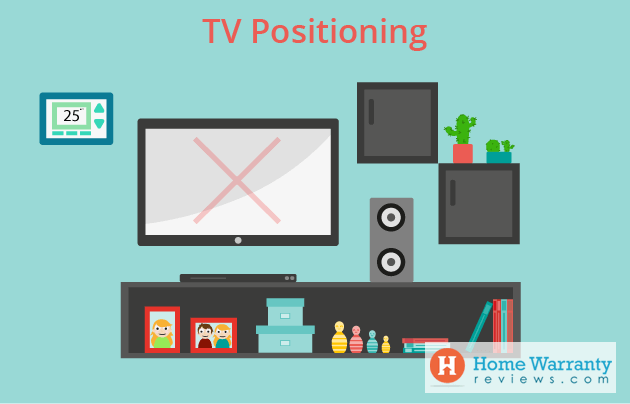 5. Registers – Dirty or Blocked? This is a no-brainer. If your registers are blocked then it could force the air to be heated or cooled in excess of what you had in mind. The best way to rectify this issue is if you vacuum the registers and remove the dust buildup. In a manner, this would ensure that the furniture and other objects that block airflow are not a cause of concern for the airflow to pass through the registers.

6. Resetting the Thermostat: If you are not careful with your programmable thermostat, then the set temperature could make it quite uncomfortable for you and your family. It should be set to a temperature that makes you feel comfortable. You should know that for every degree that you raise the temperature, your bills would increase by 3 percent.

7. Window Units or Centralised System: Window units do not cool the entire house, unlike a central system. But this depends if you have one window unit to cool or a large space that you'll have to experiment with as the temperature varies depending on which part of the room you are in.

8. Excessive Sunshine Indoors: Well, lots of light is really good but it'll make your AC work a lot harder to cool your home. This is why if you place your thermostat in the wrong position like a sunny spot, then it will have to work all the more to cool your place. The best option yet is to draw your curtains and allow the right amount of light into your home.

9. Indoor Greenery Vs Compressor: While it's great to have plants all around the house, it should not block the compressor. Since the outdoor compressor brings in the fresh air, it needs a good amount of airflow for it to work properly. This means that there should be 2 to 3 feet of space around the unit for plants and structures. In the case of trees, there should be a 5 feet radius between the top of the unit and the trees around.

10. Missed the Annual Checkup: It's imperative that an HVAC technician inspects your air-conditioner as there could be problems that would leave you high and dry during summer. With an annual checkup, your refrigerant would be topped up and the system would get the right tweaks to ensure that it functions as good as new.

How About a New Air Conditioner?

If your room air conditioner is beyond repair, you can find one for a price as little as $140 for a small unit and as much as $370 for a large one. Here are some available air-conditioners in the market today:

1. Small (5,000 to 6,500 Btu/hr.)

Kenmore 77060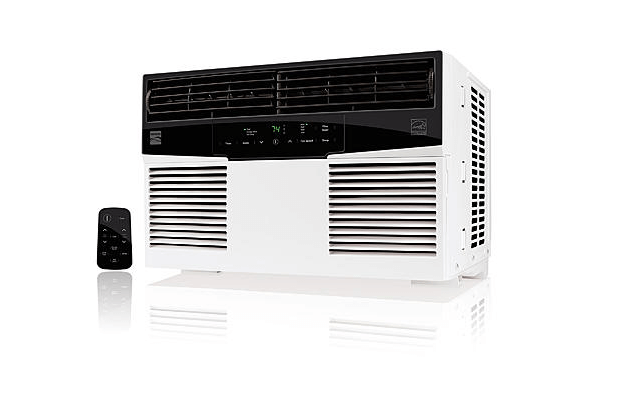 The Kenmore White 6,000 BTU Window AC Unit lets you efficiently keep your space cool

Features a remote and electronic controls

8-way air direction control

3 cooling and fan speeds

CEER rating of 12.1

The dehumidifier goes through 1.3 pints. of water per hour

Features like the sleep and energy saver modes help you stay comfortable without high energy costs

Plug this unit into a standard 115V electric outlet

ENERGY STAR® certified to help you save money and energy

LG LW6016R


6,000 BTU air conditioner for window-mounted installation

Cools a room up to 260 sq. Ft

Dehumidification up to 1.8 pints per hour

3 cooling speeds/3 fan speeds plus auto cool for cooling flexibility

Energy saver function conserves energy and saves you
money

SPT WA-6022S



3 Fan Speeds, 4 Modes: Auto Cool, Dry and Fan

Auto Restart feature

Thermostat controlled energy saver

Remote control; Up to 24 hours timer setting

UL and Energy Star
Medium (7,000 to 8,500 Btu/hr.)



Friedrich-8000-BTU

(Imported)


Energy star commercial grade Kuhl room ac installs in a window or through walls up to 8 1/2″ deep; conditions rooms up to approx. 350 sq. Ft

Optional Wi-Fi control from a smartphone, computer or other mobile device and smart grid capable

7-Day programmable schedule with up to 4 setting changes per day

The group with other 2013 Kuhl units for zone or central air-like control

Color kits available in deep red, cobalt blue, designer white, classic beige, black onyx and pink diamond



Wirelessly control with your smartphone and voice commands

Energy efficient cooling with 3 fan speeds

Electronic digital thermostat and remote control

Fits windows 24 in. – 36 in. wide, minimum height 13-1/4 in.

EZ Mount window kit provides everything you need to install the unit in your window

3 cooling / 3 fan speeds

12.0 CEER

Limited 1-year warranty

Electronic digital thermostat and remote control

Energy Saver mode fan and compressor shut off temporarily when the room is cool enough, saving you time and money

Equipped with a non-ozone depleting refrigerant

Easy Installation

Quiet operation

Power cord length 72 in.

Drain in back of the unit

Wi-Fi Connect wirelessly control window air conditioner functions from your smartphone

Kenmore 77080, $270

Model – 77080
Type – Thru-Wall/Window
Power Source – Electric
Remote Control
Cooling BTU/Hr – 8000

3. Large (9,800 to 12,500 Btu/hr.)

Haier HWE12XCR, $320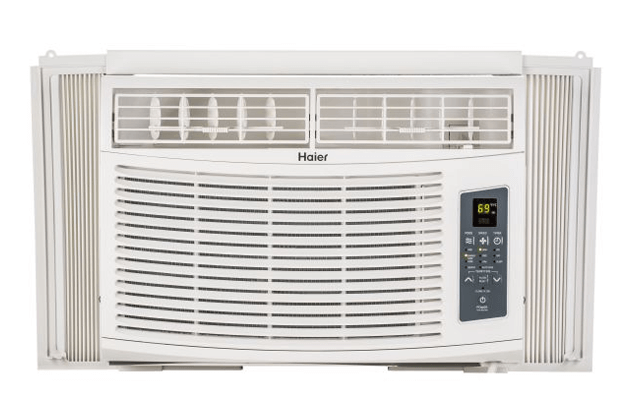 High efficiency 11.3 EER
12,000 BTU room air Conditioner for window-mounted installation
4 functions include cool, energy saver, fan and Dehumidify
For a room up to 550 sq. Ft
Magnetic remote control stores on the unit and has braille for the visually impaired

LG LW1216ER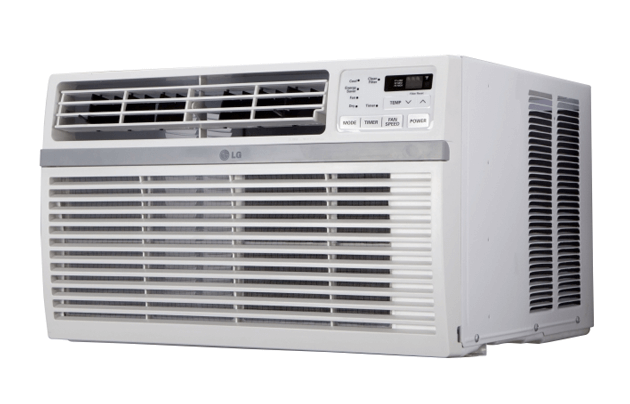 Remote included

4- Way Air Direction

3 Cooling & Fan Speeds with Auto Cool

Timer

Slide-out washable filter
Frigidaire FFRE12L3S1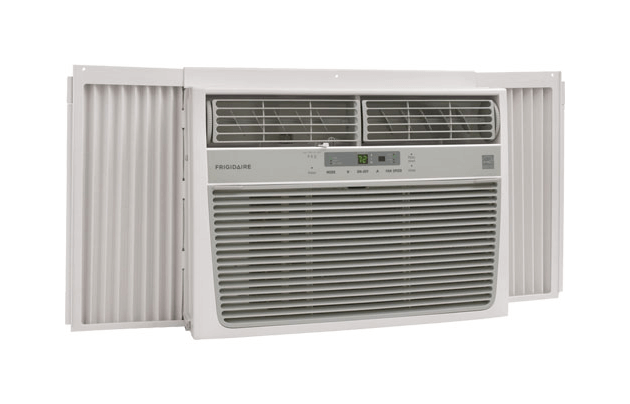 12.0 EER

3 Fan Speeds

115 Volts

Remote Control

Energy Star Rated

Sleep Mode With 24-Hour Timer

Electronic Controls
Understanding Key Air-Conditioner Parts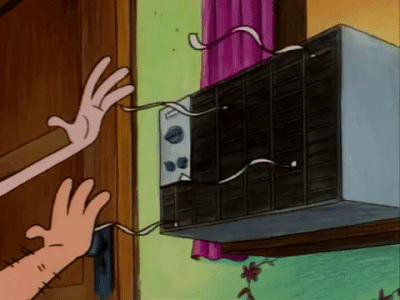 Filter

In most cases, the reason why your air-conditioner is not working is that it got clogged due to a dirty filter. While some are changed monthly, others are replaced every three months. The best way to figure out if you need to change your filter is based on whether light passes through it. If not, then you need to clean it and if all methods to keep it clean fail, then you must replace it.

Thermostat

You should fix your thermostat in a place where it can be kept clean and it is not in direct contact with the sun. It helps control the temperature setting in the home and corrects all issues that arise.

Refrigerant Leaks

When the coolant starts leaking then you should know that this could cause the temperature to fluctuate. The location of the leak should be looked into by a trained technician and this would help resolve the issue. The cost of repair is negligible as compared to the buying a new appliance.

Drainage

Once this drain line becomes clogged with lint, dirt, and dust, then is can be quite hazardous to the functioning of your air-conditioner. This is why you should look for potential damages to the Drain Pan and the AC Unit

Breakers or Fuses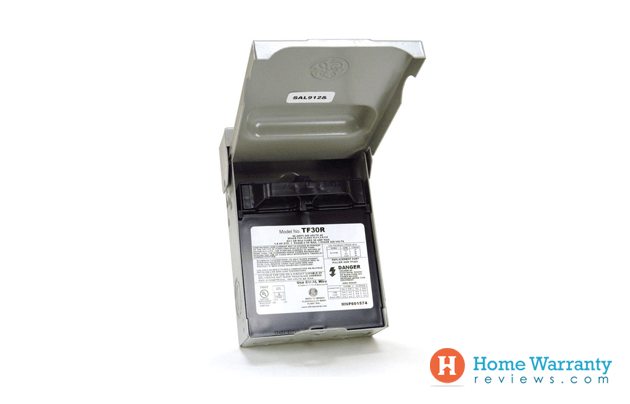 In this scenario, the breakers and fuses help safeguard the AC unit's motor or compressor from overheating. Sometimes, the motor dies while at other times, the HVAC technician checks the breaker.

Capacitors

These capacitors are motor driven and power the compressor and the fan. They help give the first boost that activates the motor and provides the capacitor with a series of jolts that help keep the motor working. Without the capacity, the AC would burn out and you would end up with huge out of pocket expenses.

Compressor

Here the compressor supplies energy to the refrigerant that propels the coils to carry out the heat exchange. Since the compressor does not work properly, the AC unit will not cool your house properly. In this manner, the insufficient refrigerant would make the run hot and this would make it fail or worse, seize altogether.

Evaporator Coils

The evaporator coils absorb heat in the air and send it back to the house for cooling using the air ducts. At times these evaporator coils could get corroded and this would mean further damage your AC. This is why it should be maintained once in three years.

Condenser Coils

Condenser Coils are usually located on the outside with the compressor. Due to ordinary circumstances, they collect dirt from exposure. These coils should be cleaned with a water hose every year and if they are too dirty then an HVAC technician should help clean them with a chemical cleaner.

Worn Contactor

Finally, the AC unit is made up of a compressor, blower motor, condenser fan motor among others. If there is pitting or arcing in the contractor, then this could make it difficult to start the motors. This is why it's important to check the worn contractor from time to time.
Home Appliances and HomeWarrantyReviews.com
It would seem that maintaining your home appliances could be really difficult if you don't have the time. With a home warranty, you can pay upfront at the beginning of the year to protect your appliance from all issues. 
This could be based on the plan that you opt for. If you still need help deciding which home warranty you should opt for, then you need to compare them on HomeWarrantyReviews.com.  American Home Shield is one of the top home warranty companies that protects your air conditioner. You Should check this top home warranty company out.
The price of a home warranty is way cheaper than having to spend on several out of pocket expenses that could hamper your savings. This is why you should take a look at this rating timeline and learn about how these home warranty companies are faring with unbiased reviews from the public.