What to Consider When Buying New Appliances?
PUBLISHED: September 3, 2018
•
6 MINS READ
Technology is always advancing and making homeowners lives easier. Most homeowners are satisfied with the current crop of appliances in their home. That being said, technology can get outdated pretty quickly as new models get released every now and then.  As with evolving technology, the way newer models of appliances work differ as they may vary in size, and have new features. Here, we have listed several aspects that should you look for when buying new appliances.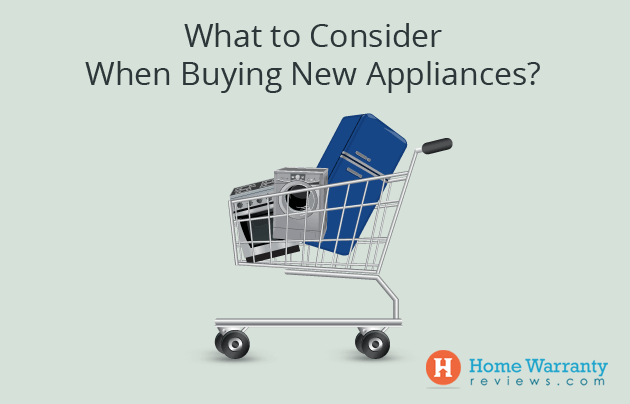 Factors To Consider When Buying New Appliances
Lifespan of Appliances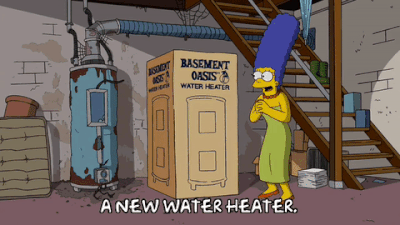 The lifespan of an appliance cannot be gauged on average. It remains a mystery how long an appliance can last, after all it's based on how well or poorly its been used. Wear and tear of an appliance is all relative to how its been treated, whether it's been forced to run overtime or used sparingly. This is why maintenance is key in order to increase the lifespan of your appliances.
But statistically speaking, most major home appliances last for 10-20 years. Major home appliances would include your HVAC system, water heater, kitchen appliances, laundry machines etc. You might have come across some home appliances that have lasted more than the 20 year threshold. You need to keep in mind that the 10-20 year lifespan is the probable measuring stick for appliances.
If you seem to be having frequent problems with your HVAC unit and come to realize that it's run for about 15 years, it's high time that you consider getting it replaced.
How Old is Your Current Appliance?
Sadly, there isn't a standard method to tell how old the appliances in your home are. But with a little research and digging through house documents, you can figure it out.
First things first, you should look through the signed paperwork when you bought your home and see the original listings on it. There is a very high possibility that the previous owner would have jotted down the age of all the major appliances. Along with the signed documents you most likely would have been handed over the original documents of these appliances at the time of their installation.
If you're short of luck in terms of documentation, you'll have to gear up with a flashlight and start looking at the labels stuck on your appliances. Most of the labels on your appliances will have some sort of timestamp which can give you a clue as to how old your appliance is. If you still don't get a clue, you can always note down the model number of your appliance and research the make online. That would give you a brief idea as to when your appliance was in production.
Repair or Replace Your Current Appliance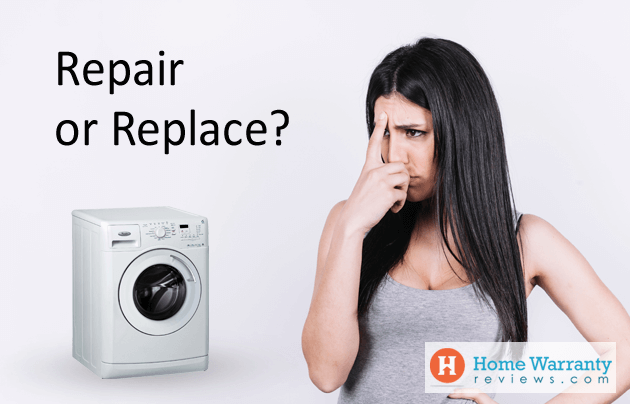 Now this is probably the toughest question that you are asking yourself when it comes to getting a new appliance. "Do you really need to replace your current appliance?", "Should you save money and spend it on repairs instead?" But in order to quell those queries you need to ask yourself some smaller questions. This will give you clarity on whether your appliance can do with a repair or if it needs to be completely replaced.
Pay attention to how often your appliance needs to be repaired . If you feel that you constantly have to run around to get your appliance repaired, it probably is time you put it to rest.
Also, you need to consider how much you would be spending per repair of your appliance. If repairing your appliance is exorbitant and it is equivalent to buy a new appliance, you may as well opt for a new model. The rule of thumb is that if repairing the appliance costs more than half of what a new appliance costs, it's best to have it replaced.
Of course, sometimes you may not have the money to buy a whole new appliance and can only afford the repair. That's completely okay and it's something that's out of your control. However, if you can push it, it's likely that you'll be better off replacing an appliance that keeps getting submerged in expensive repairs.
Using an Appliance to its Demise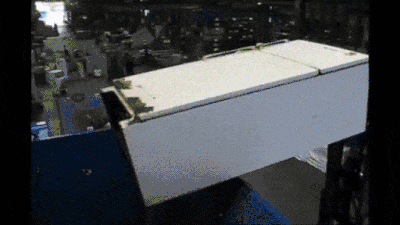 Now, if you've been happy using your appliance for a long period of time, you must have noticed the wear and tear. You must be pondering whether to let the appliance run its full course to its demise, or to have it replaced before it ends up on its last legs. It all depends on what kind of appliance it is, how important it is to your home and daily routine and if the inconvenience caused will impact your life on a large scale (heating, water supply etc).
More things to keep in mind, if the appliance in question is very important for the normal functioning of your home, you better consider having it replaced before it stops working. For eg, an old water heater can begin to rust, and over time bust holes into the tank and spill water all over your garage and basement (depending on where your water heater is located). Fixing this issue would be a bigger headache and work out more expenses as eventually you will have to replace your water heater.
Other difficult situations would be to let your air conditioner or HVAC run while it's on its last legs. What if the constant use renders your air conditioner useless when summer's right around the corner. It would leave you with no respite from the heat. The same can be said if your old and worn out furnace breaks down just before or during winter. It would be a very difficult situation, and you'll be forced to make repairs/replacements in the harsh weather that your furnace was built to protect you from.
Then again, not all large appliances will leave you in a large fix. Appliances like your dishwasher or clothes dryer work more as like added benefit rather than an important appliance. If you as a homeowner prefer to wash your clothes by hand and dry them manually, you can efficiently nullify the burden of a broken dishwasher/clothes dryer. With these kinds of appliances you can make do with replacement/repair even after they've broken down for good.
A Home Warranty for All Your Appliances
When it comes to repair and replacement of your appliances, you can't always have a fat wallet that's ready to spend. So what can you do to reduce the load on your wallet and your dying appliances? The first thing you need to do is find out how much you would be spending on maintenance of all your appliances. You can use this Home Maintenance Calculator to find out how much you've been spending on maintaining all your appliances for a given year. Also, since we're talking about appliances with age, you can even gauge and see how much you would be spending on maintenance for the next twenty five years!
Now that you know how much you would be spending on repairs and replacement of your appliance, how about reducing the burden by investing in a home warranty? A home warranty is a service that ensures protection for your covered home appliances for a given year. The price for a home warranty is relatively cheaper than the amount you would be spending on repairs for all your appliances individually. The way a home warranty works is simple, you pay a home warranty service a sum of money for the entire year, plus the deductible and every time an appliance breaks down the home warranty company will send in a contractor to inspect and repair the damage. Pretty neat right?
Now how can you tell which is a good home warranty company for you? You will need to research through HomeWarrantyReviews.com to find the best home warranty service in your area. Check out plans and coverage offered by American Home Shield as it is one of the top home warranty companies in the industry. 
HomeWarrantyReviews.com has a list of all the top home warranty companies in the united states. The reviews of every home warranty company are all done by people just like you who have signed up for a home warranty plan of the home warranty, ensuring absolute clarity. Furthermore, every company has a ratings timeline. This ratings timeline presents you the perception and performance of every home warranty company in the eyes of the public since the last five years.
Once you've made about your mind about the home warranty company that you'd like to invest in, you can easily enough ask for a quote and begin negotiations with the home warranty company. After that you can enjoy protection of your covered home appliances and can avail the services of your home warranty whenever of them breaks down.