Do You Really Need In-Floor Heating?
PUBLISHED: April 18, 2018
•
6 MINS READ
A freezing morning and cold floors can be very discomforting for one that lives in places where the temperatures fall below freezing. In-floor heating systems supply heat floors directly or through panels in the walls and ceiling vents in your home.  
In-floor heating is a form of central heating that keeps your floor warm using the methods of conduction, radiation, and convection. Formerly known as Radiant Heating, it uses radiant heating to reach an ideal indoor room climate. It can either be a wet system that pumps warm water through pipes or dry systems of electric coils, all placed under the floor.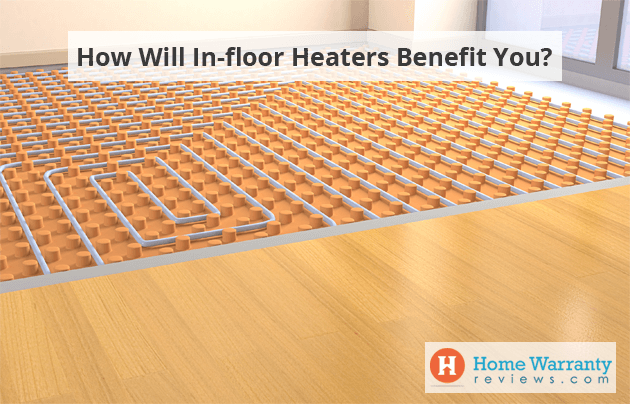 Radiant or in-floor heating is an efficient heat distribution system that takes advantage of the entire floor in order to heat your home. Contemporary underfloor heating systems use electrical systems or fluids flowing through pipes to heat the floor.
Though radiant floor heating depends on convection, it is different from radiant panels used in walls and ceilings. Radiant heating is the effect of you feel similar to the warmth of a hot stove top from across the room. When such radiant heating is located on the floor, it is often called radiant floor heating or simply floor heating.
Advantages Of In-floor Heating Systems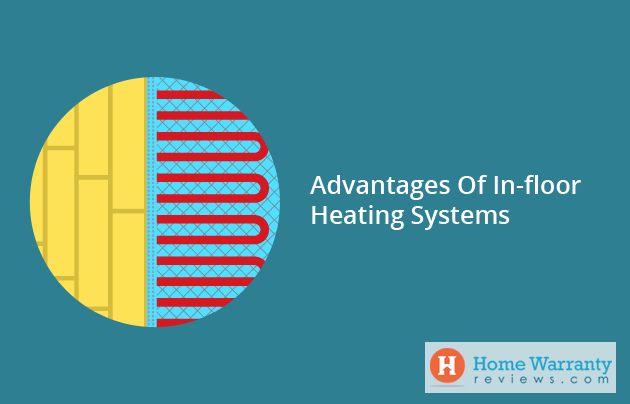 Radiant floor heating or in-floor heating has a number of advantages. People suffering from allergies most often prefer radiant floor heaters because it doesn't distribute allergens like air-conditioning systems.
1. Energy Efficient
There are two types of in-floor heating systems namely:

Electric Radiant Floor Heaters

Water-Based Radiant Floor Heaters
Water-based radiant floor heaters run hot water through pipes placed underneath the floor. Whereas electric underfloor heating systems heat the wiring from underneath the floor to generate heat.
In comparison to older radiators, in-floor heating systems are energy efficient appliances. Older radiators need to be heated to a high temperature (between 149-167F / 65-75C) for a room to heat effectively.
In-floor heating systems run at a temperature of 84F / 29C or less, depending on the floor finish. This helps in consuming less energy and keeping your energy bills lower. Radiators heat the air nearest to them, which is why rooms heated by radiators are prone to cold-spots. This means that air feels cold in the middle of the room but hotter near the radiators.
Unlike traditional radiators, which does not distribute heat all over your room, underfloor heating does not overheat. Instead, it distributes an equal amount of heat that is set by you. Radiant floor heating provides 15% off on your heating bills, which is a better choice over a traditional radiator.
2. Works Well With All Floor Coverings
Underfloor heating provides you the freedom to design your home as you wish by making the most of all the wall and floor space. It provides you with the freedom to select the type of flooring that you want. It works well with laminate, wood, tile, stone, etc.
3. Design Your Home With Freedom
The use of radiant floor heating will eliminate the placement of traditional radiators on the walls of your house. Most contemporary radiators even heat the walls of your home. This gives you the freedom to design it according to your wants. You can decorate the walls as per your wish to make a statement.
Disadvantages Of In-floor Heating Systems
1. High Cost Of Installation
A regular estimate of the cost of installation will be in bracket between $10 to $20 per square foot depending on the type of system you choose for your home. More than installation you will need to call a qualified electrician to connect this system to your power supply.
This may be time-consuming as it may take few hours and can cost somewhere between $200 to $250 depending on the place you live. The minimum cost for the electrician along with the cost of the electric system would cost you $500, depending on the level of professional work that is required.
2. Time Consuming Installation
The process of installing a radiant floor heater will require you to apply a self-leveling compound on top of the electric underfloor heating system. This takes a day or two to completely dry before the floor covering can be put in place.
Similarly, the water-based underfloor heating takes longer to put in place. This takes longer (almost a week) and will be installed as a part of new buildings or renovation projects.
3. Increased Floor Height
Floor heating systems increase the floor height in a room by an average of 1/2 inch, depending on the system you choose. You may want to place insulation boards underneath the heating equipment to maximize by ensuring all the heat is distributed equally.
Dry Vs Wet In-floor Heaters
| | |
| --- | --- |
| Wet Underfloor Heaters | Dry Underfloor Heaters |
| Warm water buried in-floor heater | Electric in-floor heater |
| Warm water surface mounted | – |
Warm Water Buried In-floor Heater
Buried warm water heaters require 1.6 cm pipes into the floor. It is then screed under your flooring and controlled by a manifold (something with many different pipe parts). Using this method, the entire floor emits heat and ensure long-lasting heating experience.
Merits: Energy-efficient underfloor heating system, Low running cost
Demerits: Old flooring needs to be renovated
Warm Water Surface Mounted
Surface mounted floor heaters are those heaters where the heating pipes are placed on top of the floor in gaps. This means that you don't have to dig up your existing floor and place an underfloor heating system. Instead, you can add it in gaps or curvy spots in the floor. 1.2cm pipes can sit in these gaps. It uses the same method of heating as buried underfloor heating systems.
Merits: Easy to install
Demerits: Expensive in terms of adding this system to certain rooms may cause level changes between rooms.
Are In-floor Heaters Efficient?
Warm water underfloor systems generate temperatures of 40C to 65C. This means that the actual floor temperature will be between 23C to 32C. This is lower than traditional radiators and this reduces your heating costs.
Similarly, electric underfloor heating systems may cost you a little more. As electric underfloor heaters are independent of the central heating system, this allows you to heat a specific floor rather than your entire home. This makes it energy efficient as you can use it in separate rooms, unlike warm water underfloor heating does.  
Note: In comparison to that of traditional radiators, 25% of underfloor heating systems is estimated to be more efficient when paired with a modern condensing boiler. It is also considered 40% cheaper when combined with a heat pump.
Why Do You Need An In-floor Heater?
An underfloor heating system is particularly effective for larger homes that have high ceilings. As the heat scales through upwards, you will benefit from the warmth and the heat generated will reduce moisture levels and airborne allergens.
A poorly insulated room with a lot of glazing during cold winters may not heat your home fully. This means that you would need additional insulation or supplementary heating. The type of floor coverings also plays an important role. For example; Stone and tiles are considered an excellent option.
Best Type Of Flooring To Use For In-floor Heater
The best types of flooring to install electric under floor heater are tiles and stone. However, there are other types of heated flooring options that can be used, such as:

Polished Screed Flooring

Vinyl Flooring

Wood Flooring

Rubber Flooring

Carpet and Rug Flooring
Tiles And Stone Flooring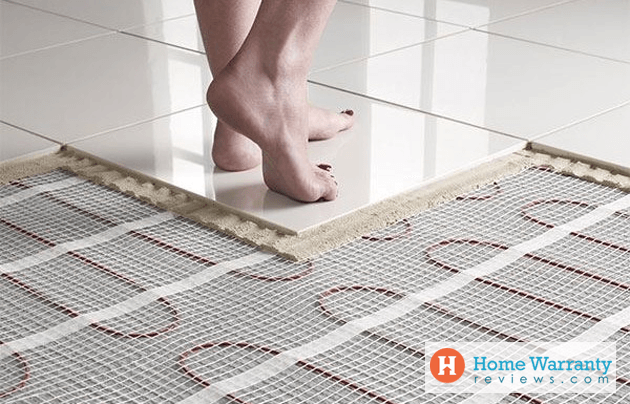 Tile and stone floorings have high thermal conductivity. This means that the heat from an underfloor heating pipe or wire transfers to the floor surface quickly. Tile and stone have the capability to retain heat, thus making the system efficient.
Because of its great thermal properties, tiles and stone flooring are considered ideal to use with underfloor heating. However, the thickness of the tile and stone has a lesser impact on the heat output but instead increases the time needed to heat up the floor. The maximum thickness of a tile or stone flooring must be 20mm.
Vinyl Flooring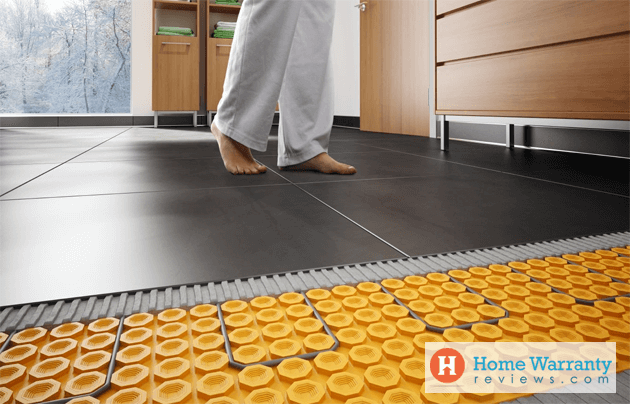 Vinyl flooring is a popular option for homeowners, particularly in spaces like kitchen and bathrooms. Vinyl flooring is water resistant and stain resistant, versatile and provides good durability for its cost. It is durable and reduces noise which can be important for owners with kids or pets. It is also less expensive compared to many other flooring options and is easy to install and maintain.
Wood Flooring

There are different types of wood flooring that have different thermal properties. The more dense and thinner the wooden floorboards are, the better they conduct heat. Thus attention must be paid in regards to the thickness of the floorboards so that they don't act as an insulator blocking the heat.
Rubber Flooring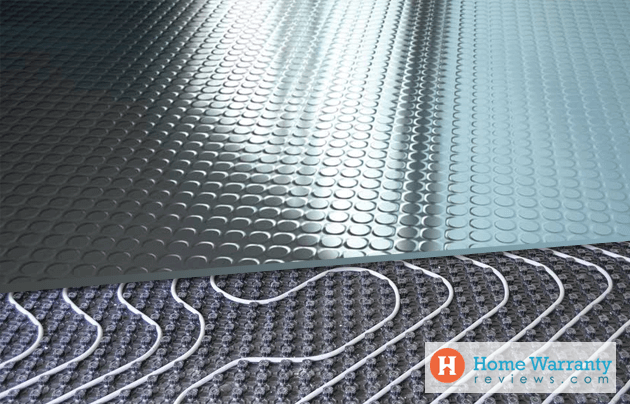 Rubber flooring is specially designed to add padding and springy underfoot. Its unique qualities and style options make it a more versatile flooring option for underfloor heating systems.
Solid rubber flooring is usually very conductive making it heat up fast and provide high heat output.
Carpet Flooring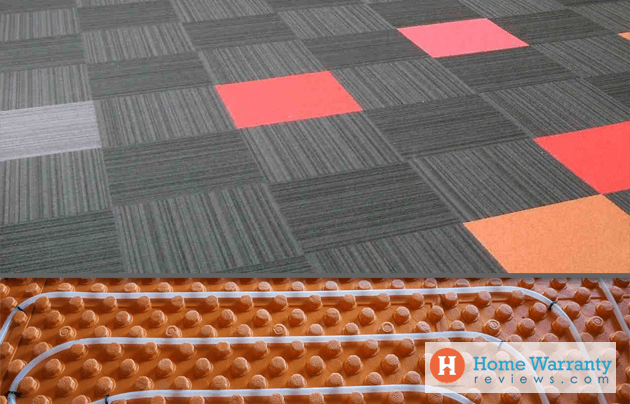 Underfloor heating can be installed underneath carpet floors. However, there are some vital factors you need to consider determining its requirements before you place them on.
If your carpet is too thick, you won't feel the heat due to the fact that the heat won't penetrate through it, thus causing the heat to be trapped beneath the carpet.

All carpets have a tog rating that indicates how insulating the carpet is. The best carpets to use with underfloor heating are those with a tog rating that's lesser than 1.5
Can Porcelain Tiles Be Used For In-floor Heating?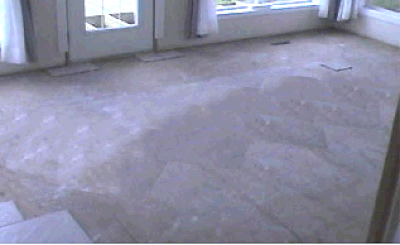 Porcelain tile is comprised of a ceramic product that contains kaolin clay and other raw materials. With a thickness of between 4.8 mm, to 5.5 mm porcelain floor tiles are significantly thinner than traditional porcelain tiles. Ultra-thin porcelain tiles heat up faster than standard tiles or wood floors makes underfloor heating much more responsive.
Porcelain tiles work well for the following reasons:
These tiles are relatively thin compared to other hard flooring such as natural stone. Porcelain floor tiles are between 8mm and 12mm thick. This means that the heat is able to rise up through the porcelain tiles relatively quickly.

Porcelain tiles retain heat well. Due to the makeup of the material the tiles are insulating so once the heat has risen through they will retain their heat very well and keep your room warmer for longer.

Porcelain tiles don't crack due to temperature changes. If these tiles are installed correctly using suitable adhesives, this won't happen.
Important: It is vital that your heating system is off when laying tiles over it. Different brands of adhesive require different drying times. Generally, 2 weeks for drying is recommended before turning on your underfloor heater.
How About A Home Warranty?
Enjoy warm floorings even during cold winters by opting for an in-floor heater. You just might enjoy this added feature and love spending more time with your family and friends. But you should know that is not a luxury and that you should enjoy staying warm regardless of whether it's cold outside and if you need the warmth of your home to simply grow on you. Secure your home and its appliances with a home warranty.
It's important that the homeowners read the home warranty contract and consider whether the warranty is likely to pay off. Before you settle for a home warranty within your budget, you should look at reviews that are written by people like you in the reviews section.
Simply take a look at different company profiles, compare them and then based on your preferences choose the best home warranty company in your region. Keep your home looking as good as new and enjoy the warmth of your home even during those cold spells.
Since floor heating heats surfaces and not the air itself, the in-floor heating systems are not prone to this issue. However, in-floor heating does come with issues. Research indicates that some of the most apparent pros like radiant floor heating could be cons.
Radiant heating systems provide heating to the floor, wall or ceiling of the house. There are several advantages like baseboard heating and usually more efficient than forced-air heating as there are no duct losses.
A well-insulated modern house can usually be effectively heated using electric radiant floor heat. However, you should consider the heat-loss value of the room. Remember that radiant floor heat does not heat the air but heats objects in contact with it like people and furniture.
Electric heat is expensive and electric radiant floors are limited to small areas like a kitchen or bath. Programmable thermostats with both air and floor temperature limits are recommended with such systems to save on energy costs.