Home Appliances That Definitely Deserve A Long Life
PUBLISHED: June 1, 2020
•
5 MINS READ
You're probably prepared to invest a few hundred dollars in a good smartphone, every couple of years or so, but home appliances cost so much more- thousands of dollars in many cases. For this reason, proper maintenance and professional repair services are needed to prolong the lives of your home appliances. Helping your appliances live long and well not only keeps your home and life proceeding smoothly, but also helps conserve energy. We are going to show you which home appliances that deserve a long life so that you can pay special attention to them.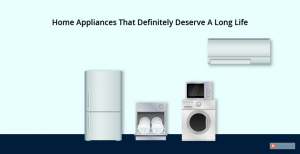 Which Home Appliances Definitely Deserve A Long Life?
When you consider a basic home warranty plan or a customizable one, you should ensure that the following home appliances are included. If any of these malfunctions or breaks down, you'll find life getting annoying to say the least.
Air Conditioners
An important component of your HVAC system, having a functional aircon at all times is a necessity, particularly in hot and humid states like Texas, Florida, etc. 
Not only does your air conditioner keep your home at a nice optimum temperature, but it also helps filter out pollutants like particulate matter, mold spores, pollen, etc., all of which are allergens and cause serious respiratory ailments. States prone to wildfires will have higher concentrations of such air contaminants.
Good ventilation is another need fulfilled by an air conditioner especially if you live in a smaller and/or poorly ventilated dwelling.  
Fortunately, with every technological advancement, the HVAC components get better and better at living long and well, with the current average being a whopping 20 years! That is not to say that you won't have to keep tabs on your appliance after a few years of use; while your A/C may not need replacement, it will require repairs and a home warranty will have your back there. 
Refrigerators
Modern life is unthinkable without refrigerators, so much so that people once believed that you could survive a nuclear blast by hiding in one (don't try that, please). Indeed refrigeration changed the shape of the global food shipping industry.
We need these food storehouses to keep our cooked food safe from spoilage, to keep our drinks chilled and our painstakingly created culinary concoctions admirable and fresh. This appliance is a great blessing to those who enjoy meal prepping as well.
Considering the importance of refrigeration, much research has been devoted in the past towards prolonging the lives of fridges and enhancing their efficiency. Refrigerators that are maintained well can even last up to 30 years!
However, they will start wearing out over time and malfunctions due broken condenser coils, thermostats, etc. Getting a home warranty will help you get coverage against breakdowns of such core parts.
Washing Machines
Having a washing machine at home saves a lot of labor and money. It has made having freshly laundered clothes on a regular basis the new normal and by using lower water amounts per full load. This appliance deserves a long life and your home warranty will give it one; enabling your washing machine to live out its average 11 years.
Dishwashers
This American necessity has an average life expectancy of 9 years. It needs all the help it can get to live out its long life because it lets you focus on other things while washing your dishes for you, saving you from grueling labor. The dishwasher can also reduce energy bills and save water; while also being more sanitary than hand-washed dishes.
Make sure you get a home warranty plan to cover the common components that cause breakdowns by natural wear and tear.
Microwaves
This home appliance seems like a frivolity initially but after you make it a part of your home, you will find yourself soon unable to function when it breaks down. A microwave oven revolutionizes cooking by drastically reducing the time taken to heat and thaw frozen food, cook hard vegetables, and even bake. One-pot meals and prepped meals have become possible due to the convenience wrought by this appliance.
If your microwave lives long and well, you don't have to worry about what you can whip up quickly for a meal when you're pressed for time. Standard home warranty plans today cover microwave ovens and will help you get a repair contractor quickly if they stop working. 
These home appliances are the pivots upon which a happy domestic life revolves. They should be maintained properly right from day 1 of their purchase. For the initial 2-3 years, they are covered by their OEM warranties, but thereafter a home warranty is the best way to save money on the repairs and replacements. You can find the top home warranty companies to safeguard your home appliances and read reviews to choose the right one.