Temperatures Rise And So Do Repair Costs Of Home Appliances
PUBLISHED: June 28, 2016
•
6 MINS READ
Summer 2016 is on track to break records for high temperatures. According to The Weather Channel, some U.S. states will see temperatures well beyond their normal summer levels.  And with the brutally hot weather comes a strain on air conditioning systems with added repair costs if it fails.  
Unlike certain appliances in the home or even major systems, heating and cooling systems serve a uniquely important purpose during extreme high or low temperatures.  
So, downtime is longer than a few hours can turn a comfortable house into one that is unsafe to stay in, under the worst of weather circumstances of course.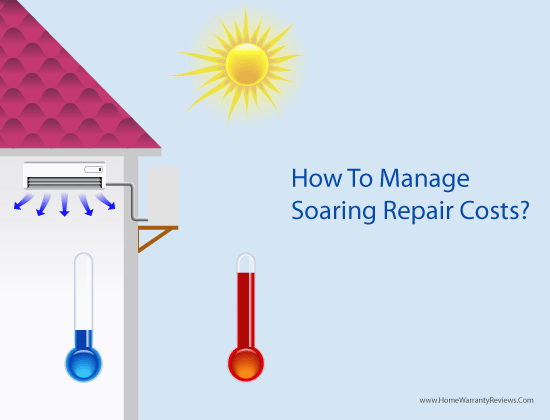 Most of our readers on HomeWarrantyReviews.com are familiar with the benefits of home warranties and how it helps in reducing the repair costs.  But even having a home service contract may not be enough protection in the event that temperatures run consistently higher than an air conditioning system can counteract.
Excessive short-term demands on local HVAC repair companies can result in long wait times for customers desperate to get help restoring their A/C operation to normal.  Supplies at the local level of parts and other materials essential to restoring operation of broken air conditioning systems can quickly run out, leaving customers without cooling in their homes for days at a time.  And home warranty companies can find themselves running out of available contractors to send to their customers' homes when claims for service are filed during these high demand time periods.
In this situation, preparing ahead of time is absolutely essential to a homeowner's safety.  Here are some key things readers will want to consider, going into what may be for them the hottest one they've ever experienced.
Maintain the air conditioning system to reduce Repair Costs!
There is no failsafe trick to beating a rush on air conditioning repair services.  Unless the reader has the luxury of being able to fix the A/C without assistance, there probably isn't much that can be done to get ahead of other customers when demands exceed supplies in the local area.  So waiting for the cooling system in the house to break down isn't wise at all.  Instead of finding out the hard way that the system isn't up to the task of maintaining a safe, livable temperature in the home during extremely hot outdoor temperatures, it pays to have the system maintained at least twice each year, ensuring that part that looks like it's reaching the end of its life is replaced preemptively.  Home service contracts may not cover this type of preventive repair, but when it comes to safety, it never pays to nickel and dime household repair decisions.
Location, location, location!
Under regular demands, an HVAC system may not show that it's not well maintained or optimally configured.  But put that same system under heavy demands, from really hot weather that lasts days or weeks at a time, and suddenly the flaws become obvious.  One aspect of optimal HVAC configuration that is easy to overlook without professional knowledge is the placement of the external parts of the cooling system.  
The parts of the system that reside outside the home function best when kept clean and out of the way of climatic or other interferences.  Long daily exposure to direct sunlight is not great for a cooling system that is already working overtime to keep the inside of the house cool.  Knowing how much sun exposure the unit is receiving and compensating in some way for units that are overexposed to the added heat coming from a lack of proper shade from the sun can be an integral part of avoiding system breakdowns during periods of very high outdoor temperatures.
Also, it is important to avoid any object being too close to the outdoor unit of the cooling system.  In particular, high grass, other landscaping, fences, foundations, and other obstructions can hinder air flow or block it entirely.  Loose debris from these types of obstructions can clog the unit.  It's always best to keep the area around the unit clear.
Similarly, you should know that the washing machine repair cost increases in the summer. You should also get an idea of costs by looking through an appliance repair cost.
Give the cooling system some help, a break even
Though sustained high outdoor temperatures may give homeowners no choice but to run the air conditioner non-stop, it's still possible to do many things to reduce the workload on the system.
Were you raised in a barn?
Depending on a reader's age, chances are this sarcastic question is pretty familiar.  But it lived on the tongues of many a mom and dad over the years for good reason, it hits the bullseye for the person paying the electric bill!  Opening and closing doors, leaving garage doors open, opening curtains or blinds that might have helped keep the house cool if left closed, all of these are ways that making bad decisions can heat up the house.  In a summer like the one the U.S. is now facing, it makes that much more sense to do anything and everything to lighten the workload on the air conditioning system.  Check out the list below of ways to lessen the heating effects inside the house of outside high temperatures.
Consider putting heat shielding film on windows that get a lot of direct sunlight.

Look around the house for electrical or gas devices that contribute to increased indoor temperatures and reduce the usage of those as much as possible.

Avoid leaving any exterior door open for longer than absolutely necessary, especially big ones such as garage doors.

Close vent louvers in rooms that stay cooler on their own, in order to keep cool air flowing where it's most needed.

Be sure that any ceiling fans in the house are set to the correct direction for the season.  If it's not clear on the device which way to set the rotation direction switch in the summertime, just remember that the blades should be going in a counterclockwise direction in order to cool the room.  When it's really hot outside, turn the fan all the way up, so it can give the A/C the most help possible.
Keep it clean, please
Filters for the air conditioning and heating system are typically not in view all the time.  Things that are out of sight are easier to forget.  So it pays to keep filter replacement on a calendar, where it's routinely reminding a homeowner to put in a fresh filter.  Anyone who has ever called for HVAC service, thinking the unit was broken, only to find out a clogged filter was all that was wrong knows that it's cheaper to buy a bunch of filters and keep them on hand than to assume that filter replacement isn't a big deal.  
Clean filters help keep the air flowing into the interior part of the system freely and cleanly.  Clogged filters clamp down on airflow, which can result in the interior part of the system freezing up and the house heating up, even as air is still blowing out of vents.  One way to avoid forgetting about filter replacement is to sign up for a service like FilterEasy.  With an auto-shipment subscription, homeowners don't need to try to remember when it's time to replace the filter or add the filter to a shopping list.  And it's far cheaper to keep the filter fresh and clean than to wind up with a repair bill.
Don't wait until it breaks!
Readers who know it's been too long since the last maintenance visit should stop right here and get to the phone.  Call a reputable HVAC service company before the chance passes and the busy season is in full swing.  If the company offers any type of discount for customers who pay upfront for annual service visits then give those deals some serious consideration.  Even a home service contract probably won't cover every dollar of an air conditioning repair.  So every dollar saved counts when the system needs expensive labor and parts to get it running again.
Regular maintenance visits typically check for signs of age or unusual wear and tear.  And in some cases, this type of inspection can identify parts of the system that are near the breaking point.  Whenever this happens, readers are encouraged to make the repairs immediately if funds are available.  Though it's always hard to know that playing it safe resulted in a real benefit for the homeowner, the old saying is true, it is better to be safe than sorry.
Look out for each other when the heat becomes dangerous.
Readers who are qualified to give advice, either because of professional expertise or personal experiences are encouraged to share in the comments below!  Don't hold back.  You never know when a moment of your time spent sharing comments with other readers might result in saved money, time, or suffering from a house that is miserably hot.
Home Warranty Cost. For basic home warranty coverage, plans average from $350 to $600 per year. For extended coverage, warranties add an additional $100 to $500 per year, depending on the number and types of items added.
What is covered under my home warranty? Coverage varies depending on where you live. Items available for coverage typically include: central air conditioning systems , central heating systems, kitchen appliances, clothes washer and dryer, plumbing system, electrical system and roof leaks.
The homeowner policy covers for "sudden and accidental" damage to the home. If the electrical problem caused other damage to your home, there could be coverage, unless it developed over time. If the latest storm caused the loss of electricity and damage to appliances or the like, there could be coverage.
A home warranty will typically cover most major components of large home systems, such as your HVAC (central heating ventilation air condition), hot water heaters, plumbing, electrical and more. It may also cover regular appliances such as washers, dryers, refrigerators and stoves.