The Budget Homeowner's Guide To Keeping Appliances Running
PUBLISHED: June 12, 2020
•
4 MINS READ
Your home appliances like your microwave oven, dishwasher, washing machine, and refrigerator are costly one-time buys. Maintaining home appliances well, therefore, leads to cost savings and helps reduce the energy bill. To help you keep your appliances running smoothly without burning a hole in your pocket, HomeWarrantyReviews.com has created a guide for all you appliance enthusiasts.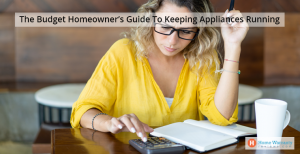 Budget-Friendly Ways To Maintain Your Appliances
You don't want to find yourself in a position where you have to spend thousands of dollars just to repair a single appliance or component of a home system. Try taking out some time out of your busy schedule, and inspect the different cost-effective ways to take care of your appliances.
You will be surprised to know that there are many budget-friendly ways to take care of your devices, and you can have the whole family pitch in to make it a nice bonding exercise.
1. Home Warranties
Home warranty plans are one of the best ways to keep your appliances running. Not only are they cheap, but the plans you choose cover other appliances also, not just a single device. Usually, warranties last for a duration of one year, and can also be transferred if you are selling your property.
Many top home warranty companies like American Home Shield, The Home Service Club, and ServicePlus Home Warranty offer superior appliance plans to fit your needs. You must compare the coverage offered, annual premium, and deductibles before finalizing one. Home warranties cost customers anywhere between $300-$600 annually, and each time a technician comes in the customer must pay a deductible ranging from $50-$125.
To better understand which is the best home warranty company that suits your needs, you can read other people's experiences online.
2. DIY Maintenance
Many a time, you can take care of all your appliances by yourself to keep them running smoothly. There are several videos, online to help you repair and maintain various appliances all by yourself. All you need to do is follow the steps mentioned. If you still are not too sure about how to go about the process, you can check the user manual of your device, or reach out to the company's customer care team. DIY Repairs is an extremely budget-friendly method to prolong the life of your devices.
Simple steps, such as cleaning the interiors, adding a detergent to wash the devices, and using the correct equipment goes a long way in keeping your devices functioning smoothly.
3. Manufacturer Warranty
A lot of your newer appliances do come with a manufacturer warranty, which simply means if your devices start malfunctioning they will get repaired for free. All you need to do is avail of the manufacturer's warranty if you notice a problem with your devices. The appliance company will send someone over, to repair the device.  If you have older appliances home warranties are your best bet to save money and protect your devices in the long run.
Simple Cost-Effective Steps To Make Sure Your Appliances Keep Running
Remove all the food in your refrigerator and clean the insides of the appliance once a month.
You could also vacuum the coils in your refrigerator once in a while as this also saves electricity.
Take out any unnecessary things stuck in your washing machine and clean the insides of the device with liquid chlorine bleach or vinegar, after every 15 cycles.
Clean your cooktops with a damp cloth or detergent and make sure they are no insects stuck in between the components.
Check all the components of your garage door opener regularly, making sure all the nuts and bolts are fitted appropriately.
Never overload any of your appliances.
Always shut off your dishwasher once the cycle is complete.
Never connect many appliances to a single power unit.
Make sure no insects are living in the insides of your appliances.
Use hot water or baking soda to clean your garbage disposal incinerator once in a while.
Closing Thoughts
All your home appliances are very valuable to each and every family member. Advise everyone at home to take care of the appliances with care and don't misuse any device at any point of time. At the end of the day, it is these appliances that will really ensure that your home functions smoothly.