7 Items That Need a Home Warranty
PUBLISHED: July 16, 2019
•
5 MINS READ
If you buy a home or a homeowner, then you should consider a home warranty. On several instances, real estate agents gift home buyers a home warranty. This home warranty is also provided by a home seller as it will safeguard them from expensive repairs that could occur during the transaction. Here, we will focus on things that need a home warranty.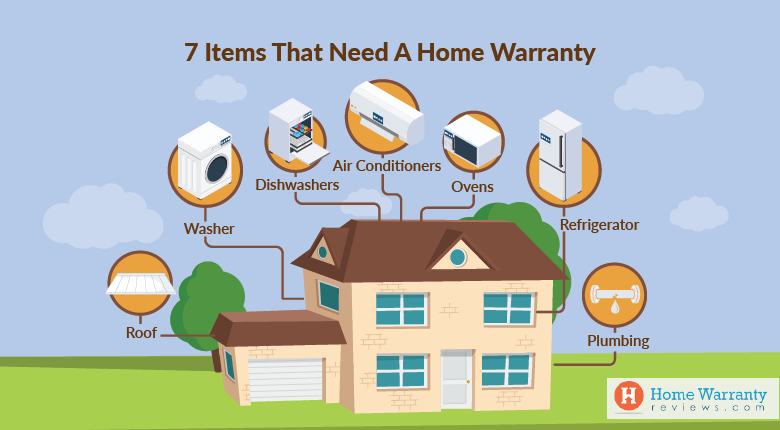 Whether you have electricals, plumbing, HVAC or even an oven looked at, you can be assured that a home warranty will come in handy. You should know that home warranties do not take care of home maintenance expenses which are not covered in the title and the homeowner policies. This is why it's important to read the contract and examine which items are covered. Home appliances and systems like plumbing, electrical, home heating and air-conditioners are covered. 
Similar to an insurance policy, you should read the fine print and ensure that you know what items are covered and what is not. You need to know what does the company provide and the type of policy that you will be comfortable with signing on the dotted line.
These are reasons to check the pros and cons and learn about the type of insurance. These are some of the reasons that you should review before you consider a purchase.
A Home Warranty For Home Buyers and Home Sellers
Even for sellers, it makes sense to buy a home warranty plan and it remains more desirable for potential buyers. In this way, it can reduce the time in selling a home. With home warranties, you can enjoy peace of mind even if something breaks after you close. In this way, both the buyer and seller will be at peace and the home warranty will take care of any issues caused due to wear and tear.
Buyers, on the other hand, gain a sense of protection for their home purchase. This is where home warranties come in handy. Check out the top home warranty companies like American Home Shield, The Home Service Club etc. If you think about it, a buyer already spends so much money on the down payment and has several other expenses to pay for. This home warranty allows him to protect his budget and get round the clock repair services if needed. 
Determining Which Items Require a Home Warranty
Since not all home warranties are the same, it becomes important to determine what you need in a home warranty. This means that you need to determine which are the important appliances and systems that should be covered in case of a breakdown. Here are some of the items that you should get a home warranty for:

1. Refrigerators
When it comes to refrigerators, there can be repairs costs of $200 to $2000 and this depends on the brand that you have. It could get dearer if you have to change important parts or even the motor.
2. Roofs
You could be shelling out several thousands of dollars if you are not careful. Roofs get worse with leaks and the damage can be considerably more in the winter months. This is why a home warranty is important not because of the costs but also when it comes to the technician that repairs your roof.
3. Ovens
When it comes to ovens, there are several complicated components that need to be repaired and it can be difficult to source parts and the right technician. This being said just cost of a thermostat is way over $1200.
4. Washers
If your clothes washer breaks down it could be based on issues with heater coils, motors, water valves or inverters. These costs can range from $120 to more than $400.
5. Plumbing
It's a given that you cannot run a house without proper plumbing and this is can cost about $175 to $400 for the repairs. Additionally, you will have to pay a plumber per hour for their work.
6. Dishwashers
The most common breakdowns with dishwashers are usually heaters, main motors, hinges or the door gasket. Each part can cost you anywhere between $200 to $300 per repair.
7. Air Conditioners
You will be especially grateful to your home warranty company in the summer months for keeping you cool. But, these air conditioners cannot be considered a luxury as they get a lot of use. There are high out of pocket expenses that can set you back about $600 to $1900.

This is where a home electronics or appliances protection plan will cover all your air conditioner repairs.
Even with new appliances and systems at home, the original equipment manufacturer warranties would last for not more than a year. This is where a home warranty is useful.
Home insurances, on the other hand, cover things that can be fixed by workers that are approved by the insurance companies. Plus, insurance companies only issue repairs to damages caused by an Act of God, an unnatural calamity, accident or theft.
Still Wondering About a Home Warranty Plan?
In case you are still not certain about home warranties then you will know that it is worth it because you will get repairs and replacements for a fraction of the costs. American Home Shield is one of the top home warranty companies out there, which you should definitely check out. This is why you should take a look and compare home warranties on our website, read through customer reviews and get a free home warranty quote. 
So, even if there is a break down then with home warranties, you can be assured that you are totally safeguarded. Do check out the top home warranty companies before finalizing.  This means that you are protected from unexpected repair and replacement costs. You should know that whatever the item is, at the drop of a hat, you can call a home warranty company and expect them to repair any covered item in the contract. It's that easy!