Best Appliance Warranty Companies in 2023
PUBLISHED: September 8, 2020
•
6 MINS READ
When it comes to protecting your home appliances and systems, you should look for an appliance warranty. But, you should choose the very best options that are available in the market. You should know that home appliance insurance plans differ from an appliance warranty.
Appliance Insurance does not provide protection for several valuable items and systems that breakdown due to normal wear and tear. These include washers, dryers, HVAC systems, electrical systems, roofing leaks, and plumbing.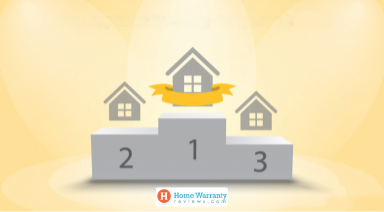 Even if you have a manufacturer's warranty for home appliances and mechanical systems, it lasts for a limited time period. Without purchasing extended coverage, it may not cover all parts and labor.
Since so many of these appliances and systems are left unprotected, it's time you considered buying an appliance warranty. This will protect you against costly repairs and replacements. The advantage of an appliance warranty is that there is one plan and one company to call to get service.
Best Home Warranty Companies To Consider
No Company Found
The Best Home Warranty Companies in 2023: Overall

| | | | | | |
| --- | --- | --- | --- | --- | --- |
| Companies | American Home Shield (Top Pick) | The Home Service Club | Choice Home Warranty | Select Home Warranty | America's Preferred Home Warranty |
| Known For | Flexible Plans | Innovative Offers | Comprehensive Plans | Nationwide Coverage | One Plan for multiple options |
| Deductible | $75 to $125 | $95 | $60 | $60 | $50, $100, and $125 |
| Customizable Coverage | $3,000 appliance coverage and $1,500 system coverage | $2,500 for both appliance and system coverage | $1,500 for both appliance and system coverage | $500 for appliance and $2,000 for system coverage | $1,000 Appliance Coverage |
| Service Recall Period | 60 Days | 90 Days | 30 Days | N/A | 60 Days |
What is an Appliance Warranty?
An Appliance Warranty Insurance is similar to an original manufacturer's warranty. But you would buy an appliance warranty from a company which is not the manufacturer. These contracts are also called service contracts, appliance protection plans, home warranty plans, and appliance repair plans.
You should know that home appliance warranty provides repair and replacement for covered appliances. This is based on a maximum appliance and system allowance. A home appliance warranty also provides an additional layer of protection for appliances which standard homeowners' insurance policies do not offer.
Difference Between Appliance Warranty, Home Appliance Insurance, and Extended Warranty
| | | |
| --- | --- | --- |
| Appliance Warranty | Home Appliance Insurance | Extended Warranty |
| Covers a range of appliances and systems | It covers the structure of a house, personal belongings, and liability protection | Covers a specific appliance |
| Administered by third-party companies | Regulated by state authorities | Provided by OEM |
| Service provider is a generalist | The service provider is a generalist | Service Provider is an expert |
| Purchased after the expiry of manufacturer's warranty | It is purchased immediately when you buy a home | Purchased before the expiry of manufacturer's warranty |
| Service provided by third-party contractors | The service is done by trusted companies | Service done by authorized service centers |
| Charges deductible for each service | The contract covers all expenses in case of a natural calamity. | The contract covers all service/repair expenses |
| Recommended if your appliances and systems are more than 4 years old | Required if you purchase a home with a mortgage loan | Recommended if your new appliance or system goes out of manufacturer's warranty |
How To Choose the Best Appliance Warranty Company in 2023?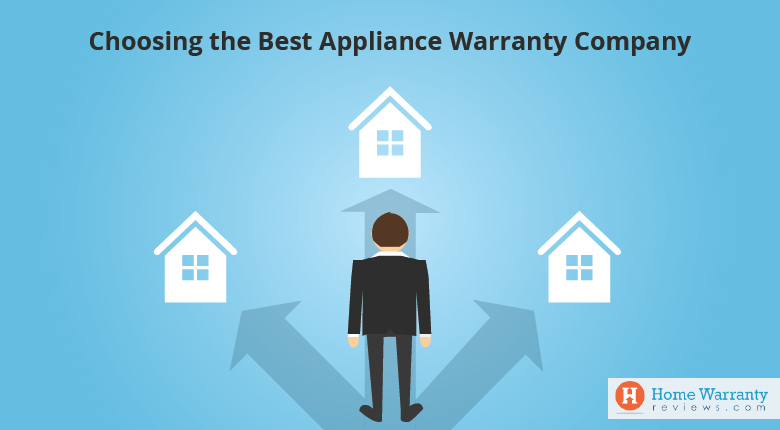 There are several home warranty companies in the market. There are factors that you should look into before you buy into a new plan.
Let's look into how to choose the best home warranty companies:
Accessible Contracts
Consider the best home warranty company by being able to check if there is a sample service contract online. The Service Contract Industry Council (SCIC) suggests that home warranty companies should find and review their contract. This means that you should not have to get into a sales pitch or call the company to get this information. Also, you would not have to give them your personal information to get their coverage details.
Reliable Customer Service
Home warranty complaints usually come from misconceptions of what the policy would cover. To reduce this confusion, you should look for upfront and transparent home warranty plans. You should know about the coverage and claims process. Also, how these would be treated in an eventuality that you need to have your claim covered. Similarly, read through the reviews about companies and customer service ratings on our site before signing up for a company. This is better than listening to a sales pitch to base your judgment.
Generous Coverage
When you compare home warranty policies, ensure that you get the maximum coverage amount. This should cover single repairs or be enough for a year's worth of maintenance. Companies like American Home Shield offer generous coverage. They provide coverage of up to $1,500 per item while TotalProtect does not have a coverage limit. These service providers usually cap their coverage at $500 which normally does not cover repairs and replacements of important items.
Clear Terms
You should be able to read the fine print of the home warranty contract before you sign up. This is because its small specifications will determine what would happen if something breaks. Look into the service agreement as this section would give you the contract details. This will tell you whether they would fix it and what is the maximum amount. You should look for straightforward policies that are not confusing and are not unreasonable.
Best Appliance Warranty Companies
If you're considering a home warranty plan, we have listed the top five best home appliance warranty companies in 2023. This is where you will figure out which is the best appliance protection plan out there. Let's look into the top home warranty companies:
1. American Home Shield (AHS): Best Overall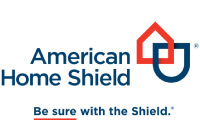 American Home Shield founded the home warranty industry in America and is among the most respected home warranty companies in the market. It was established in 1971. American Home Shield has a BBB rating of B. Here the coverage becomes effective 30 days after the day of purchase. It has a premium of $299 – $500+ per year and the deductible is between $75 to $125. AHS won the Best in Service award in 2014 after which it has won the Top Rated award for 5 consecutive years from 2015-2020.
Appliance Warranty Plans include:
Appliances Plan:

Covers over 10 appliances like ovens, dryers, cooktops, washers, refrigerators and more.

Systems Plan:

12 major home systems are covered liked AC, electrical, plumbing and more.

Combo Plan:

With this plan, you can choose a comprehensive package for both appliances and systems at a discounted price.
You can also choose to Build Your Own Plan with specific appliances and systems that you require protection for. This answers the question – What is the best home warranty company!
Read our full American Home Shield Review.
2. The Home Service Club (HSC): Best Reputation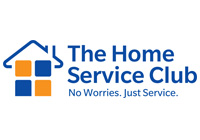 The Home Service Club (HSC) is known for being an innovator and industry leader in the home warranty industry. Established in 2008, it operates in 49 states across America. It is headquartered in New York and has a strong service network.
However, it does not have a BBB rating. The premium amount per year begins at $400 and comes with deductible of $95. There is a waiting period of 10 days. But, you can be sure that the 24/7/365 customer service and claims department will look after your every need. Also, it is the highest rated home warranty company on our website. HSC has won the Annual Home Warranty awards for Best in Service 2015, 2016, and 2021 and the Editor's Choice Award in 2018.

Appliance Warranty Plans include:

Standard Coverage:

This is an affordable plan which covers 18 essential systems and appliances in your home.

Comprehensive Coverage:

This plan is more popular and offers coverage for 33 covered appliances and systems. This gives you the best value for your buck.
Additionally, there are real estate home warranty plans to help with buying and selling a home. This is based on a variety of plans and perks for each transaction. Here you can review some of the best home warranty plans.
Read our full The Home Service Club Review.
3. Choice Home Warranty: Comprehensive Plans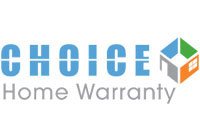 Choice Home Warranty is the second largest home warranty company in the USA in 2021. Being in operation for 10 years, Choice Home Warranty accepts clients nationally across 49 states. It has one of the most extensive coverage plans.
The company boasts that it has served millions of Americans since its inception in 2008. Additionally, to make a Choice Home Warranty claim is simple. There are no fees for contract transfer to a new home. The premium amount costs $370 to $450 while the deductible is $60. The waiting period before the home warranty coverage initiates is 30 days. Similarly, the service recall period is also 30 days. Over the last few years, Choice has been nominated and won several accolades.
Appliance Warranty Plans include:

Typical Plan:

This plan provides coverage for 13 home systems and appliances

Total Plan: This plan includes all the home systems and appliances from the Typical Plan plus 4 more items.
Read our full Choice Home Warranty Review.
4. America's Preferred Home Warranty – APHW: Best Deductible Options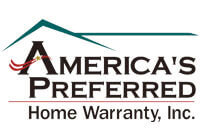 America's Preferred Home Warranty gives you several deductible options to match your budget. This includes plans of $50, $100, and $125 deductible options. Premium costs around $499, while the coverage effective is 30 days and the service recall period is 60 days. Established in 1999, it has a Better Business Bureau rating of A+.
Additionally, it covers 43 states in total including the District of Columbia. APHW has won Best Regional Home Warranty Company award back to back from 2017 to 2018. You can opt for warranty plans for a condo, townhouse, single-family, new construction or multi-family units. Additionally, plans could vary based on the state but coverage is for most home mechanical systems and appliances.
Appliance Warranty Plans include:

Covered items include built-in dishwashers, built-in microwave, central AC, electrical, oven, roof leak repair and much more.
Read our full America's Preferred Home Warranty Review.
5. Select Home Warranty: Nationwide Coverage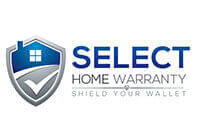 Select Home Warranty has nationwide coverage and has been in the market for over five years. In this short time, it has gained a solid reputation with homeowners. It delivers services to a large number of American homes nationwide. The other plus point is that it provides emergency services to its customers.
Select Home Warranty accepts claims 24/7 and contractors service claims at a mutually agreed upon time. In case a customer is not satisfied with the company's services they can initiate a dispute. This will help resolve the complaint. They have a premium of $299 to $400+ and a deductible of $60. The BBB rating is B (Not Accredited). Select has won the Best in Service award for two consecutive years and the Editor's Choice awards for this year.
Appliance Warranty Plans include:
Platinum Care:

This plan includes 15 appliances and systems. It contains a comprehensive list of items in the Gold and Bronze Care plans.

Gold Care:

This plan covers 5 systems including air-conditioning, water heater, and plumbing.

Bronze Care:

This plan coverage includes coverage for 5 appliances including the garbage disposal unit.
Read our full Select Home Warranty Review.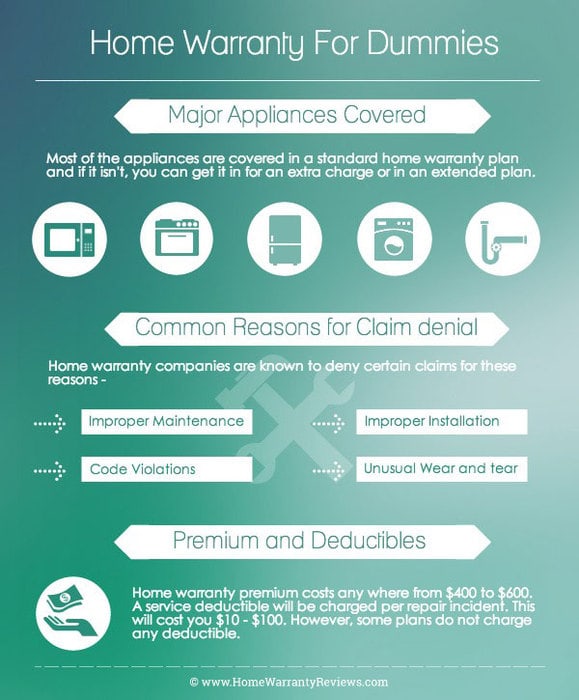 Home Warranties and Home Warranty Reviews
Now that you know which are the best home warranty insurance companies in America in 2023, you should decide upon one. This is where we at HomeWarrantyReviews.com help you determine a home warranty plan based on our knowledge base, articles, FREE tools, and awards page.
As the #1 consumer reviews site for home warranties, we make it our endeavor to ensure that your complaints are also addressed and resolved with the Complaint Resolution Program dashboard. Here, you can log into the dashboard and submit your home warranty complaint and a customer service representative will try to resolve your issue. In case the complaint is not resolved within 30 days then the complaint will be made live.
Try our FREE tools – Home Maintenance Calculator and Mortgage Calculator.
With the Home Maintenance Calculator, you will learn the difference in out of pocket costs versus having a home warranty insurance to protect you against spiraling repair and replacement costs. Here, you will know whether a home warranty is worth it based on the age of your home and appliances.
Another amazing tool is the interactive Mortgage Calculator which will help you determine your mortgage payments and helps create a schedule so that you will never miss a mortgage payment. It takes care of all the number crunching and lets you know about the mortgage payment schedule even if you have made a few payments already. Simply key in the value, watch the interactive calculator let you know your payment schedule and learn whether your interest amount is within your means.
At HomeWarrantyReviews.com, we also make it a point to recognize the best home warranty insurance companies based on key indicator upon which the awards are determined. The Annual Home Warranty Awards are Top Rated, Editor's Choice, Best in Service and Best Regional Company.