Do Your Home Appliances Need a Protection Plan in 2021?
PUBLISHED: April 29, 2020
•
4 MINS READ
The COVID-19 pandemic has created many changes in the way people go about their lives. Most people are homebound, and many areas are on lockdown. Family members are using appliances to their full capacity and breakdowns are inevitable. This makes it a good time to buy home warranty plans since the entire family is home and will be for the foreseeable future. 
If your appliances break down it will be difficult to find a technician, considering that the entire country is going through turbulent times and movements are restricted. This is where a home warranty plan comes in. If you have one, you need not chase technicians, as the company sends a licensed professional to repair or replace your devices.
This post will tell you why your appliances need home warranty protection in 2021.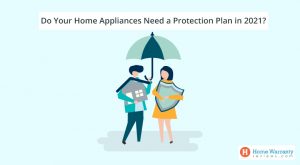 Here Are Some Factors To Consider:
Protecting You Appliances Is Cheaper with Warranties
With home warranty plans in 2021, you only pay for what is mentioned in the contract. There are no hidden expenses that one needs to pay. Usually, warranties cost customers between $299- $500+ annually. You will also be required to pay a service call fee of $50-$100 depending on the company you choose. Without a home warranty plan repairing or replacing devices can get really expensive.
Different Coverage Options Available for Different Appliances
Warranty plans cover systems and appliances such as your water heaters, ceiling fans, doorbells, refrigerators, smoke detectors, dishwashers, washers, trash compactors, and lots more. Many companies offer various types of plans in 2021, to suit different homeowners' needs. Customers are spoilt for choice and should research thoroughly before choosing any one plan.
Affordable Service Call Fee for your Appliances
When a device breaks down and you are protected with a warranty, all you have to do is pay an affordable service call fee. If you are not protected with a warranty repairing a single device can cost you thousands of dollars.
The Value of Your Home Increases If your Appliances are Protected
If your appliances are protected with a home warranty, and you are planning to sell your home or rent it, the property value increases. The potential customer knows that devices in the new home are covered and your liabilities decrease.  
Chances of You Going into Debt Decrease If you are Covered With a Warranty
Life is uncertain and your devices can breakdown at any given point in times. Repairing or replacing these devices can make you go into debt since they are very expensive. Even more so now, with technicians charging exorbitant prices for repairs due to the pandemic. Protecting your appliances with a warranty is much cheaper in the long run.
Important FAQs About Home Warranty Plans
How to Find Your Home Warranty?
You must research warranty companies online before choosing one that suits your needs. You can ask your friends and neighbors about their experiences about warranty companies, and read thousands of reviews online. The best way to buy a warranty is also online and you can take advantage of the free quotes we offer. You must read the home warranty contract carefully before buying it. 
Which Home Warranty is The Best?
There are several top companies offering coverage in the U.S. You can check out all these companies right here. Make sure to check the coverage details, price, service call fee, before choosing a plan of your choice. Don't make a hasty decision, and choose your plan wisely. 
Final Words
It is vital to protect your appliances in 2021. Protecting your appliances will not only save you a lot of money but also keep your mind at peace. Using warranties is simple; once you file your first claim, you will have a scheduled service visit from the qualified technician they send. Don't forget to claim your free home warranty quote today.