Does A Home Warranty Cover Water Damage?
PUBLISHED: June 30, 2020
•
4 MINS READ
Your home can be damaged by water in many ways. Appliances in your home can be damaged due to water, and this type of damage accounts for 30% of residential flood claims. When your appliances are affected by water, they may stop working. Residual water that has seeped into your device can be a breeding ground for mold, leave mineral deposits, and corrosive effects. This post will answer your question of does a home warranty cover water damage?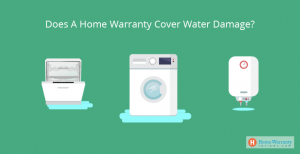 What Are Some Kinds Of Appliances That Get Damaged By Water?
Washing Machines
When there is damage in the supply hose of the washing machine, it can lead to water influx. Washing machines can malfunction because of this, and repairs or component replacements will have to be undertaken to get it fixed.
Dishwashers
Dishwashers are also more prone to water damage. The supply or drainage lines can get damaged, hence leading to dishwasher failure. Also, if the doors and the door gaskets of the dishwasher is damaged, the water can leak from the front as and when it is being used.
Water Heaters  
Water heater appliances can get damaged by water due to sediment build-up, leaks, rust, cracks, insufficient heating elements. Such conditions can be as a result of storage conditions and lack of maintenance. Water heaters eventually succumb to sudden bursts and slow leaks.
Further reading: What to expect in a home warranty
So, Does Home Warranty Cover Water Damage?
Now that you know what water damage is and some of the appliances that are susceptible to water damage, let us see whether home warranty companies cover water damage. Here are some of the top home warranty companies in America and their say on water damage coverage based on their sample contracts:
ServicePlus Home Warranty: ServicePlus Home Warranty home warranty plans only protect appliances and home systems that have been broken due to ordinary wear and tear. Their sample contract explicitly states that they are not liable or do not take the responsibility to cover water-damaged home systems and appliances.
Choice Home Warranty: Choice Home Warranty states that their home warranty plans will not cover appliances and home systems malfunctioned as a result of water damage.
The Home Service Club: The sample contracts of The Home Service Club clearly mention that home appliances and systems spoiled due to water damage and floods will not be covered by the home warranty company.
Their plans specifically state that the ductwork system under the comprehensive coverage plan will not be provided coverage if it is damaged by water or moisture. The plumbing systems under the standard will also not be covered if they have malfunctioned due to water damage.
American Home Shield: According to their sample contracts, American Home Shield home warranty plans do not provide coverage on any appliances damaged due to water. They state that they are not responsible or liable for any replacements or repairs as a result of malfunction caused by water damage.
Tips To Protect Some Of Your Appliances From Water Damage
The supply hoses of washing machines are made of rubber, and so they are prone to wear and tear, leading to leaks. As a precautionary measure, change the rubber hose every five years. It would be even better if you can replace them with stainless steel supply hoses.
Water leaks happen at plumbing connections of the dishwasher. Usually, these connections are hidden beneath or behind the appliance. It is best to undertake maintenance work every two or three times a year to ensure little damage as possible.
Conclusion
So, for your question " Does a home warranty cover water damage?", the answer is that most home warranty companies do not provide coverage for appliances broken down due to water damage. But they do provide for other damages caused due to wear and tear. If you have any plans to protect your home with a home warranty coverage, HomeWarrantyReviews.com is the best place to start!
Best Home Warranty Companies