How Much Money Is Saved Annually With A Home Warranty Plan?
PUBLISHED: February 24, 2016
•
6 MINS READ
At HomeWarrantyReviews.com, we strive harder to bring you honest articles that help you decide in buying home warranty plans from over 80+ companies listed with us and over 70,000 reviews to skim through. This article is all about annual savings from home warranty plans. First, you need to figure out how much are home warranties.
Now given for a fact, all of us would like to have a great deal, be it on any day (not only on Memorial Day or Thanksgiving or Christmas, gotcha!). So we decided to help you make an informed decision and save you dollars which could obviously prolong and protect your budget for unforeseen circumstances.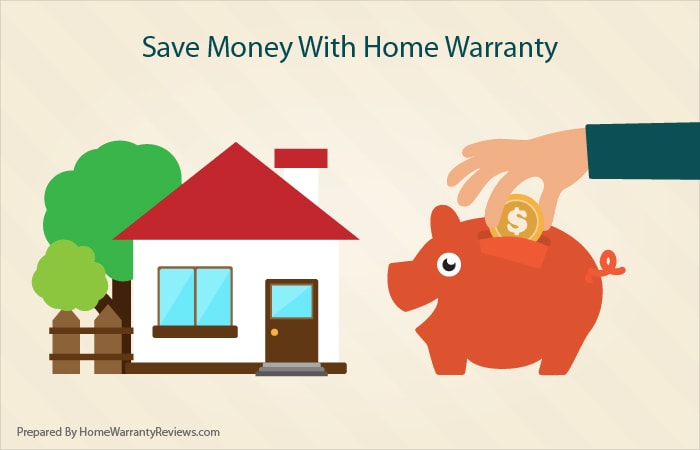 Here are ways to Estimate Home Maintenance Costs and it's good to know Which Appliances Break Most Often, when you plan to buy an optimal home warranty as per your needs. We've also got a free get quote tool for you to know what's best in your area. Why don't you give it a spin! Read on to know more about annual savings from home warranty plans.
Choosing The Right Home Warranty Plans
From $70 being shelled out to a repair executive to the individual appliances consuming more than $200 at one go, you could save plenty of dollars if you knew how to choose the right Home Warranty Plan.
Firstly, a homeowner with a new place to crash doesn't need a home warranty, you're covered by the builder's insurance policy for up to a year. Then there's life expectancy for the new appliances, so you could safely assume that it's not gonna burn a hole in your pocket for the first few years. The danger mark is when one approaches the 4-year tenure and upwards of it.
Secondly, assume that your home is over 12 years old and isn't maintained at scheduled intervals (read it as faulty appliances, leaky pipeline, paint fading, shabby interiors, you get the picture!), then even if you have the most amazing home warranty plan on the planet, your claims could get rejected. 
Home warranty companies seek for schedules of maintenance and keep in mind that not everything is covered and that the service executive could also charge the deductible and not get the appliance working, crazy right? It's more likely to boil down to the individual state of affairs and policy-to-policy variations. (Clauses, subclauses and more!).
If you're not covered under the policy at this juncture, then the regular service executive charges something around $70 per hour, also keep in mind that you'll be charged for extra hours. You'd definitely want to think if you want to repair the appliance or replace the appliance, most would stick to the latter option.
Lastly, here lies the category of pivotal importance. The sweet spot of 4 to 10 years during which every homeowner must have a home warranty policy. Now, let me tell you why. Among all the claims, the most sought after one is the HVAC control system. The service costs can vary from as low as $80 to as high as $900, in extreme cases. 
The average costs hover within the price bracket of $200 to $400. And now this should get you thinking, if one appliance service repair is costing that much, then how about the remaining appliances in your home! 
We've still got the next sought after claim- water heaters, averaging again around $300 for each service repair, and adding more to the list are- swimming pools/spas, garage doors, plumbing, furnaces, washing machines, refrigerators, dishwashers and other miscellaneous appliances, which might potentially need a service. Thus, the individual average price of each appliance can shoot over $200 respectively. (That's a Roadkill if you ask me!)
At this juncture, on a yearly basis, one can expect that at least two of the home appliances could breakdown & give you headaches which you never knew existed! Add to that the service executive's cut, the cost of the replaced part and you'll see yourself frowning. Whereas, the average price of one comprehensive home warranty policy is around $600, lesser than getting an HVAC control system alone repaired on your own. But, if you choose wisely you'll cover a lot of other appliances and potentially save a minimum of $1500 to $2000 in a given year. Isn't that a pretty cool figure to save any day?
Home Warranty Benefits 
So this is why we're all here folks, to know why Home Warranty plans are beneficial to us, in our day-to-day activities. Here's a list of comprehensive pointers for us to ponder over-
Protection against unexpected repair costs on home appliances

Comprehensive protection covered in your neighborhood

Expect high workmanship and professionalism, the best in business

Just a call away to sort the issues at hand

Most important appliances are covered in a standard policy

Unlimited services and easy claim process for hassle-free operation

Provides continuous protection by yearly renewals

Attract first time buyers, if you plan to sell

Amount of time saved can be greatly used for other activities

Peace of mind for sure
Are Home Warranty Plans Worth It?
The bottom line is, if you're a homeowner falling under the 4 to 10 years age bracket, then home warranties are going to be most beneficial as elucidated. We would also urge you to search for best companies locally listed under your ZIP and find the right choice for a home warranty plan by comparing the different plans offered by top 10 companies. If you fall into other categories, fret not, and make an informed decision by checking out our extensive collection of reviews, get online, be in the know, it's that simple! Internet is the information superhighway after all. Happy home warranty hunting everyone!
So, how much does a home warranty cost? Well, the average cost of a basic plan ranges from $350 to $600 a year. With the enhanced plan, it will be an additional $100 to more than $500 based on the amount of additional coverage.
You could buy a home warranty for $300 to $600 a year for the basic plan while its higher for more comprehensive plans. There are certain things to consider while evaluating the cost and you can use the home maintenance calculator to determine this.
Home warranty cost for a year is usually more than $300 and extends to as much as $600 per year. But, you can choose to opt for monthly plans. Also, you can pay an additional $100 to $500 per year based on the types of items.
Since home warranties are not insurance polices, you might have to invest in one at $350 to $500 a year or more. It usually covers kitchen appliances, plumbing, water heater, heating, and electrical system components, sump pump, whirlpool tub, and ceiling and exhaust fans. Now that you know more about annual savings from home warranty plans, you should definitely go ahead and get one.
Bottom Line
Some of the top companies that you could choose to protect your crucial systems and appliances are American Home Shield, Total Home Protection, and Choice Home Warranty. So don't hesitate any longer, go ahead and get your free quote today.