Reading The Fine Print Before Buying A Home Warranty
PUBLISHED: August 2, 2019
•
6 MINS READ
When it comes to purchasing a home warranty it's always better to read through the fine print of what the actual contract contains. Most home warranties cover appliances such as dishwashers, refrigerators, electricals, and microwave Owens. A home warranty is a contract that provides discounted replacement and repair services.
If an item suddenly breaks down in your house it will cost you a lot to replace or repair the item. Not to mention the inconvenience that follows. So when you purchase a home warranty your warranty provider pays for the repair services or pays you money to get the incase the item is irreplaceable. Always compare contracts and choose the right contract according to your home's needs before buying a home warranty.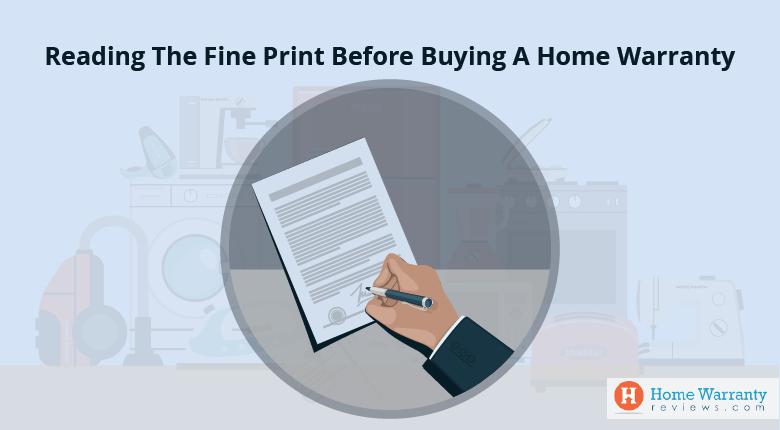 What Does A Home Warranty Offer?
The Home Services Club (HSC) contract offers different types of coverages which are the standard coverage, the comprehensive coverage, and the utility and home service coverage. The home warranty deductible for the contract is $95. The HSC standard coverage covers items such as refrigerators, clothes dryer and a dishwasher.
HSC's comprehensive coverage includes everything in the standard coverage and includes gas leaks, water leaks, and doorbells. The HSC utility and home services line coverage includes items such as the grinder pump system, sprinkler system, and the irrigation system line. All in all, if you want a complete coverage plan which takes care of all your home appliances you should choose the HSC comprehensive coverage plan. 
Whereas, the American Home Shield (AHS) average deductible is between $75- $125 and offers coverage covering all your basic household items such as air conditioning, heating, water heater, and exterior well pump. AHS  offers the appliances plan, systems plan, combo plan, and the add on the plan you should definitely check out. 
Choice Home Warranty (CHW) coverage plan is a fairly basic coverage plan which covers all your home appliances such as the electrical system, plumbing system, bathtub, and built-in microwave. The deductible for the plan is $60. CHW coverage starts 30 days after acceptance of the application and continues for 365 days from the date. 
Landmark Home Warranty has different plans and pricing depending on if you have just purchased a home or currently own a home. The deductible for the plan is $60- $100. Landmark also offers an à La Carte option where you add household items of your choice to your coverage.
Landmark's plans are also fairly basic and cover items such as a washer and dryer, built-in microwave and cooling and heating systems. Landmark also offers an à La Carte option which is definitely a good buy if you like to add only a certain number of appliances to your coverage. 
If you're looking for something more personalized you can always go for Landmark's à La Carte Option. HSC's comprehensive coverage is definitely ideal if you want to safeguard all your home appliances for the long term.  If you want a short-term plan, CHW one-year coverage plan is ideal. 
Take A Closer Into The Contract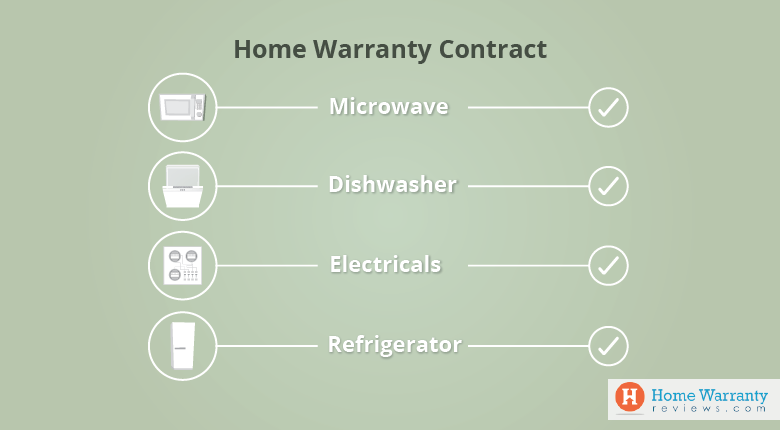 HSC service agreement only covers mechanical failures. The service agreement to cover mechanical parts and components of those domestic-grade items that were in the home and in proper and safe operating condition. Mechanical failure is caused when a  covered item becomes inoperable and unable to perform its designated function. 
Whereas, AHS approves to replace only wear and tear of home appliances caused by insufficient rust, corrosion or sediment.
A CHW plan only covers homes up to 5,000 square feet unless an alternative dwelling type (i.e above 5,000 feet or multi-unit home.) is applied and the appropriate fee is paid. CHW coverage is only for occupied owned or rented properties and does not include commercial properties. 
Landmark's contract does not cover the damages of appliances which occur due to snow, fire, and acts of God like a flood.
Things You Should Know Before Buying A Home Warranty
Here are a few things that you should look into before you sign up for a home warranty:
Don't Get Carried Away By Sales Executives 
Sales Executives can make you sign a contract without you reading what actually is included in the contract. Always check for things like annual premium, deductible, minimum contract length, estimated appliance coverage, and estimated system coverage.
Look For Discounted Deals
Always keep an eye open for Black Friday deals and New Year deals. Companies advertise a lot about these discounts so make sure to stay updated if you are keen to buy a warranty. Always keep an eye open as home warranty companies advertise a lot online. 
Consult Your Friends Neighbors And Colleagues
It's always a good idea to consult your colleagues and understand the plans that they have purchased. They can always give you a few tips on which policy is ideal for you. You can always discuss the pros and cons of the home warranty that they have and make an informed decision. Also, you need to check out what does a home warranty cover before finalizing 
2019's Top 10 Home Warranty Companies
Here's a look at the top 10 home warranty companies of 2019 and what they offer: 
| | | | |
| --- | --- | --- | --- |
| Company | Annual Premium | Deductible | Minimum Contract Length |
| American Home Shield | $299-500 | $75-125 | 12 Months |
| The Home Services Club | $400 | $95 | 12 Months |
| Choice Home Warranty | $370-450 | $60 | 12 Months |
| Landmark Home Warranty | $350-670 | $60-100 | 12 Months |
| America's Preferred Home Warranty | $499 | $50-125 | 12 Months |
| Select Home Warranty | $299-499 | $60 | 12 Months |
| HSA Home Warranty | $589-619 | $75-100 | 12 Months |
| Total Home Protection | $369-499 | $45-60 | 13 Months |
| First American Home Warranty | $336-$534+ | $75 | 12 Months |
| HWA | $275-695 | $75-100 | NA |
Making The Final Call
Looking at the table above, HWA has an annual premium that starts at $275, Select Home Warranties has an annual premium that begins at $299 followed by American Home Warranty starting at $299. Total Home Protection deductible starts at $45, followed by America's Preferred Home Warranty starting at $50. All of America's top home warranties are for a minimum of 1 year except Total Home Protection which is for 13 months and the HWA minimum contract is not applicable.    
After comparing all the home warranties you can opt for a free quote on HomeWarrantyReviews.com, or you could call on 833-809-7446. At the end of the day, it's up to you to determine which home warranty you would like to choose to suit your home. 
The market is flooded with home warranty plans. Making the correct decision about the plan and company is important. Our website hosts over 70,000 reviews covering 80 plus home warranty companies. We recommend that customers consider various options before zeroing in on a plan.