Top 5 Home Appliances That You Must Have This Winter
PUBLISHED: October 14, 2020
•
5 MINS READ
With the winter season approaching, you might be excited to welcome guests and enjoy Thanksgiving, Christmas, and New Year parties. Whether you live in a chilly area of your country or not, the drop in temperature may leave you stranded in the cold and ruin the festivities. Fortunately, a few winter home appliances will help you get through the coldest months of the year. 
Wondering which home appliances you must-have in the chilly weather conditions? This article will break it for you! The article will also guide you through the approaches that can help you protect your winter home appliances.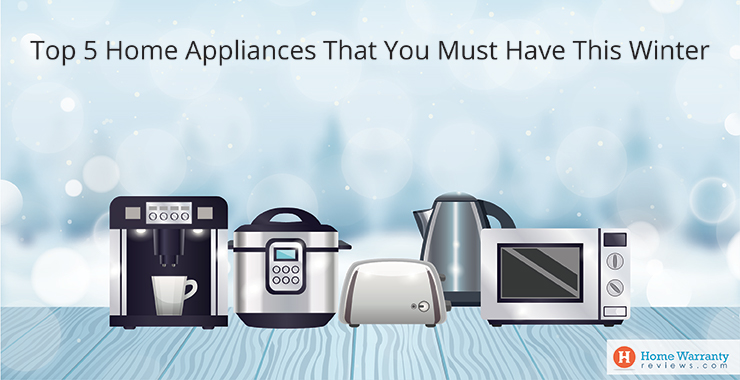 Must Have Winter Home Appliances 
Some of the winter home appliances that you must have during the winter months include:
1. The Coffee Maker 
No winter is complete without enjoying a hot cup of your favourite beverage. Hot brew not only helps you to beat the chill, but also to remain healthy. To get the perfect cup at home, purchase a coffee maker from the best brand that has features like brewing at a predetermined time and that can be controlled by voice or smartphone.  
2.Microwave Oven
Microwave Oven is one of the popular and handy home appliances. It helps you cook and heat food and enjoy them when it is chilling cold. Modern microwave ovens include many other features such as baking, roasting, and grilling. Added advantages of a microwave oven are it cooks food faster while consuming less energy. 
3. Electric Kettle 
An electric kettle is a handy winter home appliance that makes your work easy while saving your time. With an electric kettle, you can eliminate the task of boiling a glass of water or preparing tea each time. Instead, you can prepare tea or boil water and store it in the appliance and enjoy the sip whenever you want to.
4. Range Cookers
Warm food helps you stay warm in the cold months. But keeping the food warm is challenging in the winter months. The solution? Opt for most modern home appliances like range cookers with energy-efficient settings, precise temperature control, and multiple compartments to cook more. 
5. Pop-Up Toaster
Eating cold toasts on a winter morning is no fun and reheating increases the chances of burning the toast. But with a pop-up toaster including reheat function, you can enjoy the toast without burning them. Additional advantages of buying modern pop-up toasters is that it comes with browning modes so that you get the desired toast color without burning them.
Home appliances that you must have during the winter is not limited to the above listed. You should also include devices like refrigerator freezers to store food for winters, water heaters, dishwashers, and many more. 
Though these winter home appliances are built to work normally even when extremely cold, the chilly weather may affect these devices' functionality if you ignore them. 
Tips To Keep Your Home Appliances Running During The Winter 
Here are some tips for keeping your winter home appliances running smoothly. 
Electric kettle falls prey to chilling winter temperatures. If the appliance freezes, the water standing inside the device will turn into ice, resulting in expansion and damage of the a

ppliance. To prevent this, keep your appliance in a warmer place and drain the standing water. 

Coffee makers are typically full of water. When they are exposed to low temperatures, the water freezes causing the inner metal components to crack and break and repairing them can be expensive. Therefore, keep the machine in warm areas or cover it with the appliance cover. 

Check if your microwave oven thermostat is accurate. If it is not working properly, you cannot cook or bake. Also, make sure your microwave oven is placed in a warm area to avoid its freezing. 
Despite taking enough precautions and maintaining these devices, they may break down due to freezing temperatures or regular wear and tear. Home appliances repair costs are generally high, but with a home appliance warranty (or home warranty), you can fix your devices at lower prices. Not only that, with warranty policies, you can get easy access to licensed and insured technicians at any time and 24/7 customer support. 
Now that you know the benefits of opting for a home appliance warranty let's quickly look at the top companies in the market. 
Best Home Appliance Warranty Providers
Some of the top home warranty companies are: 
American Home Shield 
American Home Shield is the pioneer of the home warranty industry. The company has served more than 1.8 million customers since 1971. It offers three major plans to the customers: the Appliance Plan, System Plan, and the Combo Plan. American Home Shield also offers optional coverage to allow customers to cover additional items.  
ServicePlus Home Warranty
ServicePlus Home Warranty is a leading home warranty company. The company is known for offering exciting offers and discounts along with high-quality services. ServicePlus Home Warranty offers two standard plans, namely Gold Plan and Platinum Plan, and optional coverage options, which are affordable and reliable. 
2-10 Home Buyers Warranty 
2-10 Home Buyers Warranty is a popular warranty provider known for customer satisfaction. The company has served more than 6 million customers over the past 40 years. 2-10 Home Warranty through its System plan, Appliance Plan, and Optional Coverage covers a wide range of appliances and systems. 
Closing Thoughts 
Now that you know the list of winter home appliances you must have and tips for maintaining them, buy them as quickly as possible and enjoy the perfect winter. If you are already having some of the listed appliances, buy a home appliance warranty and protect yourself from unexpected repair costs.