Warranty Plans for Household Items
PUBLISHED: December 17, 2013
•
5 MINS READ
So, you have decided to purchase warranty plans that are going to protect your budget against unexpected repairs and replacements of your household devices. It is a wise step, but you might also want to know about the options you have when you buy warranties. We bring you the list of the most common types of warranties that are purchased to cover household appliances.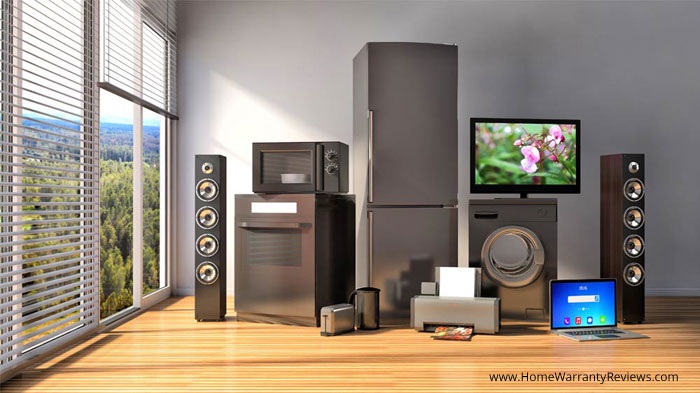 Warranties can differ based on several criteria. The age of appliances, age of the home, current conditions of the device is all significant factors that you must consider before you zero in on a household appliance protection plan.
 The working is pretty much the same for all these plans. When a device cracks, you inform the folks from whom you purchased the warranty and then they send over a technician to fix the damaged device. You will pay a service call charge each time you raise an issue. And, you can't report multiple issues in a single call.
Before we go into all that, we have to tell you that the Household item insurance is something that is not included in this article. It is an entirely different plan and if you wish, you can read about the differences between Homeowner's insurance and Home warranty.
Let's begin with the list
#1 Home Warranty
We bet that you have definitely heard about this one! This is also the most widely used plan. The Household Warranty also called as the Multi Appliance Warranty/ Appliance protection plans ( it is known by quite a number of names, would take some time to list them all out) is a service contract that agrees to offer discounted repairs and replacements of your household appliances. This is also known as a household appliance warranty.
This plan is ideally suited for customers whose appliances are over 4 years. Appliance protection plan covers damages that result due to regular wear and tear, so if you have brand new devices, chances are that you won't need frequent repairs.
Also, this is not free of cost arrangement. As a matter of fact, none of the plans discussed here are free. They do cost money, but the amount is nominal as compared to how much you will be paying if you had to carry out the repairs and replacements by yourself.
Multi-appliance insurance cover almost all the major appliances and systems in your home. They don't cover the outdoor devices like sprinklers and all that. Read your policy document to get a better idea. You can also read a brief description of the appliances that are covered. This is the best insurance for household items.
If you think that this is the ideal plan for you, we suggest that you read more about Household Warranty before you make a move.
#2 Manufacturer's Warranty 
This too is a familiar name. It is the kind of warranty that the appliance's manufacturer provides for a limited period of time. Meaning that when you purchase a brand new appliance, the manufacturer's warranty agrees to repair/ replace your device if something happens to it during the stated warranty period. The time frame changes from manufacturer to manufacturer. The average is often 1 year.
This warranty is a kind of legal binding. If they displease you by not honoring the conditions mentioned in the warranty contract, you can sue them.
Most new gadgets come with a manufacturer's warranty, even if you buy them online, you can get the manufacturer's warranty. Major appliances like HVAC units come with longer warranty periods. But keep in mind that the coverage doesn't remain the same throughout the warranty period. From second year on-wards, you will be paying for the repair service as the coverage becomes limited to certain parts alone.
You can't use a Home Warranty to cover a device that is already covered by its manufacturer's warranty. As stated before, Home warranty is for devices that are old, used and no longer covered by the manufacturer's warranty.
#3 Seller's warranty
Also called as the dealer's warranty, and is the warranty that is provided by the seller of the device. This is a very short duration warranty, usually around 6 months and if a defect occurs within the stated time, you have to take the gadget to that particular seller itself and no one else. It is not a very flexible and easy plan, but it is definitely better than no warranty at all.
#4 Extended Warranty
This is the kind of warranty that gives you the choice to extend the manufacturer's warranty as and when it expires. These are ideal for the devices that are not covered under the Home Warranty plans eg., TV, Laptops, etc. This is also known as a multi-appliance warranty.
You can't avail extended warranty on used and old devices. They can only be taken for fairly new gadgets whose manufacturer's warranty expired recently.
#5 Home service contracts
These are third-party service contracts, often provided by the seller or repair vendors. The costs vary widely as these contracts are usually given by local yet licensed service vendors. The coverage also varies so it is difficult to give much details about this type of warranty.
Speak with a few vendors and compare with the other options you have.
Getting the best
Do your research to get the best out of Appliance warranties. Always ensure that you chose a reputable company. You can also check with the Better Business Bureau to ensure that the company you chose has a clean record. Friends and family can also recommend good companies for you.
Remember, any kind of warranty plans, if chosen wisely can benefit you immensely by protecting your budget and also by giving you peace of mind.