Difference Between Extended Auto Warranty and Mechanical Breakdown Insurance
PUBLISHED: September 29th, 2017
•
6 MINS READ
For many, buying a car is not less than investing in a home, making it an investment that you hope will not require too much overhead besides gas for at least a few years to come. This need for security and peace of mind which a customer or car owner hopes for is very often fulfilled in two ways. One, when the dealer themselves set up a payment system or second, when a percentage goes into repair and future maintenance.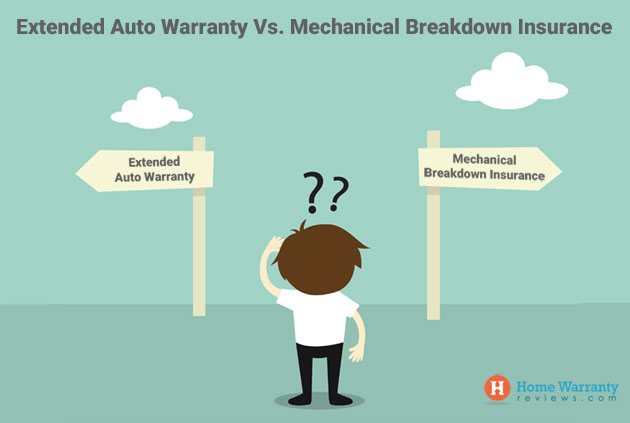 Though they sound similar in plan and coverage, there are two distinct policies that are offered by dealers – Auto Warranty and Mechanical Breakdown Insurance.
While the difference is clear – and will be discussed in greater detail during the course of this article – there are quite a few similarities which can easily confuse the customer.
Both Auto Warranty and Mechanical Breakdown Insurance operate in order to ensure that the cost of extensive repairs need not be borne by the car owner.

Usually, neither of the facilities is specific to the dealer you buy the car from, and can be availed across a wide number of auto workshops. This of course, is dependent on how high quality the policy itself is.

Both these services have a range of policies for the customer to choose from, covering a variety of parts that need repair and the kind of faults they cover. Plans that are comprehensive and a little higher on the budget scale usually offer bumper-to-bumper coverage, as long as you haven't hampered with any of the parts that came originally from the manufacturer.
There are three main aspects when it comes to differentiating between Auto Warranty and Mechanical Breakdown Insurance – who is it that you are getting the policy from, what kind of expense does each policy entail and what its terms and conditions are.
Who is it For
Car owners who don't think it is in their best interest to shell out periodic money for car repairs should seriously consider investing in Mechanical Breakdown Insurance. In fact it offers a steady security and assurance that your car will be functional whenever you need it, without a delay because of financial issues.
On the flipside, someone with a new car which is already covered by warranty or has a substantial sum of money kept aside for urgent repairs may find this coverage unnecessary.
Who the Policy is Offered By
Mechanical Breakdown Insurance acts as an extension of Auto Insurance, where breakdown or damage to systems in your vehicle that are not covered in a normal insurance scheme are accounted for. Ranging from faulty brake and transmission to malfunctions in the engine of other kinds, Mechanical Breakdown Insurance monetarily covers the repairs.
Auto Warranty is for a fixed time period after the purchase of the car where the dealer or manufacturer cover all faults, usually ranging from two to five years. This warranty is often extended by dealers or third party companies.  
Cost Differences
Like any other insurance policy, Mechanical Breakdown Insurance functions based on a premium. As long as you make the payments which are usually monthly or bi-monthly, the insurance covers the faults that may occur. You can choose to opt for a scheme that allows you to pay in one go for a six month or years coverage, but the perk of choosing insurance is that the costs are spread out over an extended period of time.
On the other hand, Auto Warranty and Extended Auto Warranty are both upfront and one time payments, the former most often being included in the cost of the vehicle itself. Prices are negotiable depending on the company or the dealer offering the scheme. Extended Warranty can also be purchased right at the time that your car is purchased, giving you the chance to add that in with the installments or loan. Though this staggers the payments and lets you pay as you go, it does typically include a fixed interest rate.
How Extended Auto Warranty and Mechanical Breakdown Insurance Work
While Auto Warranty is what comes with most new and some even used cars, Extended Auto Warranty and Mechanical Breakdown Insurance act as extensions for when your manufacturer and dealers warranty are no longer viable. Working towards making sure that repairs after the warranty concludes does not come out of the owner's pocket (and that too, all at once), extensions in warranty and additional insurance packages serve as useful expenses.
As mentioned before, extended warranty may be offered by an auto dealership or other third party companies. Like many other appliances, mechanical or technological, certain manufacturing companies offer their own extensions in warranty as well. While third party companies are difficult to judge in terms of credibility and service, policies that are offered by manufacturers are usually reliable.
Depending on how much you are willing to shell out and how long you plan on using the vehicle, and extended warranty can cover two, three, five or seven years of repairs and service.
The cost isn't only about how long you want the scheme to last. Factors such as the year in which the vehicle was released, how old it is and whether or not it is in its original manufacturer's warranty during the time the extended warranty is purchased, all come into play.
Consumer research and reports show that more often than not, owners did not land up making a claim during their extended warranty period, and even if they did, the savings worked out less than the actual cost of the warranty. This again, depends on the kind of car you drive, how you use it and how frequently.
Extended Warranty's lack of flexibility in payment schemes and cost effectiveness does not apply for Mechanical Breakdown Insurance. Much easier to cancel and overall a less expensive option, the payment in installments and the fact that the coverage extends as you pay, allows you the freedom to opt out of the insurance whenever you want. The same is usually not possible when it comes to Extended Warranty, where there is no system of refunds and cancellation.
Coverage
Extended Warranty most often covers everything that an Auto Warranty does, just for a longer period of time. You can choose to select a coverage that is less extensive and pay less, but that is dependent on your usage of the car.
Mechanical Breakdown Insurance has a minimal coverage of the transmission and transaxle components, all parts of the engine and internal components and joints of the drive axle housings. You can choose to extend this to cover pretty much every mechanical part of your car, but the cost does increase steeply with other additions.
Mechanical Breakdown Insurance (MBI) is coverage that pays for car repairs unrelated to an accident that can be purchased through your car insurance company instead of an extended warranty through the dealer.
Basic auto insurance includes a wide range of protection, including collision coverage that pays for your damaged car to be repaired as a result of a car accident. But a basic auto insurance policy doesn't typically cover the cost of mechanical repairs unless they are an immediate result of a collision.
The AAA Approved Auto Repair Facility Locator is a powerful search tool that gives you easy access to information on over 7,000 AAA Approved Auto Repair facilities across North America. If your vehicle is covered by a warranty, you may have to pay little or nothing for certain repairs.
Gap insurance usually won't pay for Overdue lease/loan payments. Costs for extended warranties, credit life insurance, or other insurance purchased with the loan or lease. Mechanical issues, such as engine or transmission failures, or any other car problems that are not losses covered by your car insurance policy.