2019 awards
HomeWarrantyReviews.com proudly brings to you the highly coveted 2019 Annual Home Warranty Awards! Over the years, HomeWarrantyReviews.com has identified and recognized the efforts of the companies that have provided exceptional services to their customers. The Annual Home Warranty Awards aim to not only recognize the top performers but also to inspire and motivate all the listed companies to go the extra mile and provide all-round satisfaction to their customers.
About Home Warranty Awards
HomeWarrantyReviews.com introduced the Annual Home Warranty Awards in the year 2012, and ever since then, this has become an annual custom to reward the most deserving companies of the year. In the initial years, the awards were given out in three categories – Top Rated Company, Best in Service Company and Best Regional Company. The fourth category – Editor's Choice was introduced in 2017. In each category, usually three nominees are picked and these companies are thoroughly evaluated on the basis of various criteria before selecting the winners for each category. One of the core objectives behind introducing the Home Warranty Awards was to inspire home warranty companies to provide an outstanding level of service to their customers.
Award Categories & Nominees
Here are the nominees that have been picked for each category of the home warranty awards this year.
Top Rated Company
The Top Rated Company award is presented to that one company that has achieved maximum levels of customer satisfaction rates through its services. The nominees in this category for 2019 are:
American Home Shield

The Home Service Club

Select Home Warranty
Editor's Choice
The Editor's Choice Award is bestowed upon the home warranty company which offers the best Digital Experience on the website. It also takes into consideration how well it has managed its online reputation through the Complaint Resolution Program (CRP). The nominees for the Editor's Choice Award 2019 are:
Best In Service Company
The company that provided the best possible customer service to its clients is awarded the Best in Service Award. The nominees for this year are:
Best Regional Company
The Best Regional Company Award is bestowed on the company that provided exceptionally good services and has achieved high levels of customer satisfaction in a specific region. There are only have two nominees for the Best Regional Company award 2019:
Home Warranty Award Winners 2019
Drumroll, please! Here are the winners for the 2019 Annual Home Warranty Awards. Please join us in congratulating these companies and wishing them the very best.
Top Rated Company – American Home Shield

Editor's Choice – Select Home Warranty

Best in Service – The Home Service Club

Best Regional Company – Landmark Home Warranty
Words From The Winners on The 2019 Annual Home Warranty Awards
The winning companies acknowledge the awards with gratitude and appreciation as expressed in the following words: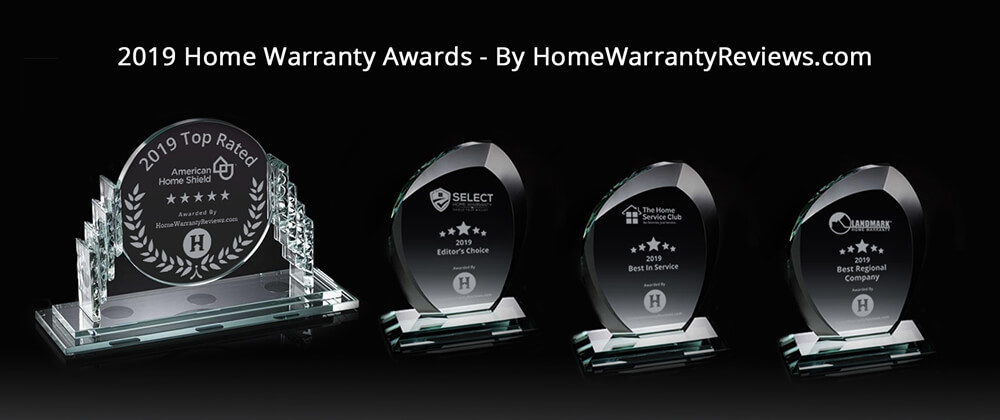 American Home Shield, Headquartered Memphis, TN – 2019 Top Rated
"It's an honor to receive the Top Rated award for the fifth year in a row," said Rex Tibbens, CEO of American Home Shield. "We responded to more than 4 million service requests from across the nation last year – that's one every eight seconds. Our employees are true problem solvers who work hard to provide outstanding value and service to every customer, every day. We appreciate the trust our customers' place in us and our network of over 15,000 service contractors, and we're constantly improving and innovating so that we can serve them even better."
Select Home Warranty, Headquartered Mahwah, NJ – 2019 Editor's Choice
"We are extremely excited and proud to be the recipient of the Editors' Choice award for 2019. HomeWarrantyReviews.com is the premier online search tool for all things home warranty. We are honored they we have been recognized by them for our efforts in customer satisfaction. This is the third year in a row that we have been given an award from HomeWarrantyReviews.com and we look forward to the coming year as we continue to improve on our customer satisfaction efforts. This award truly belongs to the hundreds of Select employees who work hard every day for our policyholders." says Joe Shrem, Select Home Warranty.
The Home Service Club, Headquartered New York, NY – 2019 Best in Service
"With a record number of claims this year throughout the country, this award is for the staff members who stayed late to help and always went the extra mile to service our valued customers. This truly is a testament to the culture of our company: service first! Our goal from the onset was to disrupt the way home warranty service is rendered and to provide homeowners with an all-inclusive solution where they never have to pay for covered repairs again while receiving industry-leading service. We are truly honored to receive our fourth award in five years and our third 'Best in Service' award." says Sam Zakarin, CEO, The Home Service Club.
Landmark Home Warranty, Salt Lake City, UT – 2019 Best Regional Company
"Landmark Home Warranty is excited and grateful to once again be named the Best Regional Home Warranty Company," Chris Smith, President, said. "Over the past few years we have implemented many changes to refine our customer service experience, and we continue to improve each and every day. We are happy to see that all of our hard work and effort has paid off!"
Winner Selection Process
All companies listed with HomeWarrantyReviews.com are first screened to see whether they meet the basic criteria required for being nominated. Next, the shortlisted companies undergo stringent screening before the winners are selected. The following criteria are required to be met by companies in order to be nominated:
A tenure of five (5) or more years in the industry

A customer base of five thousand (5,000) or more

A nationwide footprint, with coverage in over 75% of the states in the U.S. (This is not applicable to the nominees for Best Regional Company award.)
All companies that meet the aforementioned requirements are further evaluated on a new set of parameters to decide their eligibility. These parameters include factors like:
Overall Credibility of the company

Customer Retention rates

Customer Satisfaction rates

Use of Social Media and Online Presence

Use of IT to address customer issues

Ease of Use and Digital Experience
Winners Code of Conduct
HomeWarrantyReviews.com has set some guidelines for the winners of this year and the previous years to follow. By accepting of this award, it would be considered that you have acknowledged the terms and conditions of fair use set by HomeWarrantyReviews.com. In the event that a winning company utilizes our award seal to make gains through marketing, it is imperative that the company cites the reference to our website, i.e. www.homewarrantyreviews.com/awards. The winning companies are forbidden to break the terms and conditions. They are also prohibited from tampering with the link provided above or altering any visual/textual content or any related content without acquiring our consent first. Also, it must be noted that HomeWarrantyReviews.com maintains the absolute right to withdraw an award that was presented to a company.
A Note to Our Readers
The winners of the Annual Home Warranty Awards are selected primarily based on user reviews appearing on our website and on parameters mentioned earlier. We declare that we have neither accepted favors nor money from any of the winners for this year or the previous years. As stated before, winners are selected after a careful evaluation process. Though we do our best to ensure the accuracy of the information presented to us, errors and omissions are possible. We, therefore, urge you to not consider these awards to be of an advisory nature. We recommend that all our readers practice caution while researching companies as we shall not be held responsible for the errors you make or your misguided decisions.
Disclaimer
Any information present on HomeWarrantyReviews.com or linked with this site is of an informative nature alone and cannot be considered as the advice of any kind. We neither guarantee the authenticity of user feedback on our site nor vouch for the ratings and reviews received by the various companies. We can, however, vouch for the fact that we do everything in our best capacities to ensure only accurate information is displayed on our site. Kindly use the content on our site for guidance alone and never as legal advice. For details about the previous years' award winners, kindly visit 2018, 2017, 2016, 2015, 2014 and 2013/2012 Awards pages.