HOME WARRANTY AWARDS – 2020
It's that time of the year again! The time for the coveted 2020 Annual Home Warranty Awards! 
Every year we at HomeWarrantyReviews.com identify the home warranty companies doing the most for customer satisfaction. These awards are presented not only to recognize such efforts but also to encourage other companies to strive to provide better services.
Home Warranty Annual Awards For 2020
About Home Warranty Awards
These awards were instituted in 2012 by HomeWarrantyReviews.com to encourage the home warranty companies to improve their service delivery. We are happy to note that reports of customer satisfaction have risen every year since then. The awards are given to the companies offering the best customer service, claims processing and digital experience in the entire contract cycle.
There are four categories of awards- Top-Rated Company, Best in Service Company, Best Regional Company, and Editor's Choice.
Winner Selection Process
We rigorously screen various home warranty companies before nominating them. The companies must meet the following criteria to be shortlisted:
A tenure of five (5) or more years in the industry

A customer base of five thousand (5,000) or more

A nationwide footprint, with coverage in over 75% of the states in the U.S. (This is not applicable to the nominees for Best Regional Company award.)
The companies shortlisted on this basis have to meet the following parameters to be nominated:
Customer satisfaction and retention rates

Using various means to achieve customer satisfaction

Ease of use and digital experience

Social media engagements
These awards give a chance to the different companies to improve their service delivery and win customer recognition. The Editor-in-chief of HomewarrantyReviews.com, Krupesh Bhat said, "We are pleased to observe the growth in customer-centricity and are glad that we have played a role in contributing to the same. The Awards season gives us all a chance to see how far we have come and how much more we can do". He hopes that the next year will bring tougher competition with new entrants.
Award Categories & Nominees
Here are the nominees picked out under each category for 2020:
Top-Rated Company Award Nominees
American Home Shield

The Home Service Club

Select Home Warranty
Editor's Choice Award Nominees
Best in Service Company Award Nominees
The Home Service Club

American Home Shield

Select Home Warranty
Best Regional Company Award Nominees
Winners of The 2020 Home Warranty Awards

Words from the Winners of the 2020 Annual Home Warranty Awards
The winning companies acknowledge the awards with gratitude and appreciation as expressed in the following words: 
American Home Shield – Top Rated, 2020
"We are thrilled to receive the Top Rated award for the sixth year in a row," said Rex Tibbens, CEO of American Home Shield. "This recognition is a true testament to our employee's commitment to wake up every day and obsess over solving our customer's problems. Our more than 2 million customers nationwide place their trust in us each and every day, and we don't take that lightly. We are constantly innovating to improve the value we provide to homeowners across the nation."
2-10 Home Buyers Warranty – Editor's Choice, 2020
"We are honored to receive the Editor's Choice Award for 2020 from homewarrantyreviews.com. We pride ourselves on taking care of our customer's needs and deliver an exceptional customer experience. Our mission is to improve the quality of housing and the experience of homeownership. We are elated that homewarrantyreviews.com recognized 2-10 Home Buyers Warranty for this prestigious award."   
The Home Service Club – Best in Service, 2020
"We are excited and grateful to win this prestigious award again", said Sam Zakarin, CEO of Home Service Club. "Twelve years ago we set out on a simple mission to provide exceptional service, value and convenience across the home warranty spectrum. Our priorities are to disrupt the home warranty industry, at the same time provide a great and friendly working atmosphere for our employees, while giving back to the community and be a green company.  The staff at Home Service Club are sought out because they are vested in their communities and committed to helping others. We know seeking out these attributes in our team members will translate into how they serve our customers – just as if they are family. Our mission is to go above and beyond to provide exceptional service and this award validates our accomplishment of this mission. Our innovations throughout the years have created efficiencies in processes and reduced the time to repair or replace appliances and systems. This industry recognition award is a true confirmation of our employees' true nature of always willing to go the extra mile to help. Looking to future, the Home Service Club will continue to innovate, disrupt and invest in continuing to be one of the leaders in-home warranty service."
Landmark Home Warranty – Best Regional Company, 2020
Dave Hill, President of Landmark Home Warranty said, "We are excited to have won the Best Regional Company award from Home Warranty Reviews for the second year in a row. This marks the fifth time we've won the award since we've been in business, and it is truly a testament of our commitment to our customers. Here at Landmark, we strive every day to bring the best possible customer service to our homeowners and real estate partners. We're grateful to be recognized for our efforts and we look forward to another year of helping homeowners with cost-effective home repairs in 2020!"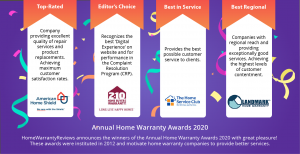 People's Choice Award
People's Choice Award is a new addition to the list of awards given out by HomeWarrantyReviews.com. This new award will be bestowed upon that company which has excelled in building a positive connection with the customers. This new award is primarily decided based on the aggregate positive responses received from the customers in a dedicated campaign run by us. In this campaign, we collect user opinions based on various aspects of home warranty plans and services of various top-rated companies. In the end, customer responses are collected and collated based on the degree of customer satisfaction as expressed by the respondents.



The purpose of the award is to lend a voice to the customers and make their opinions heard. This is done by identifying the company that receives more votes than the rest of the contenders in a dedicated campaign. This makes the award one of a kind in the home warranty sector where the winner is directly selected by the customers.
In the introductory edition of the People's Choice Award, we are excited to announce that Choice Home Warranty is adjudged its first recipient. The company's efforts in providing value-based services and ensuring customer satisfaction have culminated in its increasing popularity.
Winners Code of Conduct
HomeWarrantyReviews.com sets guidelines for all winners of this year and the previous ones to follow. Acceptance of this award would be seen as an acknowledgment of the terms and conditions of fair use set by HomeWarrantyReviews.com. 
If a winning company utilizes our award seal to make gains through marketing, it is mandatory that the company cites the reference to our website, i.e. www.homewarrantyreviews.com/awards. The winning companies are forbidden to break the terms and conditions. They are also prohibited from tampering with the link provided above or altering any visual/textual content or any related content without acquiring our consent first. Also, it must be noted that HomeWarrantyReviews.com maintains the absolute right to withdraw an award that was presented to a company.
A Note to Our Readers
The winners of the Annual Home Warranty Awards are selected primarily based on user reviews appearing on our website and on parameters mentioned earlier. We declare that we have neither accepted favors nor money from any of the winners for this year or the previous years. As stated before, winners are selected after a careful evaluation process. Though we do our best to ensure the accuracy of the information presented to us, errors and omissions are possible. We, therefore, urge you to not consider these awards to be of an advisory nature. We recommend that all our readers practice caution while researching companies as we shall not be held responsible for the errors you make or your misguided decisions
Disclaimer
Any information present on HomeWarrantyReviews.com or linked with this site is of an informative nature alone and cannot be considered as advice of any kind. We neither guarantee the authenticity of user feedback on our site nor vouch for the ratings and reviews received by the various companies. We can, however, vouch for the fact that we do everything in our capacities to ensure only accurate information is displayed on our site. Kindly use the content on our site for guidance alone and never as legal advice. For details about the previous years' award winners, refer to 2019, 2018, and 2017.