Most Common Reasons for Home Warranty Claims Denied
PUBLISHED: June 17, 2018
•
6 MINS READ
The biggest apprehension that people have about home warranty policies is the trust factor. Homeowners are unsure whether the claim made will be accepted or not. Truth is that what one home warranty company covers another home warranty company may not cover. Here are the reasons for some of the most common home warranty claims that are denied: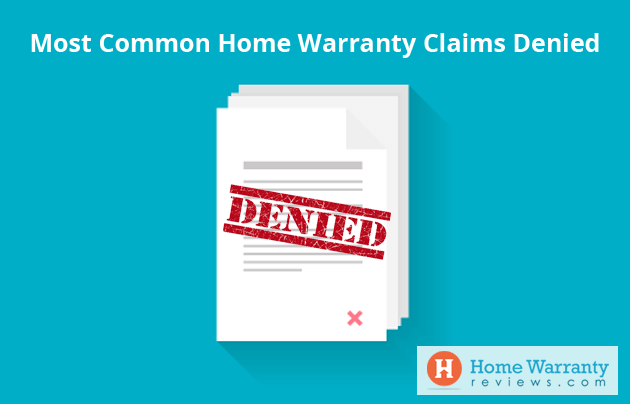 1. Non-mechanical Component
If your covered appliance ceases to function because it is dependant on a component/appliance that is not covered, the home warranty company will not cover the cost of repairs for the appliance that isn't covered.
STEVEN HOWELL 10-31-2017 HMS Home Warranty
"This is the first time I've had to complain to HMS. I filed a claim for the refrigerator ice-maker not working. HMS confirmed that is covered and scheduled a technician to come the house on Saturday as requested; I helped him move the refrigerator in and out while he diagnosed the problem. He declared my "filter housing" is why water is not flowing to the ice-maker. He said he would obtain the part and call to schedule the following Saturday. He did not call or return the following Saturday. When I called HMS, I was informed the technician reported both a solenoid and a filter housing was needed. I was further informed that since an ice-maker is a "mechanical" component it is covered by the home warranty, but the filter housing is "structural" and not covered and will cost me an additional $75. If you have to replace the filter housing in order for the ice-maker to work, it should be covered. Otherwise, you don't appear to be honoring your warranty to return a non-functioning component to operational status."
2. Modifications
When a system is replaced installing it may require a few modifications. For example, the new air conditioner that you buy may not fit in the existing space. This may require a few modifications. The costs incurred in making these modifications are not paid for by the home warranty company.
JEFFERY D HOGAN 10-11-2017 Home Warranty Of America
"If I could leave 0 stars, I would. It's been nearly 3 weeks with a water leak, and they're trying to deny the claim because fixing the leak would require a "plumbing modification". I asked him to describe a leak fix that doesn't modify the pipe. He failed. The service providers have been OK, but absolutely hamstrung by this terrible company. Glad I paid with a credit card. I'm getting my money back if I don't get the service. Bloody awful, and a complete rip off."
3. Part Not Covered
Your home warranty policy does not necessarily cover all the parts of your items covered. For example, some home warranty companies do not cover non-mechanical parts of an appliance like doors of dishwashers, knobs and handles of ovens, etc.
GARY POLLOCK 10-22-2017 Choice Home Warranty
"The good thing about Choice Home Warranty is that they present a clear, detailed list of what is and isn't covered. The bad thing is that they don't honor it at all. My dishwasher had a leak due to a valve cover seal that needed to be replaced. The coverage list did not exclude that part when I signed my contract. Choice rejected the claim first because they confused the part with the "door seal gasket" which is excluded. After a few days of trying to resolve this, they then changed their rejection to say that my part was connected to an excluded part. Their coverage list states that the door is not covered, but the CHW rep told me that they consider anything connected to the door as "the door". Unless it's electronic, of course. Does this make sense to anyone else? An informed consumer researching home warranties needs to know what is and isn't covered so they can understand the risk they are taking. Choice Home Warranty has a good start by providing a transparent list, but they lack the integrity to stand behind their agreements."
4. Item/Service not Covered
Quite often homeowners do not realize that an appliance that they thought is covered in the policy actually isn't. Quite often claims are denied because the appliance is actually not covered in one's policy.
SKI PULKOWSKI 10-20-2017 American Home Shield (AHS)
"wait time is redicoulas. !!!!! when i was sold my contract i the salesman direct ? 1 is a repipe of the entire home covered he replied in the past they did not but now they do !!! after 4 plumbing incident;s & the company;s saying that a total repipe is the only way to fix your problem well apparently u all record every conversation that i have had with u approx 20+ calls but the one call that the sal;s man selling me the contract was not recorded so it;s a he said she said big problem the last call was to to retention department wich make the big dissicion;s there answer was a flat out no we do not cover repipe;s then i asked how to cancell my contract he did not even try to address the problem not a good way to treat a customer in my opinion"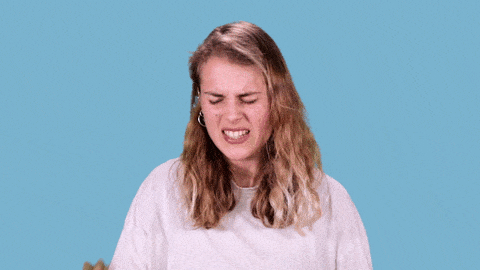 5. Pre-existing Conditions
Not all home warranty companies cover pre-existing conditions. Find out from the company whether or not pre-existing conditions are covered. American Home Shield policies cover pre-existing conditions. Get a free quote from American Home Shield by filling in your ZIP code and email address.
Adel Elessawy 10-10-2017 HMS Home Warranty
"DO NOT buy a home warranty with these people! Terrible customer service and dishonest. Also they will try their best to find any way to NOT pay for your repair. I made two claims for my A/C unit in the short time I have owned the house and both were denied with the argument that the issues were "pre-existing conditions". What is the point of home warranty if they don\'t pay for repairs when something breaks down?!!"
6. Mishandling/Overloading
Home warranty companies only cover the repairs and replacement costs of those appliances that break down due to regular wear and tear. Claims made for damages or breakdowns due to mishandling of the appliance are denied by the home warranty company.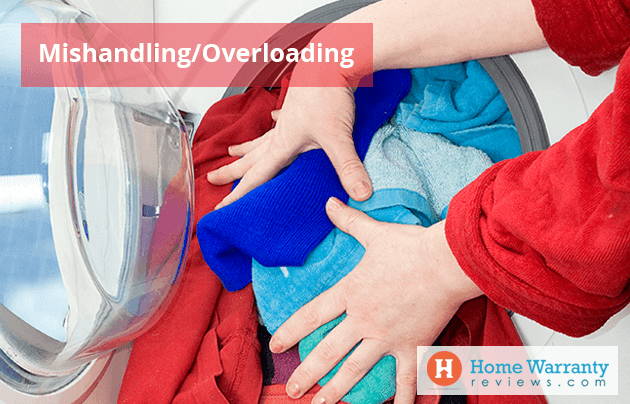 FADI ABDALLAH 11-01-2017 Home Depot Home Protection Plans
"This has been BY FAR the worst customer service experience I have ever had. I spoke with someone from Home Depot Protection Plan over 3 weeks ago and the service repairman came out and noted I needed a new control panel (cost more than the washer) and the broken agitator replaced. NOT ONCE DID HE EVER MENTION that that he thought the agitator broke from overloading (which I never did and I was with him the entire time and even asked him what he wrote) Needless to say instead of 2-3 days to upload the service info to home depot plan website it took nearly 3 weeks to finally get the information to the protection plan (AFTER I CALLED DAILY and called the service center begging them to upload the service call details); Two days later I was assured by an Asurion rep that my entire dryer (control panel and agitator) would be repaired or reimbursed, if cost was too high, and would call me the the next morning with the final decision…This is after nearly 3 weeks of home depot and high level supervisors of trying to get my washer repaired. The next morning no call back,…afternoon no call back so I call Asurion and was routed to a Home Depot Protection Plan Supervisor person who stated my claim was denied and that they would not honor what I was informed of the day before by the other Asurion Rep who said it would be fully repaired or reimbursed. Next think I know I\'m being informed by the Home Dept supervisor that my washer claim is being denied because I BROKE IT which was a lie and first time mentioned. The Service person specifically asked me and i assured me it only carried half loads and never overloaded and I watched him write his notes. Asurion never stepped in to try and help and just played as though nothing had happened. I ordered the parts from my own pocket and repaired it myself but the computer remains broken. SHAME ON YOU BOTH for HORRIBLE, HORRIBLE CUSTOMER SERVICE!!!! What is the point of purchasing an extended protection plan. LOSERS!. TERRIBLE TERRIBLE TERRIBLE!! Dont bother because they will lie and find every single loophole to get out of fixing your appliance. If I could give 0 stars I would."
7. Missing Parts
Home warranty companies deny claims on the grounds of missing components in the system or appliance. No matter how small or big the part may be, home warranty companies do not cover repairs if a component or part is missing in the item.
FRED CLOSS 11-03-2017 American Home Shield (AHS)
Generally good HOWEVER, twe had a cartidge fail in our shower and becasue a screw was missing, AHS declined to repair it.
8. Replacing Appliances / Buyouts
Quite often homeowners complain about struggling to be reimbursed by the home warranty company after being offered a buyout. Quite often homeowners even give up instead of going through the tedious process of repeated calls and long hold times.
JOHN MCLELLAN 11-21-2017 HSA Home Warranty
"refrigerator compressor went out five days before Thanksgiving. Service technician said it would be two weeks to order and install new one. Waited over an hour three times to talk to a HSA representative, was told I could apply partial cost of compressor towards a new refrigerator. Could not go two weeks without a refrigerator bought a new one and then was told by HSA they would not honor what they told me and I would have to wait two weeks for . Very disappointed in the company which does not fulfill the promises they make, customer service terrible–wait an hour every time you call. Would not suggest using them–doubt my commnets will be posted ."
9. Lack of Maintenance
Every single home warranty company does not cover the cost of repairs or replacements for damage that has occurred due to lack of maintenance. Hence it is highly essential to regularly undertake preventive maintenance tips and service your unit on a regular basis.
LAPAUL SHELTON MARIETTA  7-18-2017 American Home Shield (AHS)
"I would like someone to assist us with knowing how we need to maintain our products to avoid claim being not approved. We pay for the service in the event of an emergency and then are told that are product is not covered because we did not maintain it."
10. Damages Caused by Pets
Home warranty policies do not cover damages that are caused by pets. If your pet climbs onto an item and causes damage, the cost of repair will not be covered by your home warranty company.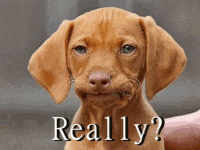 R S 8-09-2017 American Home Shield (AHS)
"Reported issue with my AirCon condeser…designated Tech visited 3 times. When on the 3rd time the AirCo was working, but not working (!), they reported "animal urine was causing it not to work " ! AHS have unfairly used this superficial diagnosis to deny contractual coverage. It is understandable coverage boundaries are established, but it is ridiculous to accept a coverage contract (without any inspections), then deny service without proper due-diligence This is not fair practice AHS."
To avoid such incidents, it is highly important for homeowners to do adequate research about the home warranty company. Follow these home warranty buyer tips to ensure that you buy a policy from a reliable home warranty company.
How Can HomeWarrantyReviews.com Help?
HomeWarrantyReviews.com is the #1 consumer research site for home warranty buyers. The website lists over 80 companies and has 470,000+ active users reviewing, researching and investing in home warranties. Just like how every other investment requires you to read up online reviews, so does investing in a home warranty. The site has over 70,000 reviews and generates articles that help home warranty buyers to use their policies wisely and make the most out of them.
The Complaint Resolution Program is one of the tools developed by HomeWarrantyReviews.com. This program creates a direct platform for home warranty users to interact with the home warranty company (if the company participates in the program) when they submit low ratings. The site also offers other tools like the home maintenance calculator and mortgage calculator to assist homeowners in the process of taking important decisions. The home maintenance calculator helps one get an estimate of how much their home maintenance expenses would amount to without a home warranty policy and gives them a list of home warranties that would fit their budget. If you require any help while shopping for a home warranty, feel free to address them in the comments section. Happy home warranty shopping!