How to get a home warranty company to replace furnace? 
PUBLISHED: March 27, 2020
•
5 MINS READ
A furnace is one of the commonly used home appliances, especially by those staying in the colder regions. When the cold air creeps in, you would want your furnace to keep your home warm to allow you to live comfortably. But if you have an aged furnace, the chances are high that it would break down, leaving you to shiver in the middle of winter. That is when a home warranty comes to your rescue. With a home warranty, you can cover all your major appliances & systems and make sure they are operating correctly. So, does home warranty replace the furnace? If yes, how to get a home warranty company to replace your furnace?
A home warranty covers the repair or replacement of the furnace when you file a valid claim. Be it oil, gas, or electric furnaces, a home warranty will include them all.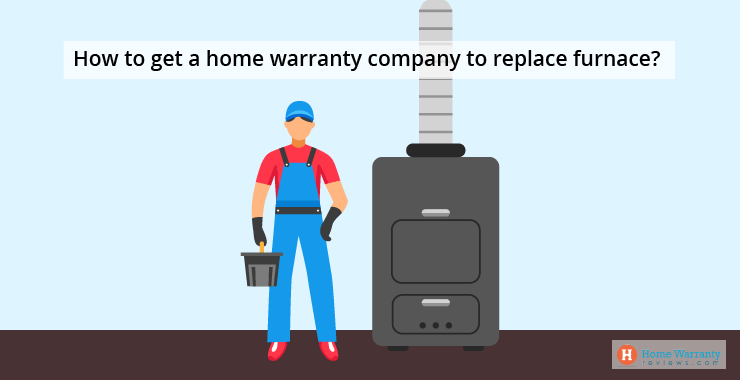 When do home warranty providers replace furnaces?
The typical lifespan of furnaces is 20-30 years. An aged furnace can break down for different reasons. When you request a service, your home warranty will send a licensed contractor who will diagnose the problem and fix your furnace. However, despite repairs, if your furnace continues to malfunction, then consider requesting for a replacement. But the question is, does home warranty replace the furnace? The answer is a big YES. 
Home warranty providers usually offer furnace replacement, provided it is broken beyond repair. However, it is essential to note that not all warranty plans are created equal. How your home warranty company handles a furnace that needs to be replaced depends on the type of your home warranty plan. While some plans may cover only the replacement of the broken components, others might include whole equipment replacement. Note that the warranty provider will offer you a replacement with a model that is similar to your existing furnace and will not force you with a model that is inferior to the one you have.
How do home warranty company replace the furnace?
Home warranty providers follow a simple and hassle-free work process. The procedure followed by them include:
Step 1 
When your furnace is broken, and you file a claim, your warranty provider will confirm if your plan covers the furnace.
Step 2 
Upon confirming, your warranty provider will approve the claim. Home warranty providers have a network of licensed and insured contractors nationwide. Your provider will assign a local and skilled technician to diagnose your furnace. 
Step 3 
The technician will contact you and schedule a mutually agreed appointment. The technician will then inspect your furnace, and if it is beyond repair, he will communicate the same to your warranty provider.
Step 4 
When your home warranty provider approves the replacement, the technician will replace your broken furnace with a new one. The technician will ensure to replace it with the same model. However, it is wiser to cross-check to avoid any dispute. 
Step 5 
On installation, your warranty provider will obtain your feedback to make sure you are happy with the service.
You will have to pay a service call fee to the technician. Since the technician would visit more than once to work on the same appliance, you may require to pay the service call fee for each visit, but before paying, get a confirmation from your warranty provider. 
Aspects to consider before filing a warranty claim
Now that you know how to get a home warranty company to replace your furnace, file a claim and get your broken furnace replaced. But know that each home warranty plan has its requirements and limitations. Therefore, go through your plan thoroughly before filing a warranty claim.
Understand what your home warranty will cover. Not all coverage options are the same. After filing a claim, you wouldn't want the customer support representatives to deny the claim. Some warranties don't cover the replacement of certain furnace parts.

Find out if your warranty plan has any limitations. You wouldn't want to find out that your warranty will cover the cost of furnace replacement only up to $1,200, and you have to pay the remaining amount.

Understand the cost associated with the warranty. Make sure you know about the service call fee and deductibles before the technician arrives at your home.
Find out if the broken furnace will be repaired or replaced. Some companies will replace the furnace entirely if either the equipment is beyond repair or the repair charges are very expensive. In such cases, some companies may only pay for the depreciated value of the equipment, which means you have to pay an extra amount to receive a new furnace. Others may want to repair before thinking about replacing it.
If your broken furnace has caused a fire and damaged your home, then your warranty won't cover home. Instead, you have to check with your homeowners' insurance if they cover such aspects.
Despite furnace being included in your warranty plan, your provider might deny the claim, if your furnace was broken before buying a warranty or malfunctioned due to improper handling or lack of maintenance. Therefore, make sure your furnace is well-maintained and is eligible for replacement when broken. 
Generally, a company replaces a furnace within 2-3 working days. But if the furnace model is out of stock then the process might be longer. 
Final words
Surviving without a furnace in winter can be difficult. If your furnace is relatively newer, make sure to maintain it to avoid its breakdown in the crucial times.