How To Pursue Insurance Claims
PUBLISHED: August 10, 2007
•
4 MINS READ
Since you searched for this online, it is possibly true that you are frustrated beyond possible limits, because your Insurance Company, that you hired to make your life easier, is in fact annoying you. Let's not waste time, this article explains the strategy that you must adopt in the event that your Insurance company acts tough on your claim and how to pursue a claim.
Let's take you over the essentials first. The points that follow must be adhered to, otherwise you stand a chance to lose the fight against the Insurance company.
General guidelines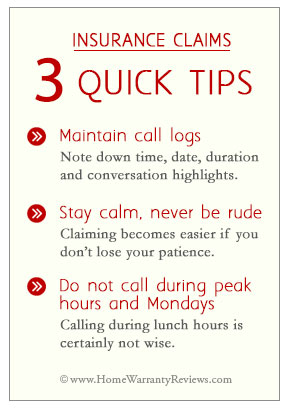 1. Information
Gather all the information you can regarding your damaged device eg Manufacturer's name,  model no, batch no, claim center's details, basically anything that is required. You should have them ready before you call up the Insurance Company. Keep the info that you gathered in the same place, this is will make accessing them easier. Keep your policy booklet and contract ready as well.
2. Maintain Call logs
Once you have gathered all the required information, call the Insurance company. It is suggested that you don't place your call on Mondays as it is the busiest day of the week to pursue claims. You should keep records of the following:
All communication with your Insurance company must be noted down precisely. Details about the following are most significant.
Time, date and duration of the call.
Name, ID and call center location of the representative you spoke to.
Name of the supervisor to whom your call was transferred.
Details about the content of your communication.
3. Be nice and pay attention
Remember that being rude is not going to reap any rewards. The Representative on the other end of the line is possibly more frustrated than you are as they have to deal with annoyed customers like you all day.
Greet the Representative back, make sure that you have gotten his name and other details right.
Politely explain your grievance, ask for their help, give them details that are required.
Tell them why you think your claim should be processed.
Always keep in mind that your fight is with the Company and the representative has nothing to do with it.
If you follow the above two rules, you might get a positive response from the Insurance company soon. But there are cases where even good manners and genuine claims fall on deaf ears. If you are experiencing something like that, read on.
They still won't listen- What to do ?
Call them up at a later time:  This may help if the representative you talked to is a kind fellow. Or they may decide to help you just so that you stop annoying them with constant calls. Give it a try.
Speak with a supervisor:  We are not sure how much this would help, but it is still worth a try.
Threaten them: Yes, you read that right. You probably had thought about it already. First, tell them that you had been a loyal customer and that you will be disappointed if your issue is not resolved. If that does not work, threaten them by telling them that you will terminate your contract if your grievances are not solved immediately. When you do this, they will ask you why you want to terminate your contract. Proceed on telling them how your constant pleas and calls were ignored.
Threaten them some more: It might be helpful if you threaten them by saying that you will tarnish their reputation by bad mouthing them. Declare that you are going to publicise the details of how you were treated and you can even tell them that you will announce the same through various social media.
BBB: The Better Business Bureau (BBB) is one such institution that mediates between the customers and the businesses to resolve issues. Place a complaint with them . The BBB is not a government run organization, however they are advocates of integrity and ethics. They do keep records of all the complaints. No institution wishes to be in the bad list of the BBB.
Attorney General's office: If you genuinely feel that you are being victimized, you can complain to the Attorney General's office. They will conduct enquiries and try to resolve the issue. If you do not wish to do this, then simply threaten the Insurance Company by telling them that you will complain to the Attorney General's office.
Last resort: The lawsuit threat. This should not be used unless your case is that compelling. Most biggies in the Insurance field have their positions covered legally and you may lose unless you have a strong case against them.