Everything Breaks

Review 2023
Everything Breaks is a new entrant with over six years of experience in offering home warranty services. They offer customers three home warranty plans: Appliances, Standard, and Premium, starting at $29.88 monthly. 
Some USPs of Everything Breaks are it offers same-day scheduling of services, a live chat feature, and a mobile app, setting it apart from other home warranty companies. Other features of the company include offering separate coverage plans for consumer electronic devices, making them a viable option for end-to-end protection. 
Our Everything Breaks review provides an extensive breakdown of the company's services. This unbiased and objective report intends to give you detailed information so you can make an informed decision. Our editors have gone through various customer reviews along with their analysis to help you know about:
Plans and coverage, pricing,
Exclusions & limits, and  
Claims process of the company.
Company At A Glance
| | |
| --- | --- |
| Years In Business | 6 |
| Plan Costs | $30- $89 |
| Waiting Period | 30 days |
| Coverage Limits | Up to $5k |
| Service Fee | $75 |
| Option To Pick Your Own Contractor | No |
User Sentiments
Positive:
Neutral:
Negative:
Why Everything Breaks?
Everything Breaks claims to have catered to more than a million customers
Everything Breaks provides 24/7 services on your claims
The company schedules same-day services
Everything Breaks includes appliances irrespective of the age
HomeWarrantyReviews.com
Consumer Affairs
Yelp Rating
Trustpilot
Sitejabber
Pros & cons of Everything Breaks
Pros
Offers add-on coverage for 19 home items
Maintains transparency and provides detailed information on the website
Cons
Not available in 8 states
Customers can choose only up to 4 systems under the plans
Everything Breaks Plans & Coverage
Everything Breaks offers three home warranty plans covering many appliances and a few systems. Customers can take advantage of these in 42 states where Everything Breaks is available. These plans are:
Five Appliance Plan covers any 5 appliances of your choice 
Standard Home Protection covers 17 home appliances and any 2 home systems of your choice.
Premium Home Protection includes 17 home appliances and any 4 home systems of your choice.
Here is the list of items covered under Everything Breaks' home warranty plans.
Items 

Standard Home Protection

Premium Home Protection

Five Appliances Plan

Attic Fan

✓

✓

Instant Hot Water Dispenser

✓

✓

Door Bell

✓

✓

Stand-Alone Freezer

✓

✓

Oven

✓

✓

Ceiling Fans

✓

✓

Clothes dryer

✓

✓

Any 5 of your choice

Freezer

Microwave (Built-in/Countertop)

✓

✓

Trash Compactor

✓

✓

Refrigerator (with Ice Maker)

✓

✓

Dishwasher

✓

✓

Garbage Disposal

✓

✓

Clothes Washer

✓

✓

Kitchen Fan/Exhaust Hood

✓

✓

Range Stove Cooktop

✓

✓

Bathroom Exhaust Fans

✓

✓

Garage Door Opener

✓

✓

Central A/C

Any two of your choice

Any four of your choice

Central Heating

Ductwork

Hot Water Heater

Whirlpool Bathtub

Electrical System

Plumbing System
Although the number of appliances covered under these plans are comprehensive, the system coverage is not comparable to the industry standards.  
Everything Breaks offer separate plans for consumer electronics and technological gadgets such as laptops, tablets, and mobile phone.
Consumer Electronics Plan: This comprehensive plan covers appliances such as smartphones, laptops, tablets, e-readers, televisions, printers, desktop computers, monitors, alarm clocks, cameras, car audio and video equipment, home audio components, home speakers, home theater, mp3 players, radar detectors, external electronic computer accessories, and other kitchen appliances. Consumer Electronics Plan starts from $29.88 monthly and $329.88 for annual plans.

Technology Protection Plan: This plan offers extensive coverage for mobile phones, tablets, and laptops. The nature of coverage includes a variety of issues, such as battery failure, RAM failure, loose charging ports, spills, drops, touchscreen malfunction, etc.
Optional Coverage
Everything Breaks offers these additional items you can purchase in exchange for some extra amount:
Additional Central AC System
Additional Central Heating System
Alarm System
Central Vacuum
Free Standing Icemaker
Lawn Sprinkler System
Limited Roof Leak
PC/Laptop
Plumbing & Lighting Fixtures
Pool (In-Ground Only)
Second Refrigerator
Septic System
SPA (In-Ground Only)
Sump Pump
Television
Well Pump
Whole Home Water Softener
Whole House Humidifier
Wine Refrigerator
Note: The optional coverage option is not available for Five Appliances Plan.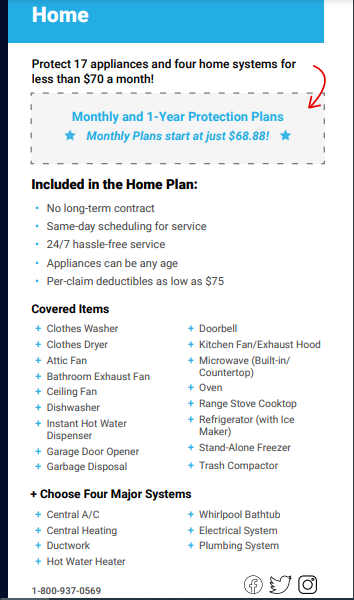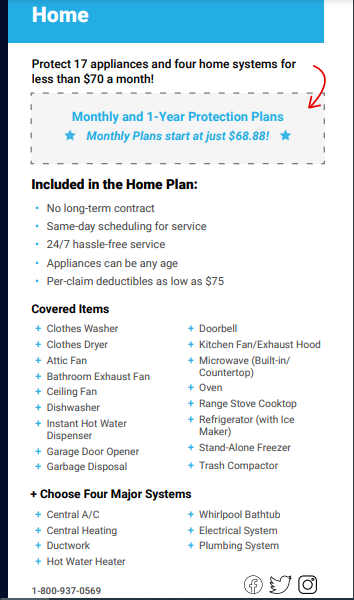 Everything Breaks Exclusions
Your Everything Breaks home warranty plans come with the following limitations. It does not cover
Repairs related to improper installation, wiring, connections, and design or previous repair of appliances
Defeats caused by a manufacturer's defect
Removal and towing away of old appliances
Known pre-existing conditions 
Repair required due to chemical or sedimentary build-up, infestation, mold, mildew, or bacterial manifestations
Failure caused by misuse or abuse, accidental loss or damage, and collision
Defects due to missing parts, structural changes, freezing, fire, electrical surge, water damage, riot, lightning, mud, earthquake, soil movement, hail, and storms
Apart from the general exclusions, Everything Breaks will protect your covered systems and appliance up to the aggregate limit of $5,000 for any 12-month contract. Additionally, the company has amount limitations for the first three months of coverage. You can find more information regarding this in your agreement.
Note: There may be further exclusions to your contracts; we recommend you carefully read your service contract and understand the terms and conditions.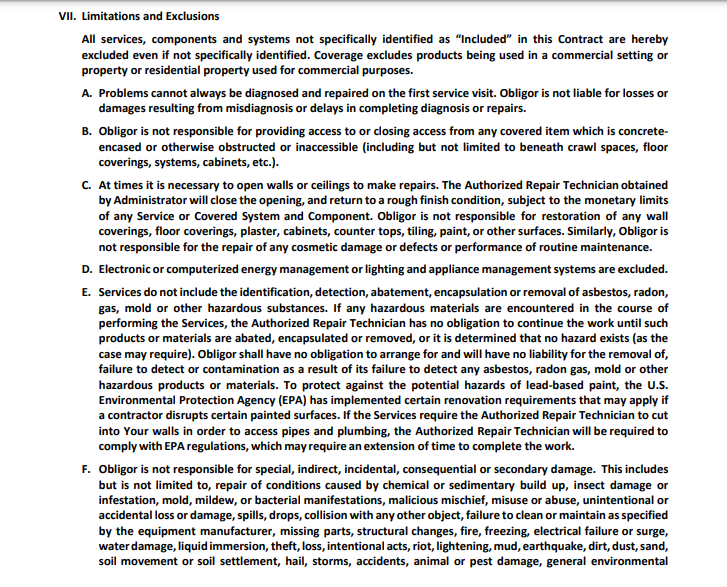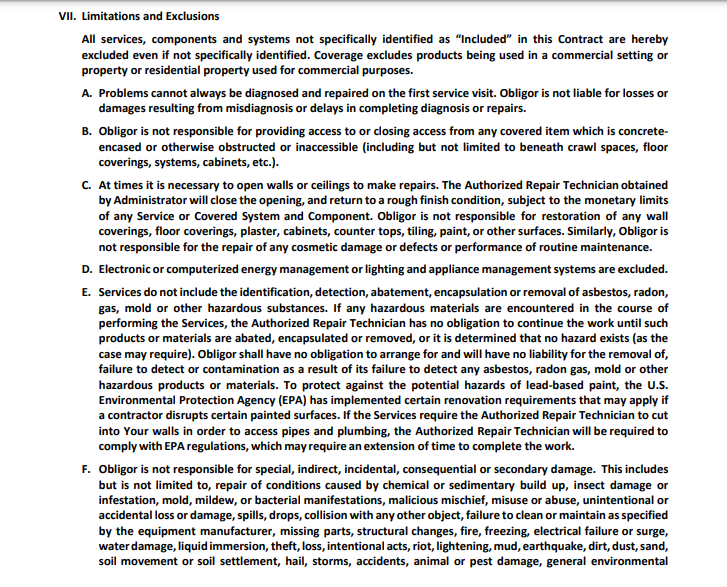 Source: Everything Breaks Exclusions
Everything Breaks Costs
The cost of Everything Breaks starts from $29.88 for the Five Appliance Plan, $48.88 for the Standard Home Protection Plan, and $88.88 for the Premium Home Protection plan. 
The total cost of the plans depends on the chosen coverage, duration, extra items, and location. The table below shows the monthly and yearly rates of the home warranty plans. Take a look:
Plans

Monthly

Yearly

Five Appliances Plan

$29.88

$329.88

Standard Home Protection

$48.88

$538.88

Premium Home Protection 

$88.88

$988.88

Deductible: $75
Everything Breaks home warranty plans are a bit costlier than the industry average, but you could get a good deal if you opt for the Premium package, which includes free electronic coverage. You can also choose add-ons along with the plans, priced from $46.56 to $118.56 annually.
Everything Breaks Discounts
Everything Breaks offers a Free Bonus Plan named 'Wecare' with Standard and Premium Home plans. You can find more about coverage offered under this in your service contract.
Trustworthiness & Customer Service Of Everything Breaks
Everything Breaks offers many features and services to customers looking to protect their home items, with a range of warranties and 19 add-ons available. The company also provides a live-chat function, allowing customers to resolve queries quickly.
The company holds a 3.3/5 rating on Google, while Better Business Bureau (BBB) ratings are A+. According to the customer reviews, some people have noted dissatisfaction with customer representatives and scheduled services. On the plus side, many customers who purchased a home warranty plan from Everything Breaks have been satisfied with their overall experience.
As such, Everything Breaks can be seen as a potential option for those looking to safeguard their appliances and other home items; yet, they should be mindful that certain areas may require optimization to ensure customer satisfaction is continued at high levels.
Everything Breaks Claim Filing Procedure
You can start filing claims with Everything Breaks once the waiting period is over, typically 30 days. To do so, you can follow this process:
Call Everything Breaks at 888-994-0914 and tell them about the occurred issue. You may also have to keep the maintenance record handy when initiating the claim. 
The company will dispatch an authorized technician within 48 hours to complete the necessary fixes. 
During each service visit, you will be liable to pay the technician the deductible or service call fee of $75. 
Moreover, if you request a non-emergency service outside of business hours. Also, note that Everything Breaks has the right to choose the technician; the company states that you will not receive any reimbursement for repairs made without their permission.
How To Buy A Home Warranty From Everything Breaks?
You can purchase a home warranty from Everything Breaks' website. You will need to:
Head to the website and click on "home warranty plans"
Choose a plan as per your requirements
Lastly, Select the payment method, choice of systems, and options items (if any are needed)
You can also buy an Everything Breaks home warranty plan from our website by getting a free quote. However, before purchasing, you must check out our comprehensive guide and learn more about how to purchase a home warranty.
Methodology
At HomeWarrantyReviews.com, we are dedicated to providing in-depth home warranty reviews so you can choose the best home warranty company & make the most out of it. We examine, compare, and analyze the companies on the following factors:
Pricing: We compare the costs of home warranty plans and determine if those are cost-effective. The pricing includes monthly/annual premiums, deductibles, and customer discounts.
Coverage: We compare the plans offered by different home warranty companies. The coverage consists of systems, appliances, and additional offerings.
Claims: We look at customer reviews and determine their satisfaction with the claims filing procedure, settlement, and response times.
Transparency: We verify if the home warranty company is licensed within the appropriate industry and offer details on the CEOs, contractors, and several settled claims.
Uniqueness: We examine whether the company offers additional services, advantages, or coverage alternatives that set them apart.
Customer Engagement: We assess the determination of home warranty companies responding to consumer problems in our Complaint Resolution Program.
Editorial Note On Everything Breaks Home Warranty
Everything Breaks may be an option for those needing comprehensive coverage, majorly for appliances and electronic items. The company has a widespread presence on social media, allowing customers easy access to reach out.
However, Everything Breaks only covers a maximum of four systems. This company's options might appear insufficient for those seeking extensive coverage for home systems.
Conclusion
Finally, Everything Breaks can be deemed a competent home warranty provider when considering the characteristics of their plans and timelines and their 24-hour services. Before making your ultimate decision, we recommend thoroughly reading the terms and conditions.
Quick Details About Company
| | |
| --- | --- |
| Year Of Establishment | 2017 |
| CEO | Brandon San Antonio |
| Address | 2208 HWY 121 Bedford, TX 76021 |
| Type Of Company | Private  |
Why Should You Trust HomeWarrantyReviews?
We are America's first independent Home Warranty Research and Review platform and have existed for 14+ years
We have listed more than 80+ companies with us
We have nearly 100,000 genuine & verified customer reviews
We use a two-step verification process to maintain the authenticity of reviews
We allow users to connect directly with the company's representatives to resolve issues through our Complaint Resolution Program
Frequently Asked Questions (FAQs)
Q.
What Is The Cancellation Fee For Everything Breaks?
A.
If you cancel the Everything Breaks protection plan anytime, you will get a pro-rated refund minus cancellation fees of $75 or 10%, whichever is less.
Q.
Is The Everything Breaks Home Protection Plan Insured?
A.
Yes, Everything Breaks Protection plans are insured by the A.M. insurance company.
Q.
How Long Does The Everything Breaks Coverage Last?
A.
Everything Breaks offers two-time durations for the home warranty plans– monthly and 12 months.
You May Also Be Interested In