How Contractors Can Choose the Right Home Warranty Company
PUBLISHED: September 22, 2017
•
6 MINS READ
A home warranty usually covers the repair of appliances and systems. Contractors determine which Home Warranty is best suited for you. This is imperative as you become a licensed professional that is registered to a particular home warranty firm. As a contractor, it is important to know what your contract draws out. Be the judge of which warranty has a reasonable payout and determine if you get the best deal for your hard work. Similarly, if your work is impressive, homeowners are more likely to want you to specifically tend to their repairs.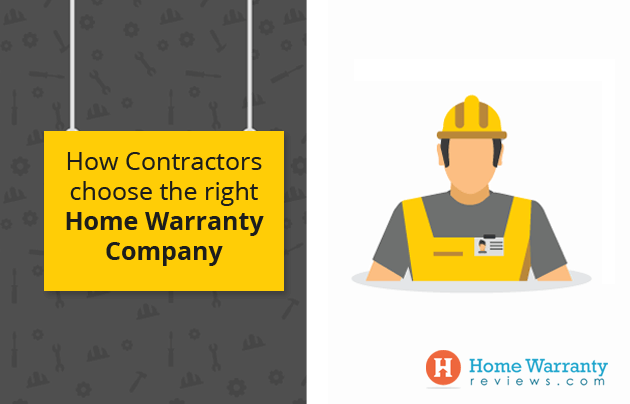 Customers treasure a contract that can explain the terms of their claim. Also, they would like to know what is covered before they get down to completing their job. This practice will ensure that the customer knows what the Home Warranty Company would provide them and builds on a good relationship. Also, this means that you need to know about the coverage limits. You need to know what your contract entails by:
Understanding the responsibilities of the homeowner

Determining the repair or replace policy

Reviewing the timeframe of work assigned

Being fully aware of how disputes are settled

Verifying the contract between you, the contractor and the two parties: home warranty firm and the customer
Choosing a Home Warranty Company
There are several factors to consider when you figure out which home warranty company you should consider. You should meet the requirements of the home warranty firm and determine if you are the right fit. Here are a few pointers to consider when choosing a suitable home warranty company:
Meeting the desired qualifications:

The first task is the understand if you fit the criteria required to meet the expectations of the firm. Check with others if it is better to work with a small, local or major corporation. This defines whether you can be the go-to person for repairs and if you fit the required qualifications needed to complete the tasks at hand. Certain criteria would begin with whether you are agreeable to work in a particular state, review timing and determine the wages that are paid out.

Read the reviews before signing up:

You can begin your search for the best home warranty company once you read their reviews online. There are hundreds of real-life experiences of people that have opted of different home warranty companies and based on their grievances you can determine if you would still consider it. Similarly, a company that cares about their customers will not leave comments unanswered and would find a way to ensure that all requests are tended to. This helps understand if the company how the company deals with these tricky situations and whether you will be able to adapt to these scenarios. Just imagine if you were a waiter in a restaurant and you had to tend to several complaints of customers. Would you choose a restaurant that would apologize for the mistake on their part or be one does not want to recognize the problem at hand? Similarly, online reviews serve a similar role in determining if how well you and your company get along with customers at large.

Determine the company's limitations:

Every company has their drawbacks. Some more than others. Unfortunately, the cheaper the policy, there are more chances that there would be more issues. This is primarily because your coverage would be restricted unless you pay a bit more. So once you start working for a home warranty company, you are in it for the long haul regardless of the kind of policy. It's like buying a better mattress and upgrading. Once, you sign up for a home warranty company you will have to weigh the pros over the cons and complete the job as instructed by your contract. Therefore, it's essential to understand the limitations so that you completely understand the workings of the company.
Advantages of Working for a Home Warranty Company


Most home warranty companies provide coverage for repair and replacement of residential systems and appliances. These may include HVAC, plumbing, kitchen appliance, washing machine, dryers and other electrical equipment. Within a few hours, the claim would be automatically dispatched to a contractor. There are several service calls that are dispatched to customers and they do not bear the brunt of paying these customer calls. As a contractor, most of these dispatches will be shared with you and you can complete your job and collect a service fee which applies to the total cost of the job. Additionally, while working for a company, you can grow your customer base and increase your work based on the number of commitments that you can service. All the calls that a home warranty company shares with you is an opportunity to use for business in future. The best part is that you work face to face with new clients and can work towards completing your tasks as per schedule.
Most realtors suggest that homes are sold 11 days quicker and $2,300 more than average sales when the homeowner has signed up with a home warranty. Consumers are charged anywhere between $400 to $600 per year to help keep their house spotless with a home warranty policy. Let's weigh the advantages of signing up with a home warranty company:
1. Coverage 
With a home warranty company, you will be able to reach a larger base of customers but most may not cover leaky windows, moist basements, and broken roofs. Others may charge extra for plumbing and ventilation. Some companies are forced by states to cover all structural components. Sign up for a company that covers most damages and this will help reduce the grievance calls on cheaper policies when you have to charge customers for service out of warranty.
2. Cost 
Measure how much it may cost to provide a service as against the coverage. A thin coverage would lead to a particularly bad repair. But this should not demotivate you from completing your job and every service should serve as an opportunity to give your best and make the most of the future opportunities that may come your way.
3. Customers 
Usually, customers connect directly with the warranty company. Based on the severity of the damage, they would connect with contractors like you to complete the job. You, as a contractor, should call the company to get next-in-line dispatches. Try to be a step ahead to complete the job at hand. Since you are screened as a home warranty contractor, a good job is all it takes to convince your customers that you are the go-to person for all their needs. This form of servicing a home warranty company's needs goes a long way in building a strong relationship with your customer base which would otherwise be difficult to connect with.
Pros and Cons of Working with a Contractor

As you sign-up with a home warranty company, you can be the judge if you got a good deal. It's normal to determine the pros and cons that affect your contract and term it as a good deal. For consumers, you would have to determine if the warranty is simply an added expense or a necessity. 
The Pros 
A) Done and dusted 
The moment you sign up with the home warranty company, your problems are a thing of the past. It could be a single number that you reach out to. You should listen to a voice of assurance. This will help you get the job completed regardless of business hours. Choose a policy that covers all claims online. This will provide you with contracts that are easily assessed. These are reputed and will give you the assurance that is worth looking forward to.

B) Inexpensive warranty 
If you punch out the numbers and review your warranty payments as against the cost of your house upkeep, you will soon realize that it is inexpensive. Most household expenses are 1 to 4% of the total worth of the house. Why shell out huge lump sums each year. You can make the most of your house warranty which is significantly cheaper.
C) Avoid home repair debt 
If there are serious issues with your home, this can set you back hundreds if not thousands of dollars. This is sure to burn a hole in your pockets and could lead to unavoidable debt. Instead of being uncertain, you can choose an inexpensive home warranty that would cover most damages. Things like a broken down air conditioner, plumbing issues can set you back a few hundred dollars to repair each time. Select a home warranty that plugs this gap and makes it worth your while.

D) Covers your needs 
Choose a home warranty that offers a complete package and covers major systems and appliances like HVAC, plumbing, fans, refrigerators and leaky roofs. You should customise your plan in order to save and strike a balance where it covers all major home repairs.
The Cons 
A) Busy season 
Even after signing up with a home warranty firm, you may have to wait for an eternity as contractors will be pressed into action at numerous locations. This could be due to the kind of application, like repairing air-conditioners during summer. This could lead to long waiting periods before you get your work done and application running as good as new. Similarly, long waiting periods for approval could lead to several issues.
B) Ordering parts
It could take a while before you get the required parts for your appliance as some of them have to be sourced from different parts of the country. You could return it to the company and get it serviced faster. Certain systems may cost extra to repair or may not be included in the warranty.
C) Warranty may cost more than DIY fixes
If you can do things on your own and enjoy doing the fixes, then you may find the warranty would cost dearer. It may be simple to tackle the problems head-on. This helps you avoid costly mistakes and complications that arise out of the warranty.
As a customer, you need to determine which is the best home warranty policy for you and review if you need a home warranty. This will help you determine the best home warranty company for you. It's a no-brainer as you will understand this once you read the fine print. You would be more at ease if you had a home that is tended to with a reputed firm and with genuine parts.
Average Cost Structure of Vendor Fees
You need to determine what would be the cost of taking up a home warranty. Also, you need to determine the average cost of vendors. On a home warranty cost of $500, you would be assured repair worth $500 which excludes service fees. Here is a detailed structure that outlines the vendor costs.
| | | | |
| --- | --- | --- | --- |
| Appliance | Life Expectancy (Years) | Average Replacement Cost | Average Repair Cost |
| Central Air Conditioning | 7-15 | $5233 | $318 |
| Furnace | 15-25 | $3881 | $267 |
| Range/Oven | 14 | $1932 | $150 |
| Water Heater | 6-12 | $1122 | $480 |
| Dishwasher | 9 | $898 | $120 |
| Refrigerator | 9-13 | $1624 | $300 |
| Washing Machine | 5-15 | $1153 | $310 |
| Dryer | 13 | $1125 | $250 |
| Garage Door Opener (per door) | 10 – 15 | $318 | $195 |
How Consumers Relate to Data of Contractors
From the table above, you can now understand that all your appliances and systems would be covered for just $500. There are times that as a consumer, it can be difficult to get the right contractor. Also, it's tough to have a contractor that you favor to complete the job. This could be based on several factors. You should look at the amount saved as against of the cost of repair. Then you should be able to benefit from a home warranty plan that best suits you. Take a look at these home warranty reviews to help you determine the right policy. You should weigh the pros and cons of getting the best contractor round the clock to keep your house in order. This would cost much lesser than having to replace the appliance or system completely. This ensures that you will not have to be in debt even in the worst case scenarios. So before you consider a home warranty, you should compare home warranty companies based on the ratings, premiums, and deductibles.