Should You Buy Extended Warranties Or Not?
PUBLISHED: January 21, 2018
•
6 MINS READ
When you apply for Home Warranty or appliance extended warranty plans then you are generally signing up for insurance policies for your systems and appliances at home. This is the perfect way to safeguard your appliances and systems without having to constantly engage with contractors or worry about unexpected high costs. Similarly, you should have a home warranty especially if you are a first-time buyer, new to the area or if you want to simply enjoy your golden years! It is not something that must be used but it will ensure that your appliances are serviced in case it breaks down. You should understand that the cost of service and components on seem to rise in cost and so does your repair bill. Why would you want a reason to spend beyond your means of fixing systems and appliances? At times it could end up being the same price of the appliance and prove to be expensive without a home warranty. The best thing about a home warranty is that it always pays back itself in full whether or not you have an appliance breakdown. Read this blog post to know whether you should buy extended warranties or not.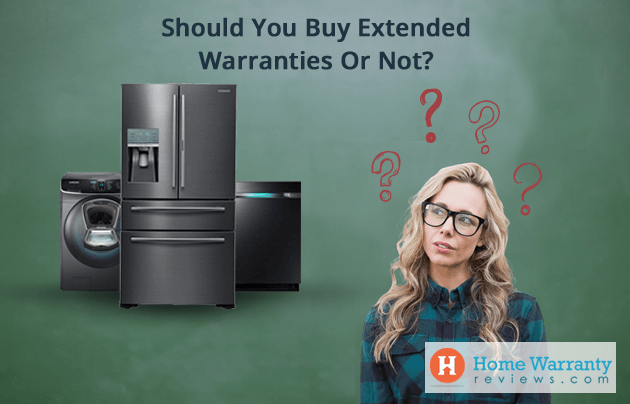 So, should you buy an extended warranty?
Home Warranty vs Extended Warranty
Appliance Extended Warranty
Appliance Extended Warranty is usually bought for specific appliances or systems for a specified period. The Original Equipment Manufacturer (OEM) or its partners provide these appliance extended warranty plans. Normally, you would buy these extended warranties when you are buying the product from the OEM. You should know that extended warranty starts once the standard warranty on the product expires and builds on its additional cost.
Home warranties charge an annual premium and deductibles for each repair but this can be bought at any point during the product life-cycle. While an extended warranty would charge upfront fees and no deductible per issue. Home warranties cover used appliances but extended warranties cover only new systems and appliances. Usually, the dealer offers you an extended appliance warranty right after you buy your appliance.
This is done at the time of purchase or even during your warranty period. Usually, these people are generally offered by the people that made your appliance and are more knowledgeable and well trained on the appliance. Third party extended warranties are managed by a national company. In addition to this, credit card companies offer extended warranties for a year when you pay using a credit card.
This covers why you need an extended warranty…
Home Warranty
Usually, a home warranty is introduced by a builder to a homeowner. It covers all major household appliances and systems. This includes refrigerators, washing machines, gas systems, central heating, and plumbing. You should know that the failure of the system or appliance is not covered if it is misused. Home Warranties are normally done by third-party companies and look to cover all major appliances and systems.
It covers your entire home from the HVAC, plumbing, electrical and other major systems. The cost is based on home warranties on items that are being protected and the type of deductible fee that you have enrolled in. Unlike extended warranties, home warranties can be purchased at any time without any age limits or inspection. If you are lucky, sellers, builders, and realtors offer home warranties when selling a home.
Home warranties are known to have the most number of omissions and the highest deductible cost to the homeowner. A number of home warranty companies do not perform the work themselves and sub-contract work to local services shops in your region.
Common Home Appliances that require Home Warranty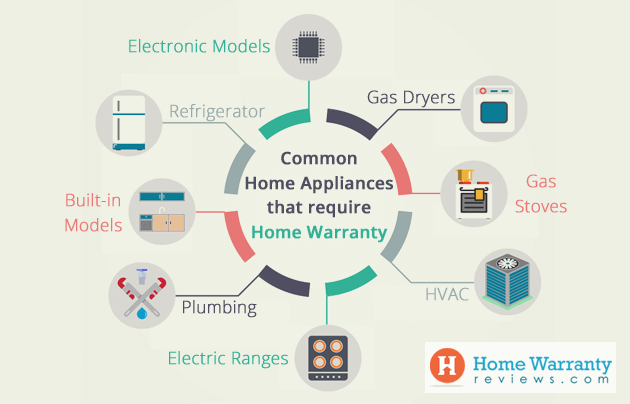 Here are 8 common home appliances and systems that you must ensure are kept protected and maintained with a home warranty.
Plumbing
This is an essential system that a household cannot simply do without. It can be difficult to pinpoint plumbing issues and diagnose the problem and come up with a fix. You require a skilled and licensed technician to solve the problem. To find a technician in a short span of time can be difficult and this is one of the main reasons why you should ensure that plumbing is added to your coverage.
Built-in Models
If there a significant issue in a built-in appliance, then it can be difficult to rectify the error. These are electronic units that are built into the walls or cabinets. This makes it difficult to rectify and fix this error. This is because these appliances are not uniform in size and cabinet work may be required to replace the appliance. Similarly, a home warranty contract would definitely be your best bet to sort out this issue. This is because the replacement cost or the repair cost would be very expensive.
Refrigerator
If your fridge breaks down, it can prove to be really expensive in your pocket for repairs. You could be well on your way to losing several hundred dollars worth of food in the process. Well, that's the least of your worries if you do not have a home warranty in place and have to shell out a large sum to repair your fridge. There are some home service contract companies that cover kitchen appliances alone. This may not be a safe option if you are looking at safeguarding your house but this could work as an additional policy. If you feel that you only need an HVAC plan or if you do not require any appliance plan, then you make sure that you at least sign up for a kitchen plan.

Electronic Models

Most modern appliances work based on electronic controls. If you live in an area that has several power outages, fluctuations or surges then your electronic appliances have a higher chance of burning out. These electronic boards are usually not low-priced to replace and there are parts that cost well over $300 for a single part. Therefore, it would be wise to sign up for a home warranty or at least ensure that this is included in your current plan.
Gas Dryers
Time and again, your gas dryers should be serviced and maintained by technicians. You may not be fully aware of a heating problem and this can be difficult to diagnose. But with the right technicians, you could ensure that they are sorted out and that you are out of danger. Also, it can be quite dangerous if the gas dryers are not correctly fitted. This is a big no if you are looking at postponing your home warranty purchase until a major disaster happens. These systems need constant care and maintenance from time to time to ensure that it does not reach a state where you are putting your family in danger.

Gas Stoves

A lot of gas stoves use electronics for ignition and control. At times, these parts need service or replacement due to wear and tear of the stove. If it is a glow bar igniter then it is not difficult to replace but control boards are expensive. The cost for this part is as much as a home warranty agreement. Standard gas ranges usually require lesser repairs and those stoves are simple and run without repair. The best part of a gas stove is that they can be used even during power outages.
HVAC
Normally an HVAC is one of the largest appliances in any home. This means that the bigger the size, there is more difficulty in maintaining it. These HVAC units require cleaning on a monthly basis and an annual check-up with a technician. In case it crashes, the cost to repair or replace an HVAC unit could cost thousands of dollars. This makes its essential for your home warranty to ensure that it continues to function in perfect working condition. There are plans that cover only HVAC units but it is advisable to buy a plan that covers this and other major systems.

Electric Ranges

If you have a glass top stove, then a contract is needed as parts can be expensive. At the bare minimum, the elements cost $200, glass tops at $600 and controls at $250. But in case its a simple basic coil type stove then repairs are low priced. These repairs are done by the homeowner and this would be covered in the repair agreement. If the electrical system malfunctions then your house could burn down if it is not attended to. But if you have signed up for a policy then you are lucky as it is kept under most basic plans. Additionally, you can pick other items from the pre-select list and this could be a wise step to ensure that you do not simply fall under standard coverage.
What's the Verdict?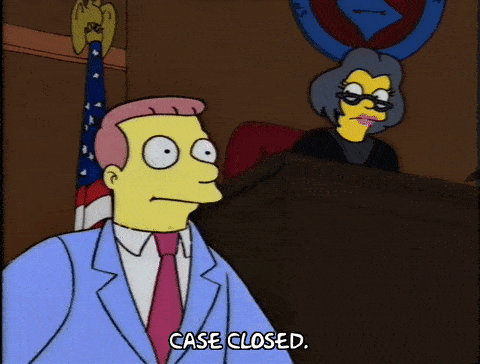 In certain cases, most major appliances are secured by both extended and home warranties. Therefore there is no absolute need to own both. But in case you are buying a new appliance and there is a chance that it would fail in 3 to 5 years. Then you should do your research and accordingly buy an extended warranty. 
On the contrary, homeowners would rather enjoy their products being safeguarded and remain calm. These homeowners can do this by simply buying a home warranty that covers all appliances. This makes home warranties cost more than extended warranties. 
But this covers a whole range of items and you have a friend to keep all your appliances free from problems. Some extended warranty companies argue that they provide better service and offer more economic protection plans. Though they seem to have a point, you should know that there is a high frequency that old appliances need repair. 
This makes you wonder if extended warranty companies would service old appliance as the repairs are much more and the profit margin is much lower. Since extended warranties service new electronic items and repair incidents are lower, we feel that it would be better not to buy an extended warranty as the main policy. 
Ensure that you have a single home warranty plan in place and only specific products that you have your doubts can be serviced with an extended warranty. If you wonder if you need a home warranty, then you definitely need one when you assess the advantages of the Home Maintenance Calculator.
A home warranty is worth your while as it for a cost of $400, it will cover costs of about $20,000 for things like HVAC, appliances, electrical systems, and plumbing. Generally, people with new homes do not need a home warranty but repair costs with a home warranty can be more cost-effective.
Before deciding on an extended warranty. Homeowners are generally provided with home warranty coverage along with the purchase of a new house by the seller. But, when your original home warranty expires, you have the choice of extending your existing warranty.
There are options for Buying a Home Warranty After Closing. Your home can be covered by a warranty anytime, whether you've lived in it for a few months or several years. And your coverage options should remain the same, as well.
A home warranty is great when selling a home and you are more likely to sell your house with one. Most home warranties cost $300 to $500 and last for a year after the closing date. When you buy a seller's home warranty, it should include coverage on your home while it's on the market.