20 Home Improvement Apps
PUBLISHED: December 6, 2017
•
6 MINS READ
If you have not already used Home Improvement Apps then you are in for a surprise! There is probably an app for everything and anything to improve your home.
This includes apps for home improvement  and do-it-yourself projects. This will help you budget your expenses, determine the best designs and changes that make a massive difference to your home.
With apps, you have the power in your hands to come up with ways to enhance your home. This includes DIY guides, calculators, color matching, interior ideas and inspiration to come up with concepts to improve your home.
There are so many ways to bring out the best in your home improvement plans with the hundreds of home improvement apps out there.
If you are looking for a total makeover then these 20 apps are perfect to help plan, organize, budget, and complete your project.

Here are 20 best home improvement apps to get you started:
1. WikiHow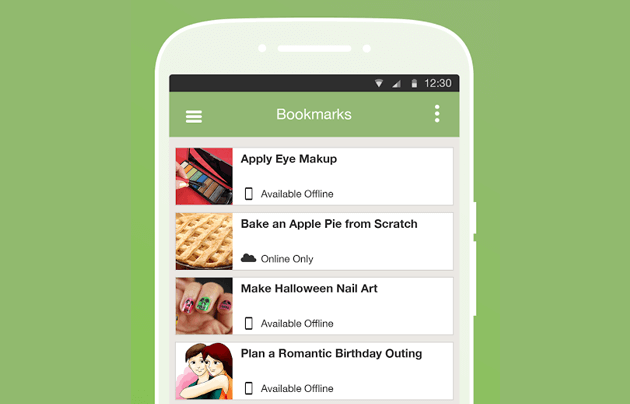 If you need a Do-it-yourself set, then Wikihow, a home improvement app, provides you with thousands of how-to guides. These range from tech and life hacks, DIY and craft projects to quick repairs, and you can find a range of awesome food recipes. From learning to keep your car clean and well maintained to changing car oil to develop a jigsaw puzzle frame. This is complete with diagrams and videos to help you understand the concepts. As a user, you can browse through related search categories and bookmark articles of interest. There is a survival kit that comes fully loaded with the app on the iOS version.

Download the app from Google Play Store / Apple Store
2.
iFixIt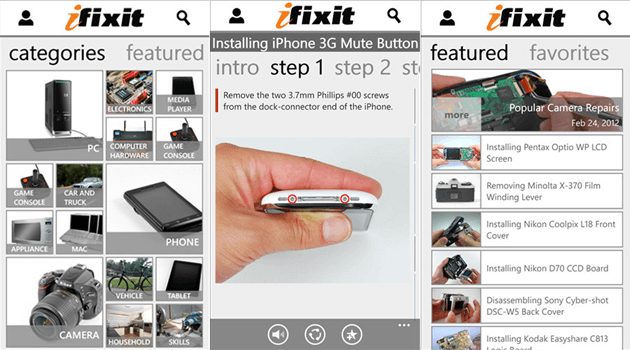 With iFixIt, you will be able to use this DIY-oriented app to work on do-it-yourself repairs. This is among the must use home repair apps. You can choose from repairs to teardown guides for several device categories. These include tablets, smartphones, furniture and household appliances. With these guides you can go through the process of breaking open devices, reviewing problems and making repairs. This allows users to diagnose problems and make repairs. With these featured guides, you can browse categories or device models and look through teardown or repair guides from within the app. You can also buy parts or tools from the iFixIt online store. 
Download the app from Google Play Store / Apple Store
3. DIY Tip Genius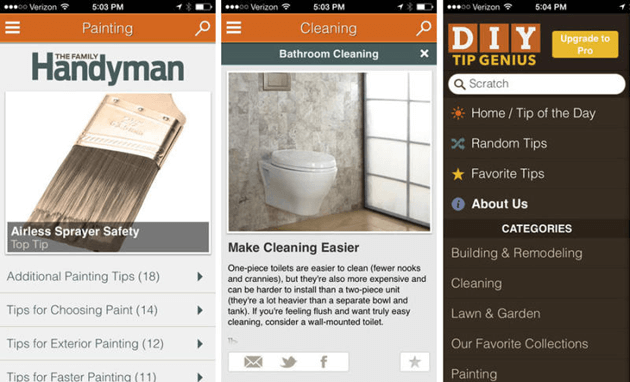 The Family Handyman magazine provides you with DIY and home improvement tips within its DIY Tip Genius App. This provides you with techniques, guides and secrets. It is designed for both the iPad and iPhone with 300 ideas and tips or 1800 ideas for $5. Users can review the tip of the day, review random tips and mark their favorite suggestions by category. These are useful tips and projects that you can use for household needs. If you are looking for more ideas and tips, you should listen in to the scheduled podcasts online. 
Download the app from Google Play Store / Apple Store
4. iHandy Carpenter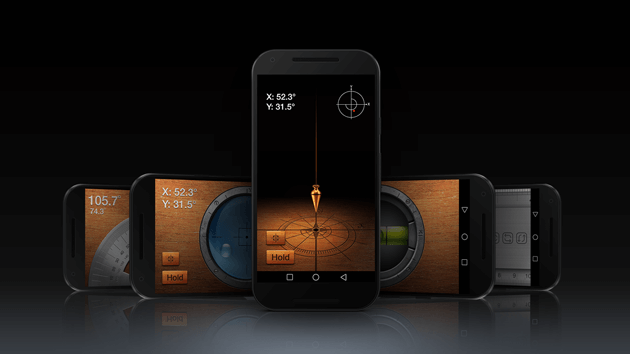 The iHandy Carpenter app is available for iOS users at $1.99. This app uses your iPhone or iPad's built-in sensors to transform your device into a set of different handy tools. Use the bubble level bar and surface level to help you check flat surfaces. You can also use the plumb bob to check the verticality of walls. With the steel protractor, you can measure angles of up to 180 degrees. Additionally, you can use the onscreen ruler that enables your smartphone to make small measurements in inches and centimeters. 
Download the app from Google Play Store / Apple Store
5. Photo Measures
Photo Measures is available on both Android and iOS phones. It costs $4.99 on Android and $6.99 on iOS. What makes this app amazing is that it works as a handy mobile assistant. It takes photos and annotates them with color-coded measurements, notes and angles. You can zoom in for more details and save photos as JPG formats or PDF and sort them for an easy reference. This can be easily recalled by its category, size and aspect ratios. This is a helpful reference app for planning and helping you determine the right methods for your home improvement project.
Download the app from Google Play Store / Apple Store
6. TapPainter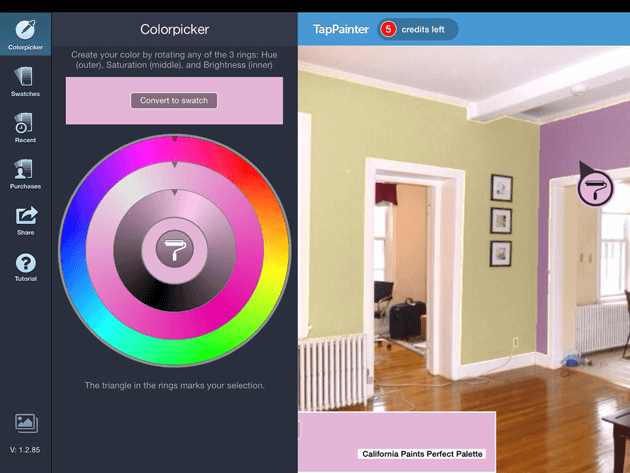 Let guesswork be a thing of the past as you match your paints with the type of room. Simply take a photo of your room and upload it on the app. The app is only for iOS and costs $2.99, TapPainter will analyse the light, room layout and process the photo to give you an accurate preview of what your room would look like once it is painted in a different color. You can choose from a complete color fan decks of brands like Behr and Sherwin-Williams. Once you are satisfied with the custom color that is closest to what you are looking for then you can make comparisons with the original and share the previews through email or social media sites.
Download the app from Google Play Store / Apple Store
7. Handyman Calculator & Home Improvement Calcs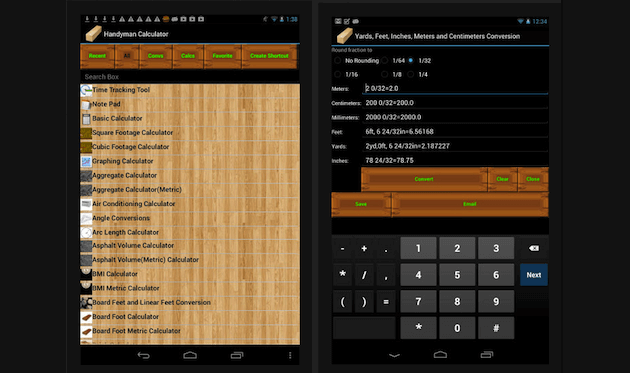 This is a wonderfull home maintenance app. You can use the Handyman Calculator which is a free Android app that is filled with a ton of calculation and conversion tools to help a handyman, DIY enthusiast or construction worker. With the Handyman Calculator app, there are simple calculations that can be done in seconds from a simple unit conversions, fractional calculators, density calculators, arc length and rebar weight. With the iOS version, the Home Improvement Calcs provides similar functions for a cost of $1.99.
Download the app from Google Play Store / Apple Store
8. The Woodshop Widget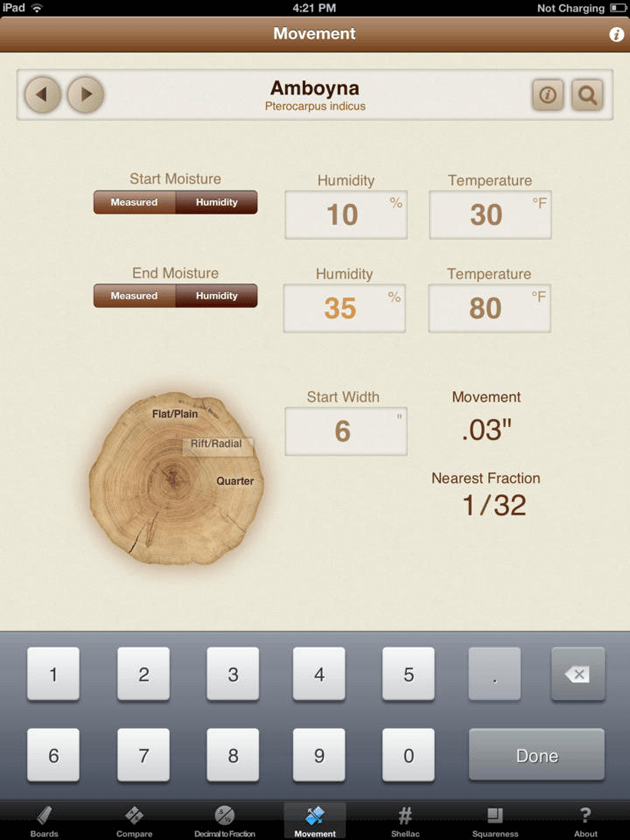 This Woodshop Widget app is useful for woodworking-related calculators and converters. This is perfect for DIY enthusiasts and construction workers. For $3.99, iOS users get a toolset that can provide estimates on different species of wood that might grow or shrink with different conditions, species or board volume calculator, unit conversion aids, and compound and crown assistant for crown molding and decorative elements.
Download the app from Google Play Store / Apple Store
9. RoomScan Pro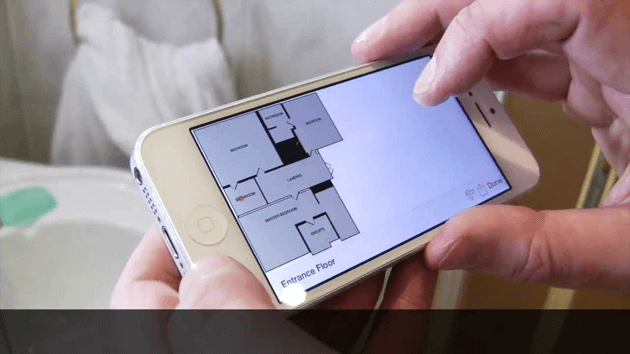 RoomScan Pro uses your smartphone's motion sensors to scan and record your room and floor plan layouts. For $4.99, this iOS app helps scan the room and saves floor plans. Just tap the smartphone on the wall, wait for it to beep, repeat the same on each wall and the door frame that you would like to record. After this is done, RoomScan accounts for your movement through the room and recorded wall sections and intelligently draws walls based on recordings. You can then edit the dimension manually and add architectural symbols and combine the room plans with complete floor layouts. These floor plans can be saved as images, DXF and PDF files.
Download the app from  Apple Store
10. Pinterest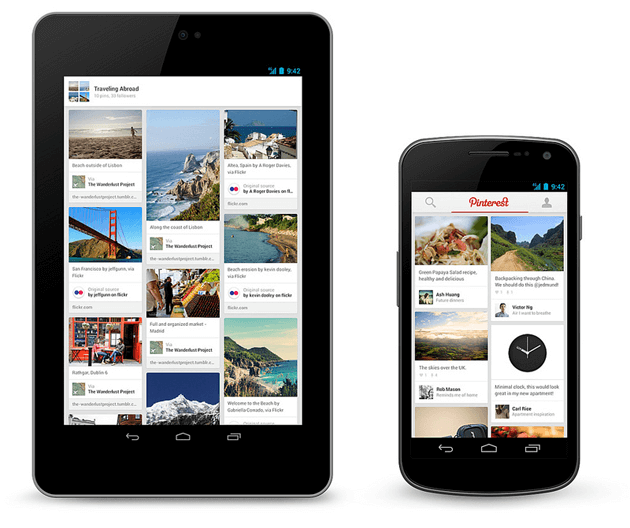 Pinterest inspires you with amazing interests that you can use in terms of crafting, DIY, interior design and home improvement fields. You can go through topic related interest boards, saved projects, ideas and photos for ideas and reference. Once you use it in your project, you can share your work with the online community.
Download the app from Google Play Store / Apple Store
11. Houzz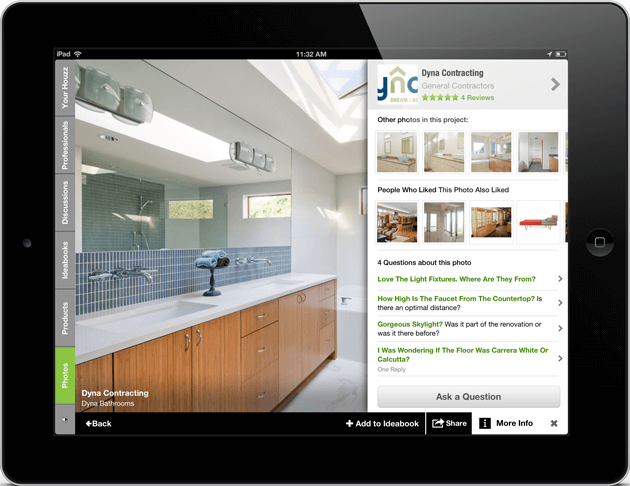 Also known as "Wikipedia of Interior Design," Houzz is a social networking site that is dedicated to home improvement, architecture and interior design. The official app is free for iOS and Android and has a massive repository of articles, photographs and discussions that home improvement and interior designer addicts can consult for inspiration and help. If you are looking for DIY ideas, design inspiration or looking for furniture tips then Houzz has something special in store.
Download the app from Google Play Store / Apple Store
12. Handy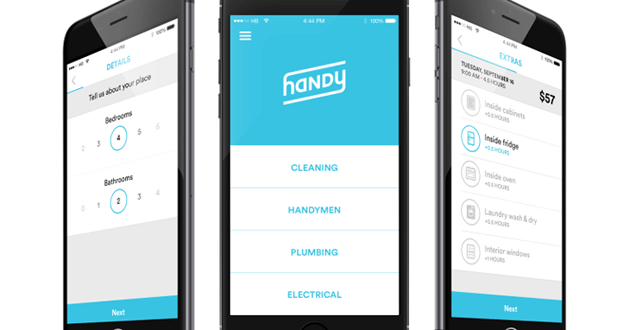 There are times that you could be busy and not have the time to find that the repair work is beyond a simple DIY. With Handy, you can use it like an Uber for handymen. It covers over 20 cities in the US, UK and Canada and you can book a professional. Also, you can view the progress of the booking and pay over the phone. From cleaning up the house, setting up an AC or other larger appliances, electrical work or plumbing, Handy can help you get the right help for the job.
The best part is that the app is absolutely Free! Download here: Google Play Store / Apple Store

13. Colorsnap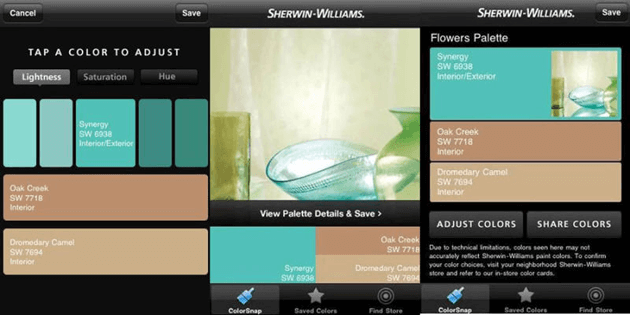 There are times when you cannot decide on the right color for your living room. There are ways that you can draw inspiration and would have to be ready before you know it. Using the Colorsnap, you can analyse the perfect color from Sherwin-Williams. Here you can search for a color, match it, get a custom tint mix code for the company's paint brand. All you need to do is take a picture of the color your like, tap on the hue you like and the system brings out the closest result.
Download the app from Google Play Store / Apple Store
14. House Maintenance Schedule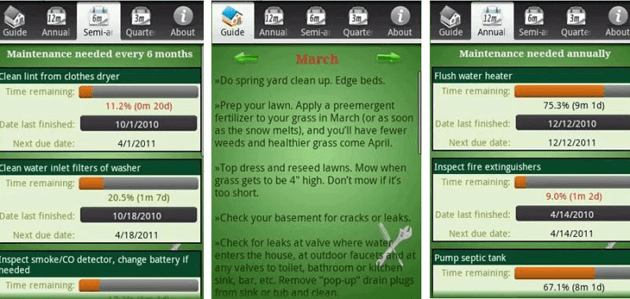 Your home may be up for some major renovation work or the house needs regular maintenance and upkeep. To keep it in top notch condition, you need to check all problems before they become a major problem. There are also times when little issues can tend to become expensive. Using the House Maintenance Schedule, you can schedule and remind yourself of upcoming maintenance projects. This could include inspecting fire extinguishers, flushing the water heater or even changing HVAC filters and cleaning downspouts.
Download the app from Google Play Store / Apple Store
15. HomeZada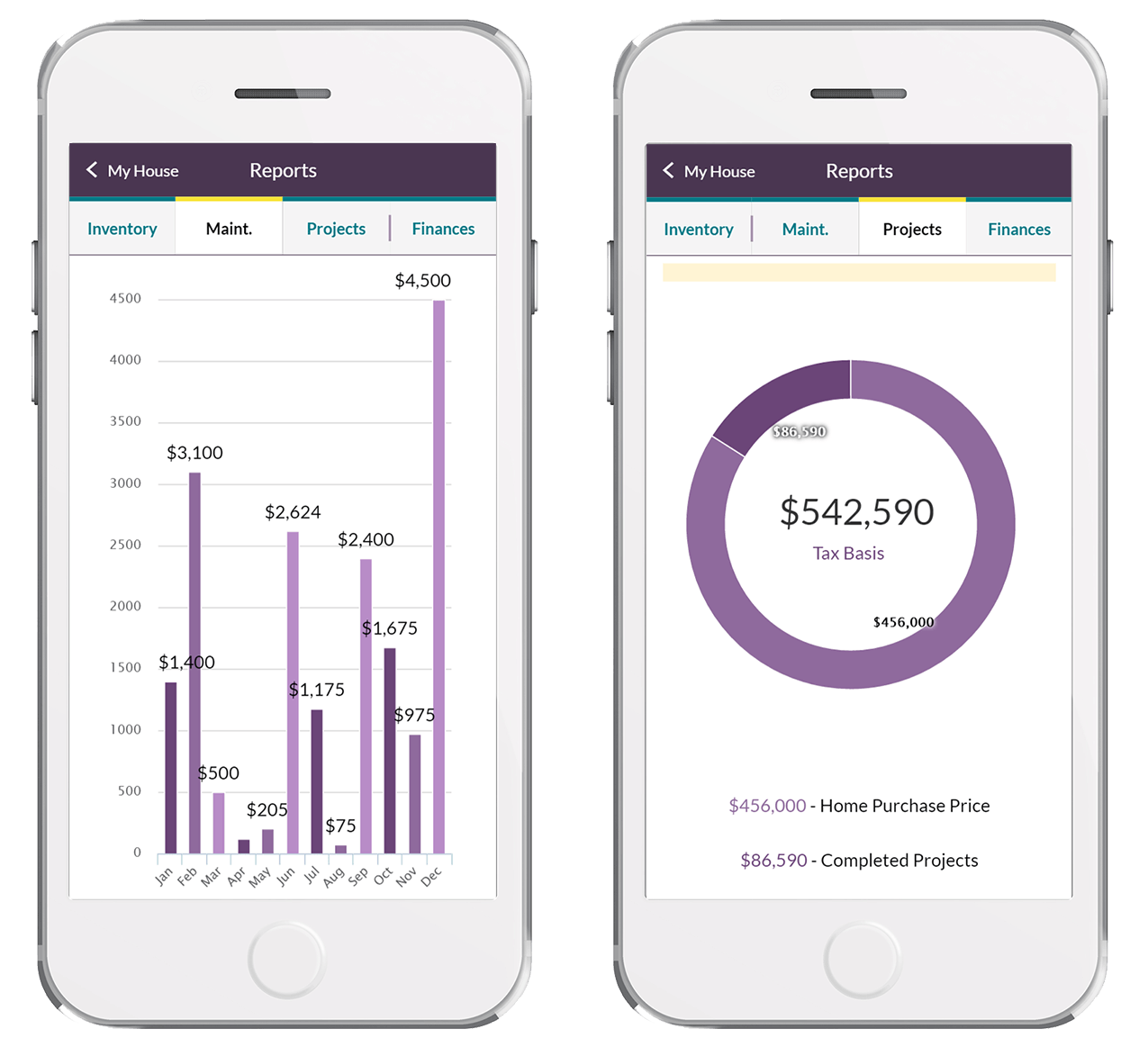 With the HomeZada app, you can manage your home's maintenance and improvements and allow you to oversee it from the beginning to the end. This would include planning, documentation and execution. The other great feature is that you can photograph and keep a track of your wish list. The app is free and you can use it after creating an account.
Get the app now: Google Play Store / Apple Store
16. Home Design 3D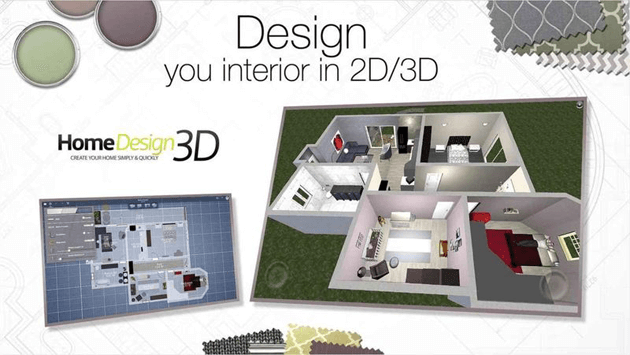 This is one of the best apps for interior designs in both 2D and 3D and with this app you can test out what the furniture would look like in one app. Other features in this app include a saving designs and 3D-viewing and modeling.

Don't forget to download the app: Google Play Store / Apple Store
17. Pocketdoor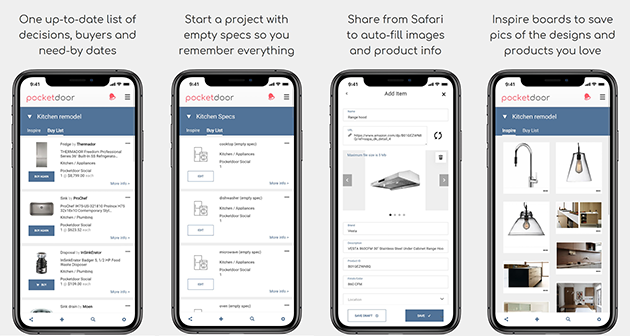 Pocketdoor has been a web app for managing the selection and purchase of products for home improvement projects. Do take a look at their iPhone and Android apps.
When you start organizing home improvement projects, browse and share DIY project ideas and free tool box includes a unit converter, level tool and calculator. When you are deciding on appliances, lighting, furniture and other items, keep track of options with Pocketdoor and then manage your purchases.
Download the app from Google Play Store / Apple Store
18. Home Advisor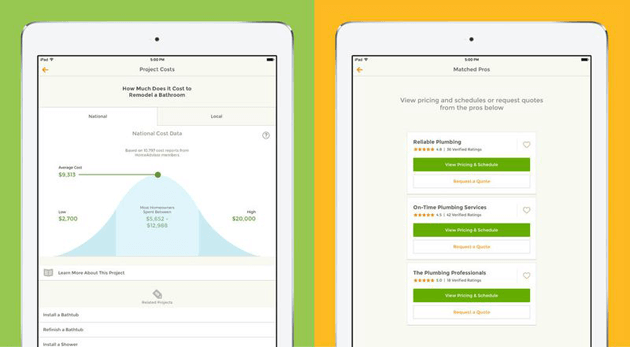 If you are looking for home advice and are in need of getting help to ensure that the project is on track then this app is just for you. With the Home Advisor app, you can discover and compare contractors and have an instant booking. You can download the app free on iOS and Android.
Get the app today: Google Play Store / Apple Store
19. Smith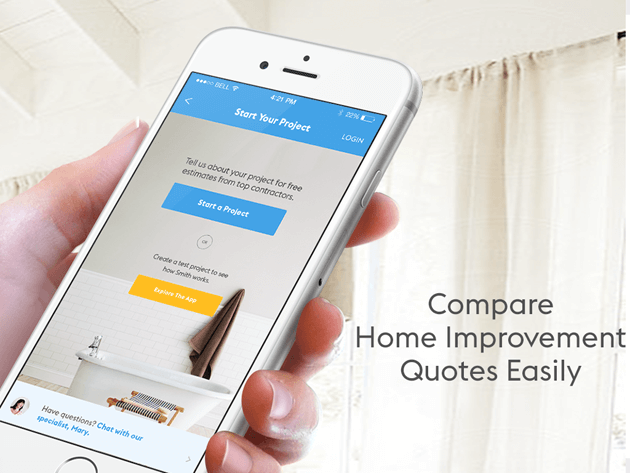 With the Smith app, available on iOS and Android, you can work on home remodel and repairs. This can be done by making multiple bids from pre-screened contractors within 24 hours.
Download the app from Google Play Store / Apple Store
20. Havenly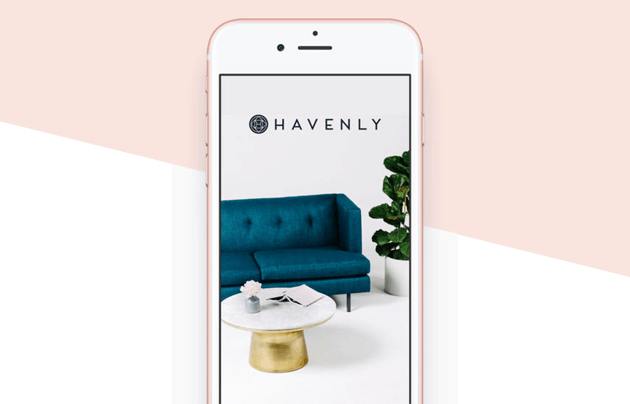 Looking for a professional interior designer for your home. You can chat with designer for free and book custom projects starting at $79.

Why miss out, download the app now: Google Play Store / Apple Store
Another amazing app is HomeAdvisor, but you should read the HomeAdvisor reviews before you download the app. Currently, it helps connect home service contractors with homeowners.
What Can You Do With Home Improvement Apps?
Discover inspiring remodeling ideas

Calculate your space

Determine the number of tiles you need

Search for the perfect paint color

Find an interior designer that knows you well

Rearrange the furniture without dragging it around

Put up a mirror without having to use a level
Home improvement apps are a great way to give you a sense of inspiration for design, color, furniture choices and accessories for your home. Usually, you derive inspiration from magazines or ideas from people but you could also get the same from these apps. There are so many option to choose from and you can customize your house based on your interests and whether it falls within your budget. Another great thing that you can do is plan. You can work out how best you can plan your entire project. This includes the look, the design, a run through of estimated costs and finally the overall plan is drawn out of what the final project would look like. Apps are a fantastic way to account for on-going projects and review costs. In order to ensure that you do not run short of finances, there are apps that will ensure that you keep a track of costs and assess where you can make cost cuts. Learning about home improvement apps and keep making enhancements to your home from time to time.