5 Easy Tips To Mitigate Additional Expenses For Winter
PUBLISHED: December 26, 2017
•
6 MINS READ
Most homeowners are preparing their home for winter and ensuring that there are no leaks or ice dams this winter. By turning up your heating system, you can prevent more costly emergencies when storms begin. All the leaves have probably fallen off the tree and the cold winter air will send shivers down your spine. The most crucial thing is to test if there are any leaks, make the necessary repairs and ensure that heating is efficient. In case of any problems that occur, you should have enough supplies to survive the winter. It could also be difficult to find a good technician during this period and get help to remove damage to the house.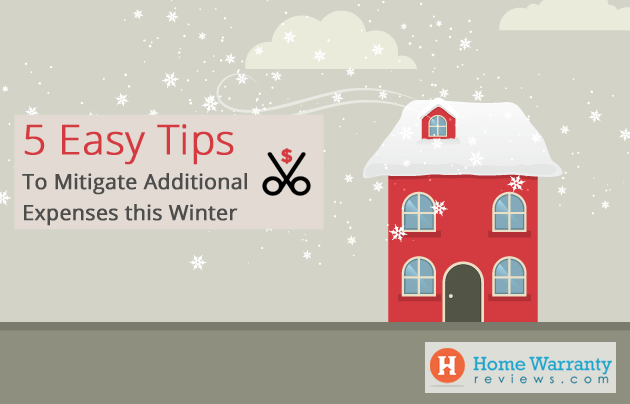 So before winter sets in you should make it your goal to look through your house and scan for any noticeable damages and places that need attention for repair before the first snowstorm hits. You should know that most home insurance claims were based on weather-related issues. Most issues were prevented when the homeowner had some time set aside to prepare their home for the winter. This also means making your home a comfortable, warm, and safe space during periods of snow storms. So if you want to save on unnecessary additional expenses this winter, then you should follow these 5 easy tips:
1. Checking the Heating System
The first thinking on your checklist should be to ensure that your heating system is working well. It should be reviewed and checked to keep safe and not high and dry before a bigger problem would be on your hands. This means that before your heating system is given a workout this winter, you should ensure that you review potential problems.

Before winter sets in, you should first have your furnace and boiler checked by a licensed contractor once before the heating sessions begin. You should make sure that you have cleaned and replaced the furnace filters on the forced air systems. Also, do not forget to have your chimneys checked and serviced by nothing less than a licensed contractor and you should pay particular attention now to have the creosote buildup removed from the chimneys, woodstoves, and fireplaces.

As winter sets in, you should have your fuel tanks filled and you should keep an eye on it time and again to check its level throughout the winter period. Keep your heater no lower than 55 degrees as the temperature inside the walls where water piping is located is colder than the living spaces, open doors, and unoccupied rooms. Therefore, you should ensure that the temperature is maintained evenly throughout the house. Also, you need to make sure that you maintain your wood-burning and pellet stoves based on the manufacturer's guidelines.
2. Stay ahead of Ice Dams
Most ice dams form because the edges on a home's roof are colder than the upper regions which cause the ice to form around the eaves. In time, snow melts above, and the melted snow backs up like a dam of ice. This could potentially cause leaks and permanent damage to roofs and your home. This can be quite a nightmare for homeowners and if it is not cleared then it can be worrisome especially with winter setting in. A point to take note of is that prevention is better than treatment. So before winter sets in you should remove all debris from your gutters as water can back up, cause leaks, and ice dams. You should inspect and upgrade the insulation and ventilation. Buy a roof rake to keep the problem under control. This can be done by removing snow immediately after the storms and by using your roof rake to regularly remove snow from the roof of your house.
If you notice the beginnings of an ice dam, then you should carefully remove the snow and ice without damaging the roof or gutters. Also, if you have heat cables, turn them on. Though they do not fully prevent or remove the ice dams, it can melt the ice and create a channel for water to flow out and prevent or reduce damage to the region.
3. Remove ice and snow from external vents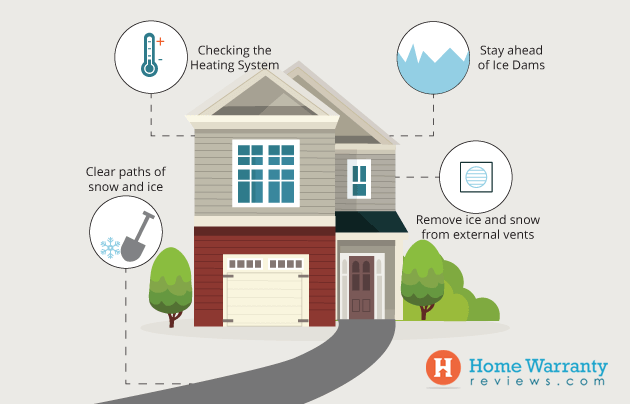 Blocked vents tend to damage your roof and the real danger can be caused to your heating and your cooling systems. This causes extra pressure on the set-ups and leads to moisture problems and mold or rot growing on the wooden structure of the home. This can be taken off with a shovel and brush to clear the accumulated snow and cut away at the ice. The process could take anywhere from 30 minutes to two hours to complete. In time those dams will melt and this could lead to damaged roof shingles and water seeping into your foundation. You can do preventive maintenance by installing de-icing cables. A shovel should cost you $20 to $50, de-icing cables are in the range of $25 to $200. Based on the amount of snow build-up, it could cost $300 to remove snow and ice, and $600 to install the cables.
4. Clear paths of snow and ice
If you shovel regularly or use a snow blower then you can keep walkways, driveways, and sidewalks safe and ice-free through the winter. Use sand to provide traction on stairs and slippery areas and flag edges on your driveway and sidewalks when the snow gets deep. Regular and timely shoveling will ensure that the snow does not get thicker and form ice or black ice which can be particularly dangerous to walk on. In most countries, you should clear out the snow and ice otherwise you could be sued if a pedestrian falls on ice and hurts himself on a footpath that is beside your home. In case you plan to go out of town during the season or if the area is filled with a lot of snow and you need additional pairs of hands, then you should hire a service in advance to ensure that the snow is cleared when you are away.
5. Utilities and Safety Measures
If you are not careful then the freezing temperature can damage your home's water piping. Make sure your pipes can withstand a cold snap and remember to take precautions if you are leaving home. This includes shutting off the taps and leaving your heating to the minimum required amount. You should make sure that there are no water leaks in your home and fix the problem immediately. This includes wrapping the tap with UL-listed heat attics, using thermostatically controlled heat tapes and following the manufacturer's installations. Additionally, you should learn how to completely shut off your water from entering the house and know where the pipes are located in case they freeze to prevent further water damage.
Winter safety measures will help you prepare for winter and allow for further safety measures during the cold season. These measures include:

Remove dead branches and trim trees in order to ensure that they do not cause damage to your home or fall on someone.

Clear all gutters of leaves, sticks and other debris to help ensure that melting snow would be able to drain properly. Also, you should ensure that downspouts move water away from the foundation.

Fix handrails and steps so that it can be used safely during the winter.

Review and check all fire alarms, smoke detectors, and carbon monoxide detectors. You should also replace batteries in order to make sure that they are operating properly.
Before you set out for a cold winter, you should ensure that you winter-proof your home. This will help you avoid additional expenses on a season that could prove costly. Also, vendors and contractors tend to go on holiday and getting a good contractor to work in this busy season can be even more costly. So follow these 5 steps and enjoy this winter as the holiday season begins.