All About National Home Service Contract Association
PUBLISHED: September 1, 2020
•
6 MINS READ
Finding a reputed home warranty company in the market is easier said than done. To help consumers with their search, the National Home Service Contract Association (NHSCA) has listed top home warranty companies offering services throughout the United States. But what exactly is the National Home Service Contract Association? What does it do? This article will break it down for you!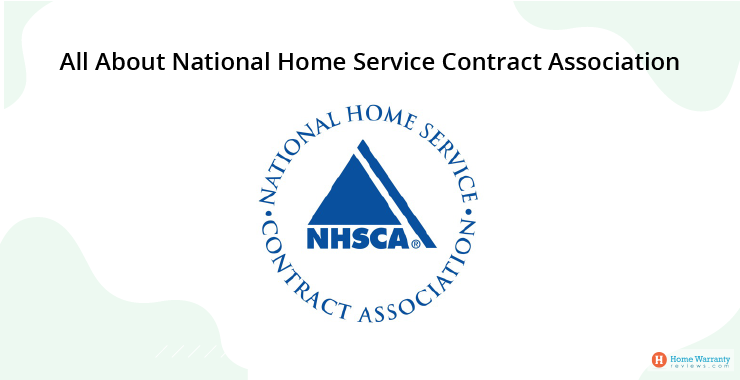 What Is the National Home Service Contract Association?
The National Home Service Contract Association is a non-profit 501(c) (6) trade organization consisting of reliable and reputable home warranty companies or service contract providers nationwide. It serves legislators, providers, regulators, and consumers. The NHSCA represents companies that service, repair or replace home appliances and systems.
Purpose Of National Home Service Contract Association
NHSCA exists to:
Sponsor educational programs and meetings 

Enhance and expand the home service contract market's performance nationwide

Encourage ethical and sound business practices among its member organizations

Update its members regarding changes in practices and laws 

Informs its members about pending legislation that impacts the home service contract industry across the country 

Nurture the home service contract industry nationwide

Perform research into economic techniques to promote and improve the public's understanding of the home service contract's value and incorporate techniques deemed feasible

Cooperate with private agencies, public regulatory agencies, and professional organizations to establish sound market practices and standards for home service contracts
What Does NHSCA Do?
National Home Service Contract Association carries out several activities such as:
1. Encourages the business conditions' improvement in the home service contract industry
2. Provides statutory definition and standards required for the proper management of the home service contract market
3. Distinguish the home service contracts from retail warranties, extended warranties, insurance, and the automobile dealer service business
4. Encourages ethical and sound business practices, better business methods, higher business standards, and cooperation among its member organizations
5. Promotes education conducts research and leverages other approaches that improve the public's understanding of home service contracts' benefits and value
6. Works for the enactment of laws to improve the home service contract sector
7. Promotes the common interests of its members and the home service contract sector and standards beneficial to consumers
8. Contributes to legislative and regulatory proceedings, promotes consumer benefits, and better understands home service contracts
Legislation And Regulations Of NHSCA
NHSCA has five models and clauses. They are:
1. NHSCA Model Service Contract Act
This Act creates an independent legal framework within which service contracts are defined. It also declares that the defined service contracts are not insurance and are not subject to any insurance code. The Model Service Contract Act requires registration, financial assurance options, and the Commissioner of Insurance's enforcement.

2. NHSCA Model (NAIC Style)
Similar to the Model Service Contract Act, this Act also creates a legal framework within which home service contracts are defined, may be sold and regulated. It also includes significant consumer protections and removes unnecessary administration.
3. NHSCA Model Automatic Renewal Clause
As the name suggests, this clause helps customers in automatic renewal. Suppose the company has chosen a regular payment option or an annual automatic renewal, and NHSCA elects to renew the plan. In that case, it will notify the terms within sixty days before the expiration of the plan. The company will automatically be renewed for one year unless it notifies the NHSCA within thirty days before the expiration of coverage in writing.
4. NHSCA Model Arbitration Clause
American Arbitration Association will conduct the arbitration according to the consumer procedures or other mutually acceptable arbitration services. Under this clause, the company will reimburse the customer's filing and administration costs (capped at $125), unless the arbitrator feels that the claim is trivial.
All claims and disputes emerging out of this agreement or parties' relationship will be settled by binding and final arbitration held in the customer's country but under certain conditions.
5. NHSCA Model Residential Purchase Contract Clause
This clause protects the broker or agent from malpractice or civil liabilities from an aggrieved seller or buyer, claiming they were not recommended the option of having a home service contract. The clause also prompts all parties to discuss the costs, benefits, and payment options of a service contract at the time of purchase.
How To Search For Home Warranty Companies?
NHSCA allows you to search for reputable home warranty companies in all the states. To find a home warranty provider, all you have to do is choose the state you live in. NHSCA will display the list of companies that are associated with it in the state.
How To File A Complaint With NHSCA?
NHSCA also lets you file a complaint against your service contract provider. To file a complaint, you must fill the form and provide details like your full name, phone number, email, address, and a description of your problem. 
Note – The NHSCA will neither intervene in a company and consumer complaints nor will arbitrate but will forward your complaint to an appropriate company to handle it.
Home Warranty Companies That Meet NHSCA's Regulations
Some of the home warranty companies that adhere to NHSCA regulations include:
American Home Shield
American Home Shield (AHS) is the industry leader in offering home warranty plans. The company has a network of 15,000 licensed and skilled technicians nationwide. Since its inception, AHS has catered to the needs of more than 1.8 million customers.
2-10 Home Buyers Warranty
It is a leading home warranty company known for offering service contracts at competitive prices. With over 40+ years of industry experience, the company covered over 6 million homes and has paid 97.5% claims.
First American Home Warranty
The company is known for unlimited service calls allowed throughout the contract period. The company was established in 1984. The standout feature of First American Home Warranty plans is that you can get a risk-free, money-back guarantee for 30 days.
Other companies are OneGuard, America's Preferred Home Warranty, Landmark Home Warranty, HomeServe, etc. 
Closing Thoughts
Home warranty companies that meet NHSCA regulations can be reliable and trustworthy. If you are looking to protect your appliances and thereby your pocket, get a free quote from top providers and choose the right fit.