Do I Need Home Warranty?
Not every home needs home warranty coverage. So, as a homeowner, you should get appliance warranty plans if only it makes financial and practical sense.
Home Warranty is a appliance repair contract which takes care of repairs of electrical, plumbing and appliances inside the home. You will pay an annual premium (in the range of $300 to $500) in advance for repair or servicing of most important appliances in your home.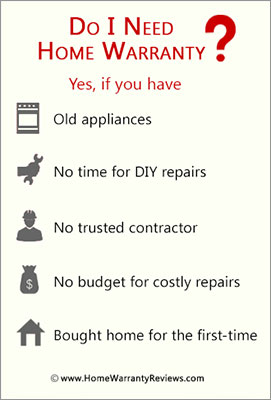 If you don't have a plan in place and wondering what would it cost, get an estimate on home warranty for your house.
If you are an existing homeowner, appliance warranty simply provides peace of mind. It protects your pocket from expensive repairs. If something breaks down, you will place a call to the service provider and they will repair or replace the system within a reasonable timeframe.
If your house is more than 5 years old, you are likely to encounter many repair issues. So, it is a good idea to have home warranty insurance unless you have time and money at your disposal and you like fixing things around.
Imagine your air conditioner or heating unit breaks down and you need to replace the old unit. It may cost anywhere from $6,000 to $14,000 to replace. If you have warranty contract, it would be the service provider's responsibility to replace the unit.
For a lot of people purchasing a home for the first time, the issue of home warranty arises before completing the transaction. Is this type of protection plan truly necessary?
Benefits of Home Warranty Insurance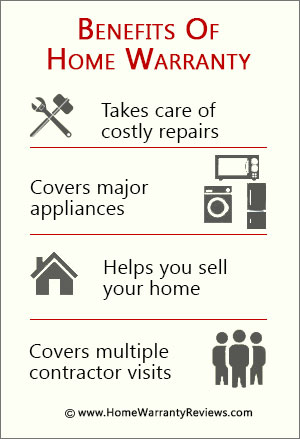 The new home buyers have fears when procuring a home and fairly so. They do not want to come across a major repair bill soon after purchasing their new home. In order to ease these fears, real estate agents at times offer home warranty insurance to help close the deal. Most of the times they may have the seller pay this or they might even shell out it themselves. The average price for this is $300-$500 a year.
So now you can be sure, it will be purchased at the lowest costs for one year. After all, this is just a concession to help you relax with your worries and close on the house. So in your mind, if it's FREE then go ahead and take them up on the contract. Or, you can decide the provider and see if they will employ the company you suggest.
Now, you should keep a few things in mind.
First of all, you get what you shell out. Second, most of the home warranty firms are not reputable. Many among them have a record of complaints and displeased clients. So be careful while choosing a reputable company as it requires exhaustive research.
How Does a Home Warranty Protection Plan Work?
If any of your appliances such as garbage disposal, washing machine or heating and cooling systems malfunction or break down, all you have to do is call up the home warranty company which will arrange a technician to come by your home to fix the problem. Most companies have a service call fee that is called as a deductible and will normally charge you about $60 to $100. There are a handful of home warranty companies that offer zero ($0) deductible as well.
Should I Purchase Home Warranty?
Purchase home warranty if any one of the following is true:
You have appliances that are getting old
Your house is more than 5 years old
You do not have time and patience to get the repair done yourself
You do not have a trusted contractor and you do not want to go through the pain of cold calling contractors from Yellow Pages, screening them, getting quotes, and checking their work.
You do not have cash cushion to handle costly repairs
You are buying a home for the first time.
If you are are a first time home buyer, you should definitely get some kind of coverage. New home owners are generally short of money, so the risk of having to pay for a pricey HVAC repair is just too much for them to manage. Having to mend or restore a heating and cooling system could cost thousands of dollars.
So, What Should You Know about Home Warranty?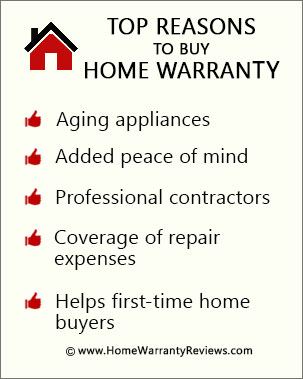 Firstly you must know precisely what is covered and broad this coverage is.
The short list of coverage is:
Inside Electrical System
Appliances
Heating and Air Conditioning
Interior Plumbing not including the Fixtures
How much does it cost?
Price depends on the type of coverage and also on the city you live in. If you would like to know how much would it cost to get a service contract, choose one of the Top Rated Home Warranty Companies and request a price estimate.
Your work will be to find out how much coverage you have and for how long. You must comprehend that there are various levels of coverage. In some cases they may cover the furnace but not the air conditioning outside. You have to ask and need to understand.
Before you buy, you need to be acquainted with the reputation of the company. You can check home warranty reviews on our site and shortlist few good companies. Almost all of the companies will have some complaints, but you should look how many they have and are they determined.
One thing about this type of protection plan is that the warranty companies are interested in repairing, rather than replacing your appliance in most cases. In most cases, they will service the units only if the fault is due to regular wear and tear conditions. If the units are poorly maintained, then they may not repair. One more thing you need to be cautious for is "pre-existing defects or deficiencies" since these are not covered. You will discover that almost all home warranty companies won't allow the policy to take effect unless you have stayed in the house for at least 30 days.
The good thing about having home warranty insurance is that it can give you calmness since you are likely stretched out on the budget anyway. The final thing you want is to have an appliance or a furnace go away in the first year after moving in.
The Bottom Line
For older homes, it is a "no-brainer" choice. But before buying a home service contract, homeowners should study the fine print in the home warranty contract and cautiously think whether the warranty is going to pay off. Home sellers who want to provide a warranty to buyers and homeowners/buyers who would feel more relaxed having a home warranty should also carefully investigate to find a reputable home warranty company that will in fact pay for genuine repairs when they are desirable.
---