Does a Home Warranty Cover Pre-Existing Conditions?
PUBLISHED: May 18, 2020
•
4 MINS READ
As a homeowner, you must understand that not all your devices can be covered under a home warranty. Some home warranty companies may examine your devices before agreeing to what appliances and systems will be covered under the contract.
In such situations, you must be aware of the different intricacies relating to pre-existing conditions in your devices. This post will help you understand more about whether home warranty companies cover pre-existing conditions.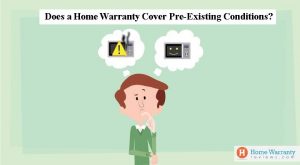 Here are a Few Important Factors to Consider
What is a Pre Existing Condition?
A pre-existing condition simply means any system or appliance that is not functioning properly before the home warranty coverage begins. Pre-existing conditions occur due to lack of maintenance, or natural wear and tear. Sometimes natural disasters can also cause your devices to start acting improperly.     
Document Pre-Existing Coverage
If you are aware of the pre-existing conditions that your devices possess, then note it down. You can also contact a professional technician and ask him to conduct a thorough diagnosis of the devices that are not functioning smoothly. 
If you are not familiar with the different functionalities of your device it is always better to get someone professional to check it out. Though you must note that calling in a technician will cost you money. 
Once you have noted the pre-existing conditions, you can show them to the home warranty company and ask them whether these items are covered. There is a good chance that known pre-existing coverage may be covered by the home warranty company. 
Age of the Home Matters 
Older homes without home warranties are sure to have many faulty devices that need care. Chances are home warranty companies may not cover pre-existing conditions for older homes, since there are many older appliances, and it is not profitable for the company to cover all these devices.
Also, if you are purchasing an older home it is important that you thoroughly inspect the home for any pre-existing coverage and report it to the owner if you find any. 
Check Whether the Home Warranty Company Company Conducts an Inspection 
Some home warranty companies may not conduct an inspection before the contract is signed. This can lead to a lot of problems later on, as the company may state that some problems in your devices were pre-existing and will not be covered in the contract.
Therefore, always make sure that the home warranty company inspects your devices, and if there are any concerns regarding coverage for pre-existing items, ensure they are sorted out then and there. 
If you suspect any pre-existing coverage, while an inspection is being conducted it is better to notify the home warranty company about it. Let the warranty company decide whether it is faulty or not.
Always Read the Fine Print of Your Contract
Your home warranty contract will contain several details about appliance coverage. At times in your contract, it may be mentioned that pre-existing faults may not be covered in your plan. Some home warranty companies do cover pre-existing coverage but they set out certain terms and conditions mentioned in the contract. 
It is important that you read this contract before signing up with the company. Once you have signed the contract, only those appliances mentioned in it will be covered. 
Conclusion
It is important that you are aware of the different pre-existing coverage in your homes. This helps you get these items repaired or replaced efficiently. It is ultimately up to the home warranty company to decide whether they will include items with pre-existing conditions as part of your contract or not. Rules and regulations pertaining to pre-existing conditions differ from company to company, and you should clarify everything before signing up.
Some of the top home warranty companies that offer coverage for your systems and appliances are as follows:
You could also read several reviews about other people's experiences with home warranty companies to understand their experiences, thus helping you pick the best option. Get your free home warranty quote today.