Five Steps to Choose the Right Home Warranty
PUBLISHED: August 31, 2015
•
5 MINS READ
I know it's not normal to admit it, but I'm a warranty nerd. I spend a lot more time researching the home warranty industry than most people. But it's sort of my job, so I feel less awkward admitting that I get excited over talking with people who are not familiar with home warranties, also called home service contracts. I like telling people about the service and helping them with their questions. One of the questions I hear most often is "What are the steps to choose the right home warranty?" The answer is initially easy but gets more complex as I go on with explaining the process. So I like to break down the process to five easy steps in order to make it all more manageable.
Step one: Do you need it?
Before you buy anything you really should decide whether you need it or not. With home service contracts it's pretty simple to do this. First, is the home you want to cover with the contract brand new? If so then are you only looking to cover the appliances? If the answer is no then you probably don't need the contract. If the answer is yes then the next question is whether or not the appliances you want to cover are out of the manufacturer or retailer's warranty or service contract. If you say yes to this one then it's time to shop for a home warranty. If not then you should probably wait until your appliances are no longer covered and then look into getting a contract to provide repair services.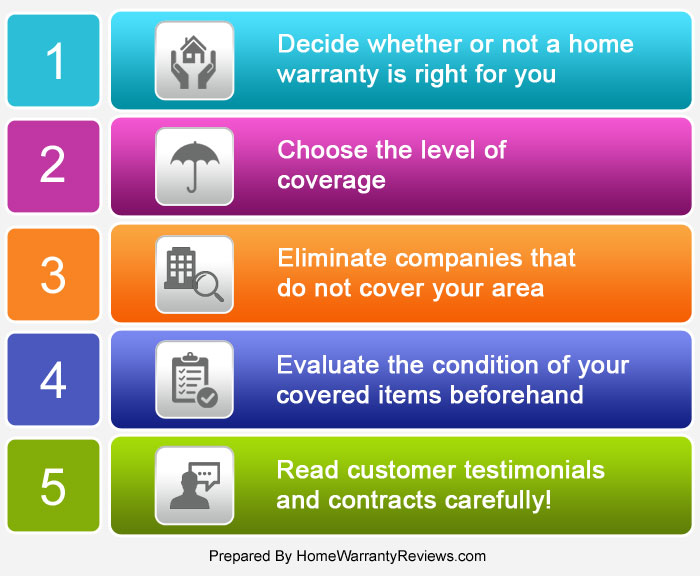 Step two: How much do you need?
This part is really important! Your livable square footage and the items you want to cover should be known before you begin shopping for a home warranty. Knowing these things ahead of time will allow you to get the most accurate price and coverage quote.  Do not go with a generic price and coverage quote or buy online without speaking to a company representative unless you are absolutely certain that the contract you are purchasing is exactly what you need.
Step three: Which companies cover your zip code?
Maybe you live in a highly populated place, or maybe you don't.  This can affect how many service technicians are in your area.  And that can affect how many home warranty companies will offer to cover your home.  It pays to know whether or not a company covers your area before you get into examining price and coverage quotes.  You'll waste time talking with the wrong companies if you're not careful.
The easiest way is to go online to find home warranty companies that serve your area and short list them.
Step four: Do you already have things breaking or about to break?
This part is extremely important.  Some companies have periods of time after you sign up when they will not cover repairs.  You should ask if this is the case.  And you should also ask if things that were already broken or about to break are still covered by the home service contract.  Many companies in the home warranty industry have exclusions in their contracts for things that were not working properly or not properly maintained before you became their customer.  And in some cases the fine print in the home warranty contracts may require you to submit maintenance records or otherwise prove that something that breaks was not poorly maintained or repaired improperly prior to becoming a customer.
Step five: Read reviews and contracts carefully!
Along with understanding the exclusions mentioned in step four, this is the most important of all steps.  Do not buy a home warranty until you have read a number of reviews on reputable consumer review websites.  And do not trust websites that rank companies based on advertising dollars those companies spend with the websites.  You can usually trust services such as Angie's List to provide objective information based on real consumer feedback.  But many fly-by-night websites cannot be trusted and will steer you toward whatever company is paying them the most for advertising or other marketing services.  The ultimate and best resource is a friend or family member who has experience buying home service contracts for their own homes.  Once you've gotten reviews or first hand experiences from other consumers you need to read the contracts you are considering buying, word for word.  Don't skip things just because the contracts are dull reading material, and don't overlook things that you think are not clear or worded suspiciously.  If you talk with a company representative about parts of the contract which concern you then you should either get a better feeling or an intuitive feeling that this company is not the right one for you.  And that's how you make the best decisions when buying any product or service.
As you shop for a home warranty please keep in mind that these contracts do save some homeowners money, not to mention time finding a screened contractor on short notice.  But in some cases it makes just as much sense to put away money in a savings account that earns interest and leave that money for emergencies.  Ultimately the decision is up to each individual homeowner, and it's not always an easy one to make.  If you are not sure you understand how best to calculate your potential savings on home warranty, you can use this excellent calculator provided here on HomeWarrantyReviews.com!
About the Author
Kevin Wallach is a freelance writer and marketing professional. His focus is on performance based marketing services for the home warranty and home service contract industry.