Home Warranties and Home Service Contracts are NOT the Same Thing
PUBLISHED: May 31, 2016
•
6 MINS READ
Readers here on HomeWarrantyReviews.com are a diverse bunch.  You have home buyers.  You have home sellers.  You have real estate professionals, and you even have members of the various professions involved directly and indirectly with the home warranty and home service contract industries.  Today's article is for anybody who is new to the idea of home warranty.  The topic is one of the first things that any consumer or professional new to home warranties should be familiarized with.  Without further ado, let's get down to why a home warranty and a home service contract are two completely different things!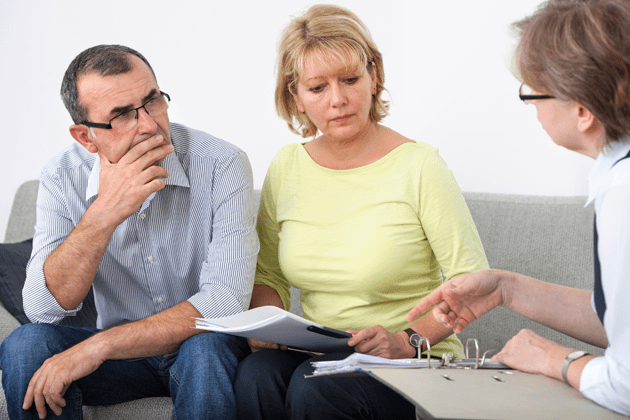 What's in a name anyway?  Well, sometimes a lot.  Take a home warranty, for example.  In the marketing world, a home warranty is a term that's generally used to describe more than one type of contract.  And marketers don't always make it perfectly clear to consumers whether "home warranty" is just a convenient label that's used due to the need for a familiar way of describing a home service that isn't always well known among homeowners and homebuyers.  You may have seen an advertisement or piece of literature about a home warranty.  Is that "warranty" really a home warranty, or is it a home service contract?  If you don't know the difference between the two then read on and learn something that's important to know when you own a house.
The letter of the law
No matter what it was called when you bought it, if you purchased a "home warranty" then you probably bought a home service contract.  Builders are typically the only people who have a need to buy a true home warranty.  A homeowner typically needs a home service contract.  Knowing the difference is important.  Here's how it works in the simplest terms.
A home warranty, the true legal contract that warranties labor and materials, is passed from a seller to a buyer without cost when a house is new and being sold to the first occupant.  Though a builder's warranty can be transferred to a second buyer during the sale of a house, it still doesn't involve an added cost to that buyer.  A warranty, in the legally defined sense, isn't something that can be sold.  It's a guarantee, a right afforded to a customer, to expect that a product purchased will function properly inside a particular time frame.  In a true legal warranty contract, there is a form of compensation for failures, whether that amounts to failure due to material defect or workmanship.  The home warranty typically covers everything between the foundation and the roof, but not items that are not permanently installed, such as dishwashers, refrigerators, or ovens.
Since a home warranty is free of charge and is a legally binding contract, the home buyer has little reason to research the company backing the warranty.  And since the warranty is oftentimes purchased from a third party, in order to free the builder from any future liability to pay for repairs of poorly built or defective parts of a house, there is always a risk of a warranty being backed by a financially unstable company.  If the builder is the one backing the warranty then there may be an even greater risk than if the warranty was backed by a large company which specializes in providing insurance and/or warranties.
So far we've covered a very basic description of what a true home warranty is, what it covers, and the risks that can be associated with it.  Now let's look at what a home service contract looks like by comparison.
Covering breakdowns that occur due to normal wear and tear
A home service contract is NOT a warranty!  Why the emphasis on "not?"  Well, you might be surprised how many consumers are confused about what they have purchased.  And it's really not their fault that they are confused.  When you call a home service contract a home warranty you make confusion almost unavoidable.  But when you're selling something you can't afford to risk the consumer not knowing what your service or product is.  Between the market needing a convenient label for home service contracts, something that consumers will immediately relate to, and the almost inevitable confusion that results from the use of that convenient label lies the need to educate customers.  And that's what we're about to try to do in this article.
If you are in a house that is no longer covered by a warranty then anything that goes wrong, whether it be electrical wiring, plumbing, fixtures, etc, you'll probably pay 100% of the cost of repairs or replacements out of your own pocket.  But you do have the option of buying a contract called a home service contract.  The purpose of a home service contract is twofold.  Let's break down the two reasons for home service contracts being offered.
When something breaks in a house it usually is completely unexpected.  We all have lives to deal with, and few of us have time for unexpected things that take us away from our jobs, our families, or our other commitments.  So time is a big, valuable thing for us.  And a home service contract is supposed to help homeowners avoid wasting time.  The idea is that the home service contract company has relationships with a lot of professional repair technicians.  And because they work with so many technicians, they can afford their customers access to licensed, bonded, pre-screened professionals in less time than the homeowner could have found them.  Instead of spending a whole day making calls, reading reviews from other consumers, and getting estimates, the homeowner with the home service contract is supposed to be freed to go on with his or her daily life.

Cost!  Nobody likes dealing with the cost of fixing things that break.  We already pay a lot for our houses, and in some cases, we're already strapped cash-wise.  This is the another big advantage that home service contract companies offer to their customers.  Instead of paying every penny of a home repair, the home service contract company is meant to cover some or all of the cost of a repair or replacement job.
So we've covered what a home warranty is and a bit of what a home service contract is, but we have not covered what a home service contract covers.  Let's break that down into some detail.  Bear with us.  It's a bit lengthy, but readers will be glad they read everything that follows before buying a home service contract.
What parts of a house does a home service contract cover?  
In some cases, a home service contract might cover most of what a home warranty originally covered.  But it varies greatly from one company to another.  So here's the best advice anybody will give you about buying a home warranty.  Do NOT fixate on the price alone!  Pricing may look like the bottom line, but you really have to compare home service contract coverage, the companies' reputations, and other factors aside from the prices.  
Coverage might include structural parts of a house, appliances, system components such as air conditioning and heating, water lines that run from the house to the city's water lines underneath the street, and lots of other things.  But it's important to be aware that not all home service contracts are the same.  In fact, they vary so much that a consumer really cannot afford to buy one without doing a lot of homework.  At the very least the buyer should read the contract word for word.
Sometimes the biggest difference is in the fine print
The biggest difference between a home warranty and a home service contract in terms of the way the contracts are written is sometimes in the loopholes.  These loopholes can be the difference between a home service contract being worth the money or not.  Here are some loopholes to watch out for.
Pre-existing conditions
It's exactly what it sounds like.  A pre-existing condition is something that was already wrong or on its way to being wrong, due to neglect, poor installation, or other factors that the home service contract company deems to have caused a breakdown.  And this language is so vague that some companies use it as a way to deny any and every claim by their customers.  But a consumer can typically spot companies that abuse the pre-existing condition loophole by simply reading reviews from other customers.
Excluded parts
It's not always safe to assume that if a home service contract covers an item that every part of that item is covered.  Some consumers find out the hard way that a part or a set of parts in an item, say a refrigerator, for example, are excluded.  Nobody wants to find that out the hard way, so it pays to check out every detail of the company's reputation and the contract before buying a home service contract.
Maximum amounts the company will pay
This one is a big, big area of concern for anybody buying a home service contract.  Some home service contracts will only pay a maximum amount per contract period.  Some have different allowed maximums for different items covered under the contract.  Some will only pay a set maximum amount during the lifetime of a customer's relationship with the company!  And some reserve the right to cancel or not renew a contract.  That leaves the company an opening to get rid of customers who are making too many repair requests.  It's very important to look for language in the contract that might be taken more than one way.  If a consumer does not see every word of a contract as being explicitly clear then it may be necessary to get clarification of some parts of the contract in writing before buying the service contract.  And "in writing" is the most important part.
Also, take a look at these important pointers if your claims are denied by the home warranty company!
HomeWarrantyReviews.com wants our readers to be the best-educated consumers when it comes to home warranties and home service contracts.  If you found this article helpful please take a moment to tell us what you learned in the comments below.  Or email us at support@homewarrantyreviews.com to tell us how our article helped you and what we could do to make it more helpful to other readers.  If you are like most readers then you'll probably want to keep going from here, on to the next question.  Why not read another of our articles or check out companies that you're interested in knowing more about while you're here on the website?