Home Warranty Coverage: How Does it Work?
PUBLISHED: September 3, 2020
•
5 MINS READ
A home warranty coverage is an essential component of any household. They cover repair and replacements costs of protected systems and appliances, provided the devices malfunction due to normal wear and tear. Besides protecting you from unexpected expenses, home warranties also come with the services of top-notch and insured technicians to fix your devices. In this detailed guide, we will tell you how home warranty coverage works once it comes into effect.
We will also guide you about the different aspects of your policy and coverage. But first, you must understand how home warranty coverage is classified.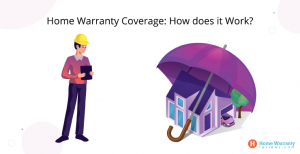 How Do Home Warranty Companies Classify Coverage? 
Home warranty companies classify coverage in terms of systems and appliances. The popular devices covered under these two categories are as follows:
Systems

– The standard systems covered under home warranty plans are air conditioners, doorbells, heating, ductwork, smoke detectors, water heaters, ceiling fans, and many more items. 

Appliances- 

Items such as your refrigerator, washers, dryers, trash compactor, built-in microwave oven, freestanding ice maker, and more, are covered under plans that include appliances.
In addition, companies offer add-ons. Through this option, homeowners can cover additional systems and appliances. The popular items covered under the add on options are well pump, septic pump, guest unit, pool, spa, etc.
Home Warranty Plans Classification 
Once you are aware of what items are covered under which category, the next step is to opt for a plan that suits your home. Home warranty plans can get classified based on the number of items that are protected.
Broad Coverage Plans –

These plans are termed differently depending on the company you choose. However, you should know they cover a more extensive range of devices than a primary home warranty plan.  

Moderate Coverage Plans

– Many companies offer coverage plans that cover a fair share of systems and appliances. You can opt for such types of plans depending on your needs and requirements.

Basic Coverage Plan –

There are several options available if you are opting for a basic plan. These plans cover just a limited number of devices and are ideal for homeowners who want limited coverage. 

Build-Your-Own Plan –

This is the perfect plan for if you want coverage for devices of their choice. It is ideal for homeowners looking out for a tailor-made plan. 
Which Plan Should You Choose?
You must carefully assess your needs, requirements, budget, and size of your home before selecting for a plan of your choice. If you live in a large home with many old systems and appliances, you can check out what Choice Home Warranty coverage offers. 
If you want something not as comprehensive, you could look into moderate coverage options. Several home warranty companies offer this alternative. On the other hand, the primary coverage is ideal for those homeowners who don't own many devices.
If you are looking for a broad range of options, American Home Shield coverage offers customers several plans depending on their varying needs. The company also offers a one of a kind Build-Your-Own-Plan, that allows you to pick and choose appliances that you specifically want.
Once You're Covered: What's Next?
After opting for warranty plans must know how to use home warranty coverage. When your systems or appliances start giving trouble, you must follow a specific set of guidelines set out by companies to facilitate smooth repairs or replacements. The following steps mentioned below will help you use your coverage smartly:
If you notice any of your covered systems or appliances malfunctioning file a claim

Once your claim is processed, the company sends a technician to check your devices

The technician then decides whether to repair or replace the damaged device

Each time you file a claim you are required to pay a fee that is fixed by the company

You are assured that your device will be in working condition, once it is fixed

If you are facing any troubles through the process call customer care immediately 
If you have any doubt regarding the coverage or working process, read your home warranty coverage contract, wherein you will find all information. 
Essential Aspects of Your Home Warranty Coverage
All home warranty customers must keep in mind the fundamental aspects of their policy. You must read your contract before signing up for a plan. We've listed down essential pointers that you must understand in your policy before signing up.
Check whether pre-existing conditions are covered under your plan. Usually, some companies do cover these conditions, and some don't.

All components of your devices are not covered under the policy. Make sure to check what parts are covered and what's not covered.

Check how much you have to pay for your monthly or annual premium and review your service call fee amount.

Assess if services are available in your locale.

Verify whether the systems and appliances that you want coverage for are included in the plan you selected.

Read your policy to understand how much time will the company take to fix your appliances.   
How Reviews Help You Understand More About Your Coverage
Several homeowners have shared their experiences with warranty companies. You must read the home warranty coverage reviews carefully to assess the company's services, thus helping you make the best choice.
Once you have read these reviews thoroughly assess whether you should opt for the company you selected. If the reviews and your requirements are met, go ahead and get your free quote right away. Once you have experienced the company's services, you can also write a review that helps other potential homeowners looking to purchase a warranty plan.
Conclusion  
Home warranty coverage is the most crucial aspect of your home warranty plan. You must be sure of what systems and appliances you want to protect in your plan. Also, the plan you opt for must meet your requirements and budget to make sure you get the best out of your policy.