What is a Home Warranty Deductible?
PUBLISHED: February 23, 2018
•
6 MINS READ
For first-time homeowners and those that continue to renew their home warranty, there's nothing better than peace of mind. The Peace of mind that none of your appliances and systems break down. Don't you agree?
It's fantastic to come back to a home where all the devices, appliances and systems work without a glitch all year round. If there is a moment when these appliances have some downtime, it would be attended to after addressing the claim on a service call.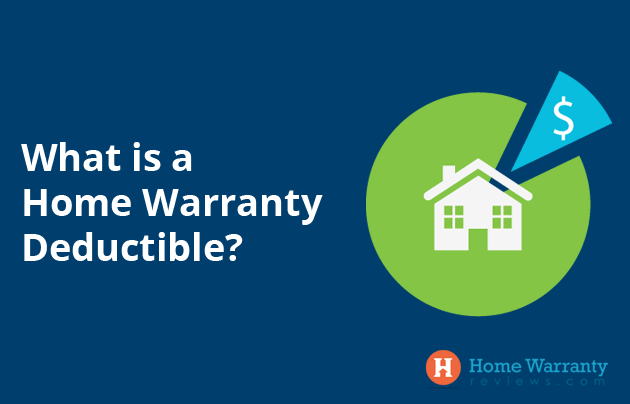 This makes it reason enough to believe that all homes should come with a home warranty and keep your home in check. So, how much is a home warranty? For a premium of $500, you wouldn't have to go through the headache of having to find a suitable contractor and spending top dollar to make sure that your appliances are in order.
If you are uncertain about a home warranty, then you need one! Simply get a free quote by submitting your zip code and email and having top rated companies connect with you. But you should do some homework to determine what works best for you and whether a local provider would outweigh a bigger player. 
This would mean that you would have to consider several factors like whether you can choose your own contractor, the speed of delivery of services, quality of work and of course the cost of the home warranty plan. 
Similarly, you should ascertain if you haven't fallen for a scheme where your desired appliances are not covered or worse if the company that you signed up for has gone out of business. 
Most homes continue with the home warranty plan that they were registered with when they bought the home but few people change when they experience issues that other companies can resolve better.
Importance of a Home Warranty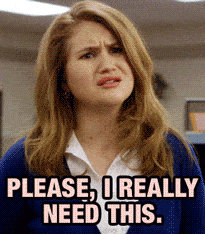 By now we're sure that you know the difference between a home warranty and a homeowners insurance. Just to be clear, a home warranty helps with costs if a major system or appliance fails. The details vary on plans based on the appliances covered and this is based on the type of plan you buy into. 
Usually, a basic plan covers appliances like a dishwasher, garbage disposal or even a built-in microwave oven. Based on different packages, you should read the fine print and figure out the best one before signing up. 
This will help you identify what's covered and what is not covered. Check whether pools, hot tubs, septic systems and other items are covered. But important items like a dryer, refrigerator, washer and garage door should be covered irrespective of the kind of policy.
What is a Home Warranty?
Home warranties are important as they make sure that all your crucial appliances and systems are in good condition. Ensure that your clear on what is covered in the policy, what are the cap limits on coverage and if there are any deductibles or trade call fees. 
Similarly, you should make a note of the kind of reviews and the developments that are taking place in the company that you have subscribed to. This is important so that you know that your company is not going out of business or whether the company has raised its rates or updated its policy. 
This could adversely impact you if you don't take charge and make it a point to subscribe to company news, time and again look at reviews of people like you.
Know what's not included so that you do not have temporary downtimes. Your home warranty company would expect that you perform constant maintenance checks on systems and appliances. Usually, if something is not maintained well, it will not be covered under your warranty (this is based on the warranty terms). 
You should know that every appliance has a certain amount that it can be covered for. This means even when it comes to replacement, you could get a cheaper option for the same efficiency and size. Usually, home warranty companies prefer to fix a problem instead of replacing the appliances when it breaks down. 
Remember that a home warranty will not cover everything that is covered by a manufacturer warranty. Additionally, you should make sure that your appliances and systems are working and this could mean that you should upgrade an appliance before they agree to tend to the repair. Some warranty companies also check service and maintenance records before they start repairing your appliance.
Though home warranties have their pros and cons, you should know that you are bound to gain and have a well-organized home.
Sellers buy home warranties when they sell you a home to increase the buyer's confidence to go ahead with the decision of buying the home. You are sure to help garner interest in your home this way, especially for first time home buyers as they would be concerned about future expenses and repairs. 
Most home warranties last for a year and well after the closing date and cost anywhere between $300-500. For a buyer, it is great as the warranty would be transferred to them for one year of coverage from the date of closing of the sale. 
This is perfect for sellers that do not have the hassle of having to payout from their pockets for problems that arise from appliances, systems and other electronics due to no fault of their own. Not only is it costly but this can be cumbersome for a new family that has to fight it out with the seller to ensure that they can live comfortably under their new roof.
The best part is that a homeowner's request for service could be made within 24 hours a day and claims can be addressed by calling customer service representatives whenever needed all year round. Usually, the call would be in the range of $50-100 and you would have to pay for this trade call fee for someone to come and diagnose the problem, visit your home. This fee is clearly stated in the contract.
Now that you know why a home warranty is important, you should select the right one for your home.
Choosing a Home Warranty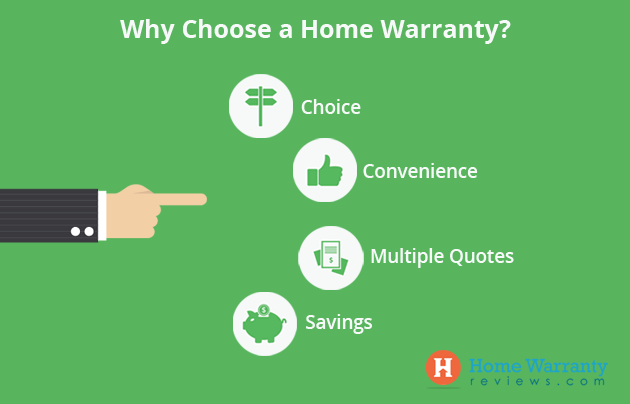 A home warranty has several benefits but they are numerous companies to look through. This makes it important so that you can determine the best home warranty based on reviews, pricing and covered items. Among home warranties there are usually two major types:
A specific home builder warranty is issued for brand new homes. This means that the cost of the warranty is based on the price of the home. A normal builder warranty would cover 10 years of structural defects and one year of coverage for things like drywall, stucco, and paint. Additionally, you will get two-year coverage for HVAC, plumbing and electrical systems and appliances for six months.

Home warranty company policies for existing homes are taken up by homeowners or by sellers or real estate agents. This usually costs a few hundred dollars and part of the sale of the home with furniture, plumbing, and air conditioning. Most home warranty policies will have a $100 deductible or the cost of repair whichever is lesser and is part of each repair.

American Home Shield, The Home Service Club, Select Home Warranty, and Choice Home Warranty are some of the top home warranty companies out there.
After selecting your home warranty, will you get a tax exemption?
No, you will not get a tax exemption for a home warranty premium that you pay for your residence. Warranty premiums can be tax deductible if they are an income on the producing building like if the house is converted to an office. In this way, the owner will be able to consider premiums as a deductible expense.
Tax Exemption On Home Warranty Premiums
You should know that home warranties taken for homes are not exempted from tax. Though a home warranty is an essential service for discounted repair and replacement, you will not enjoy the benefit of a tax exemption for your residence. 
But, warranty premiums can be a tax deductible if taken on an income-producing building. This could mean that your home is a home office or one that is rented out and the premium here can be considered as a tax deduction. 
A home warranty premium is considered as a pre-paid maintenance cost of your home and this would be a non-tax deductible. This concludes that repairs and replacement costs will not be a valuable tax deduction. 
As a tenant of a home, you can enjoy the protection of a home warranty plan but you will not be able to claim an exemption based on its premium. Only if you are the landlord will you be able to consider premiums as a deductible expense.
Finally, this comes down to how much will you pay for a deductible. You should firmly understand the importance of a deductible and why it is necessary to complete a job.
Do Home Warranties Have Deductibles?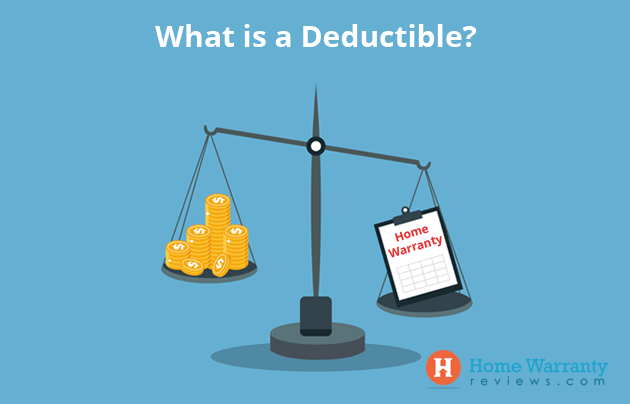 Know the amount that is paid for the deductible before buying a home warranty. You should consider the floor plan, amenities, and the neighborhood. Remember to look at the long-term ownership costs and the age of the systems and appliances at home. 
Since most homes are serviced when unexpected expenses occur, a home warranty serves the purpose. If you own an older home, then you should reap the greatest benefit with a home warranty plan. By understanding everything about a home warranty deductible, you will enjoy a hassle-free home repair and major headaches. 
The current landscape of home warranty deductibles will help you understand what to look out for and what to avoid. Though you bought insurance, it will have a similar concept of a deductible. Likewise, home warranties have deductibles that you pay as service fees when you receive a service. You should note that a majority of a home warranty plans have a deductible and few don't. Also, you should know about the coverage limits and the compensation for major repairs.
More details on what is a deductible…
This is why you should opt for a home warranty in the first place and keep your home safe from appliance problems and other factors that can cause discomfort to your family. Companies expect you to pay home warranty deductibles ranging from $50 to $125 for most policies. Some are available at $75. Premiums range anywhere from $250 to over $1100. Thus a higher premium would result in a lower deductible. A few high premiums have high deductibles. Though you might get confused between premiums and deductibles, it would be a minimal relationship.

Knowing up front that premiums and deductibles are based on regular sense frees to make a choice based on price but not on coverage. You should be able to buy a plan, pay for premiums and deductibles that ensure that most items are covered from potential problems and issues that plague homes.
Most common issues that home warranty companies cover include air-conditioners, water heaters, refrigerators, and ovens. A good home warranty will cover all of these issues and more potential problems for homeowners. 
The biggest problem faced by homeowners from home warranty companies is the refusal to repair after a deductible was paid or a delay in repairs. This means that most problems are based on repair service after a deductible is paid. Other consumers have issues with the quality of service and similar problems.
The biggest or most common issue relates to the value of the deductible as a portion of the overall repair cost. Value of repair cost far exceeds the value of the deductibles when the expenses are seen as expensive. 
The ultimate value proposition is based on the severity of repairs. The better value is deductible based on the severity of repairs when they are more expensive and more money is saved by the homeowner. 
Consumers should know about the repair service rendered and the fashion in which they address the issue head-on and in a timely fashion. This makes it necessary for you to figure out if the consumers have done their research to find the company that provides the best service.
This is why it's important to carefully choose a suitable home warranty plan. One where the premium and the deductible is not too expensive but covers all the important covered systems and appliances. 
With a home warranty, you are sure to enjoy all appliances and systems working at the optimum efficiency without a glitch. Also, the best part is to have a contractor within a few hours to tend to your needs and tend to repairs at a fraction of the cost. Review which are the best home warranty companies by looking through the awards section and choose a suitable one for you.