Home Warranty vs. Home Insurance
PUBLISHED: JUNE 15, 2021 • 6 MINS READ
Home warranty and home insurance are often confused with one another. It may be because of their similar names or the fact that both offer, in a sense, home protection services. However, these two are vastly different in the kind of coverage they offer, their costs, coverage limits, and more. Where a home warranty is an intentional purchase to reduce repair costs, home insurance is a requisite for mortgage lenders.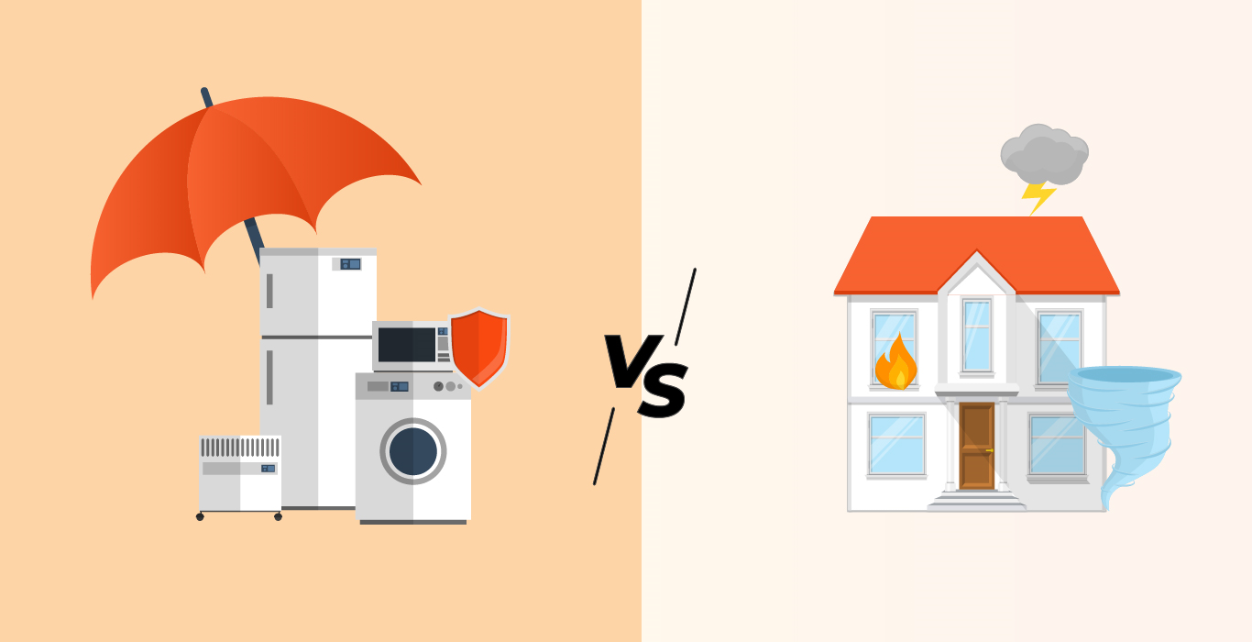 In this article, we want to set the record straight and clarify, in detail, the differences between the two services.
Is A Home Warranty The Same As Home Insurance?
The basic difference between a home warranty and home insurance comes down to what they cover. A home warranty plan covers the interior elements of your home – appliances, systems, and in some cases, maintenance services. Homeowners insurance, on the other hand, covers structural aspects of your home and property.
We created a table of the key differences between these two services for an easier read.
Home Warranty
Home Insurance

Covers damage due to normal wear and tear
Covers internal home elements – appliances & systems
Helpful if you have old appliances and systems at home
Loosely regulated

Covers damage caused by unforeseen circumstances – calamities, accidental damage, etc.
Covers structural property, personal belongings, provides liability protection
Mandatory for taking out a home mortgage
Well regulated by state authorities
What Does A Home Warranty Cover?
The specific items covered by a home warranty may vary by company and plan, but typical coverage includes:
Heating, ventilation, and air conditioning system (HVAC)
Electrical system
Plumbing system
Water heater
Kitchen appliances, such as fridge, stove/oven/range, built-in dishwasher, built-in microwave, garbage disposal, built-in trash compactor
Clothes washer and dryer
Garage door opener
Coverage for pools, spas, well pumps, and other items is optional and may be available for an additional fee
Home warranties do have their limitations. A home warranty company will have a predetermined amount set for covering your broken item, and any extra expenditure will have to be incurred by you. Another point to note is that some components of a covered item may not be eligible for coverage. You can discern these exceptions by studying a home warranty contract.
Pros & Cons Of Home Warranty Coverage
PROS
Great way to save on expensive repairs
Access to skilled service contractors
Peace of mind
CONS
Policy exclusions can lead to claim denials
Items with pre-existing conditions are not covered
May not be of use in a newly built home
What Does Home Insurance Cover?
This insurance policy varies depending on your state of residence and type of policy, but generally, it covers the following:
Structure and contents of the house
Personal property, such as indoor and outdoor furniture, clothes, and home electronics such as computers, TV, stereo, etc.
Jewelry may be covered up to a certain value, itemized for its total value, or excluded entirely
Living expenses, if you cannot live in your home as a result of a natural disaster
Events like theft, vandalism, fire, windstorm, lightning, hail, falling objects, such as a tree
Liability claims – if someone gets hurt while on your property and decides to sue you, the policy will take care of it
There are exceptions to what home insurance covers as well. Most home insurance companies do not cover damage caused by pest infestations, mold, and even dogs. They do not cover water damages caused by flood or any structural damage caused by earthquakes or earth movement. Any damage caused by negligence, faulty construction, or lack of maintenance is also not covered.
You should also be aware of the limitations of your home insurance contract. We advise you to carefully read your insurance contract to understand these details.
Pros & Cons of Home Insurance
PROS
Offers liability coverage
Covers damage caused by accidents, calamities, and disasters
Alleviates financial stress
CONS
Can be expensive
Many factors, like credit history, construction, etc., can increase your premium rate
Doesn't cover maintenance issues
How Much Does A Home Warranty Cost?
The cost of a home warranty is based on several factors, like the size of your home, your location, your chosen plan, and more. A typical home warranty may cost you $30-$75 per month, while the annual premium can range from $350-$700. You will also have to make a payment known as a service call fee, or deductible , to your service technician. The deductible amount can be anywhere from $50-$200.
Home warranty companies also run occasional discounts and offers that can save you money. Here are three top home warranty companies with unmissable offers.
Best Home Warranty Companies
How Much Does Home Insurance Cost?
Home insurance costs can vary depending on your location, the size of your property, the condition of your home, and more. The average annual home insurance cost, according to the National Association of Insurance Commissioners, is $1,249, which may make the monthly cost to be roughly $105 or so.
Home insurance companies also charge deductible amounts that usually range from $500-$2000. You can adjust your annual or monthly premium by paying a lower or higher deductible amount.
How To Choose A Home Warranty
These are a few considerations you should keep in mind when choosing a home warranty plan.
Do Your Research
There are many home warranty providers in the market that offer attractive plans. They generally offer plans that cover home appliances, systems, or a combination of both. Some companies even let you customize your coverage plans. You should choose one that is right for your home.
Reading customer reviews can reveal how the home warranty company has addressed their claims, their service quality, and lots more.
Assess Coverage Costs
You should compare the warranty plan cost, and the repair or replacement costs of your home's items. This will give you an idea as to which warranty plan option would be most cost-effective. Take note of the companies that offer your ideal coverage within your desired price range.

TIP: It would also be wise to figure out which appliances and major home systems are in need of coverage, and how much you are willing to spend. It does not make sense to get coverage for items that are new and equipped with OEM warranty.
Compare Quotes
Find out the annual premiums or monthly costs of different home warranty companies. Choose one that offers the coverage you want within your budget. Get as many quotes as you can before zeroing in on one plan.
Study Home Warranty Contracts
You should thoroughly examine the details of the warranty: its coverage, deductibles, coverage caps, limitations, exclusions, and any other pertinent information mentioned in the service contract of a home warranty company. Many people fail to do this and are shocked to find a breakdown listed under an exclusion.
How To File A Home Warranty Claim
Most home warranty companies follow similar procedures for claims processing. You should note that there is a 30-day waiting period before the coverage kicks in, after which you can place your claim. Here is a detailed description:
If you experience an equipment breakdown, call your home warranty company's customer service or place a service request on their website
The company will verify the validity of your claim and make a decision accordingly
After approving your claim, the company will arrange a qualified service technician to visit your home and take a look at your broken item
You'll have to pay a pre-agreed amount, i.e., a service fee, to the technician upon their visit
The technician will diagnose, and either repair, the problem or suggest a replacement
How To Choose Home Insurance
There are many companies that offer home insurance, but that doesn't mean they are right for you. Keep these considerations in mind, if you are looking to buy home insurance..
Research
Start your research by checking out the top companies in the market and their customer satisfaction levels. Many websites assess the features of home insurance companies and rank them accordingly. You can read customer reviews to learn how well they handle claims and how they treat their customers.
Get The Coverage You Need
Taking out homeowners insurance to cover the labor and material costs to rebuild your home is usually enough. If you want, you can also cover additional assets, like jewelry or other valuable belongings. You can search for customizable coverage options to get a better fit for your home.
Compare Rates
Price is often the determining factor in buying something. Home insurance rates are expensive, but you can always research other companies' prices and compare. However, we do not recommend choosing the cheapest option. You should check the extent of coverage a company offers for a certain price, and calculate if it seems worth it.
Read The Fine Print
A careful examination of your home insurance contract will help you a great deal while filing claims.
How To File A Home Insurance Claim
Here is a look at the general practice of filing a claim with a home insurance company –
You should call your insurance company about the damage, as soon as possible
Document every detail of the damage – take photos, note the extent of damage, etc.
The company will assign a claims number and an insurance adjuster to your case
Cooperate with the company, regarding any requirements – inspections, recorded statements, etc.
Consider using a public adjuster for a neutral evaluation
After successful verification, the insurance company may offer you the money all at once, in multiple checks or bank transfers at different periods of time
What Should You Get? A Home Warranty Or Home Insurance?
There is no saying that a home warranty is better than home insurance or vice versa. They are very different products. Home warranties and home insurance can both provide comprehensive protection for your home and property. Having these services will help you save on expensive repairs and replacements, protect your valuable assets, and most importantly, will give you peace of mind. We recommend buying both to experience the most comprehensive protection.