How Do You Find A Reputable Home Warranty Company?
PUBLISHED: April 9, 2020
•
4 MINS READ
Let's admit it! Choosing the right home warranty provider amidst a sea of home warranty companies is easier said than done. All companies claim to offer the best services in the industry, but in reality, only some companies' services match up to the promises made to their customers. Are you one among them who is facing the challenge of looking for the best home warranty company? Read through the article and learn how to find a reputable home warranty company that meets your specific requirements.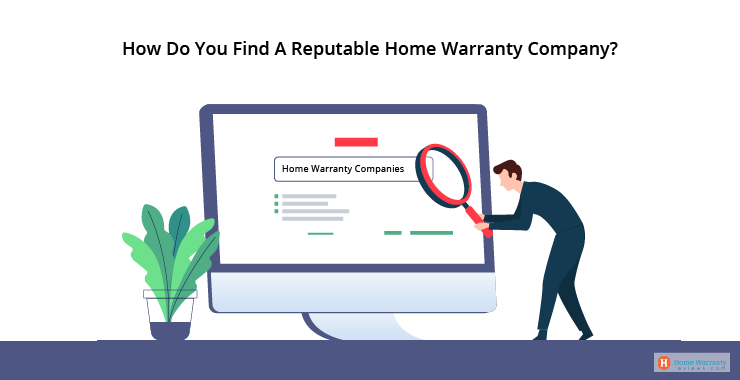 What do home warranties cover?
A home warranty covers major home appliances and systems such as built-in microwave ovens, refrigerator, water heater, clothes dryer, garbage disposal, electrical & heating systems, and many more. In addition to the standard plans, if your warranty company has an additional coverage option, you can cover items such as the pool/spa, HVAC-tune ups, septic pump, etc. at additional cost. 
Factors to consider before buying a home warranty
There are several aspects you must consider before purchasing a home warranty plan. Some of them include: 
Does the manufacturer's warranty cover the systems & appliances?

How old is your equipment?

Do you have a monthly budget for repairs or replacements?

Does your state experience an extreme weather condition?

Do you have access to licensed technicians?
How to find a reputable home warranty company?
As said earlier, with dozens of warranty providers out there, choosing the best home warranty company is challenging. Here, we have listed a few factors that you must look at while picking a reputable home warranty company.
1. Customer reviews 
Customer feedback is one of the critical factors that determine the quality of the services. Look for genuine customer reviews. If a company has too many negative reviews and complaints, it is wiser not to opt for its services. 
2. Coverage limits
Determine if the warranty provider has high coverage limits. Repairs of some appliances or systems may be expensive. If the company does not have high coverage limits, it may cover only a part of the total repair cost, and you will be responsible for paying the remaining balance. Also, check if the company includes items of only specific or all brands.
3. Costs or fees
Compare the costs of home warranties among top companies. Check for the company that offers maximum coverage at reasonable prices. Figure out if there is any service call fee or trade fee, deductibles, hidden charges, and cancellation fees. 
4. Contracts 
Some home warranty companies require long-term obligations or contracts. When you choose a company, check if it includes contracts or any other commitments. Also, find out if it allows the customers to cancel the plan during the period of the contract if dissatisfied with its services. 
5. Round-the-clock services
Appliances or systems don't pick a time to break down. Your air conditioner may become faulty at midnight during the hot summer, or your furnace could blow out cold air only to add more to the extreme cold weather. In such situations, you would want your warranty provider to be available and help you fix the issue. 
6. Online quote
Since home warranty costs depend on several factors, many companies do not include the prices on their website. If they contain, the price may still vary concerning the state. A "get free quote" option will allow you to find out how much your plan costs in addition to indicating the warranty providers are trustworthy. 
7. Network of contractors 
Determine if the company has a network of insured and licensed contractors in your state. As with a licensed contractor, you need not worry about the quality of services. 
List of top home warranty companies 
As per the customer reviews, some of the best home warranty companies in the U.S. include:
American Home Shield
American Home Shield is one of the top home warranty companies. Since its inception, the company has served over 1.8 million customers. The company not only offers warranty plans for homeowners but also for real estate professionals. Its plans are reliable and budget-friendly. 
America's Preferred Home Warranty
Founded in 1999 and headquartered in Jackson, Michigan, America's Preferred Home Warranty is one of the leading home warranty providers. Driven by values, the company aims at providing the best services in the industry to its customers. It offers a range of warranty plans that cover all types of homes.
Total Home Protection 
Total Home Protection is another popular home warranty provider in the United States. The company is committed to providing industry-leading warranty services to its customers. It delivers niche warranty plans to homeowners and real estate professionals at affordable prices. 
The top home warranty companies in the U.S. are not limited to the above mentioned. Check other best reputable home warranty companies, choose the best fit, and stay protected!