How much does a home heating repair cost?
PUBLISHED: April 14, 2020
•
4 MINS READ
Home heating systems play a vital role in keeping homes warm & cozy, especially over the winter. Although the systems are designed to work for 10-15 years, they may break down due to normal wear & tear, and repairing them can be expensive. So how much does a home heating system repair cost? Read through the article to figure it out.
Home heating systems are of different types. They include furnaces, heat pumps, pellet stoves, to name a few. The average repair cost of a home heating system depends on the type of the system.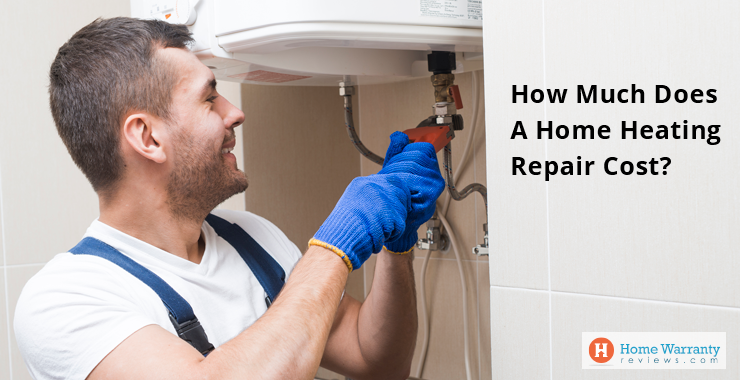 Furnace repair cost
A furnace is the most common kind of home heating system. Furnaces are of various types: oil, electric, and gas furnace. The average repair cost of a furnace is $290. However, the amount varies with the kind of furnace. For instance: 
1. The electric furnace repair price
The average cost of repair of an electric furnace is $ 300. If you want to add a new electric element, then it can cost you an additional $50 to $200. In addition, you will be required to pay labor fees ranging from $100 to $200.
2. The oil furnace repair price
The repair price of an oil furnace ranges from $300 to $1,200 depending on the problem. 
3. The natural gas furnace repair price
Natural gas furnaces are complex home heating systems. The average repair of this type of furnace ranges from $300 to $1,350. 
Cost of repairing furnace parts
Generally, when a furnace becomes faulty, the issues lie in parts like a thermostat, motor, and igniter. Here, let's have a look at the costs associated with repairing these components.
1. Thermostat 
Issues with the thermostat can prevent your furnace from working smoothly. Sometimes, this component will merely require a battery replacement that costs around $20. But if the thermostat is damaged, it may cost you anywhere between $100 to $500. The cost includes diagnosis and labor charges. 
2. Blower motor 
It may cost you around $150 to $450 to repair a faulty blower motor. However, if the component is beyond repair, it must be replaced, which can cost you up to $1,500.
3. Ignitor
When dust, dirt, and grime accumulate, the ignitor can break down. The repair costs of this part largely depend on the nature of the fix. Typically, the price ranges from $200 to $400. 
 Repair costs of other parts of the furnace are:
| | |
| --- | --- |
| Parts  | Costs |
| Transformer | $100-$175 |
| Flame sensor | $75-$250 |
| Thermocouple | $100-$250 |
| Relay switch | $150-$300 |
| Evaporator coil | $600-$2,000 |
| Gas valve | $200-$1000 |
| Oil combustion chamber | $200-$600 |
| Control & circuit board | $200-$600 |
Heat pump repair cost 
A heat pump is another commonly used heating system. The average repair cost of this home heating system ranges from $200 to $800, depending on the issue.
Cost of repair of heat pump parts 
The cost of repair of major components of heat pump is as follows:
1. Condenser 
A heat pump consists of a larger condenser unit. The repair cost of this component ranges from $150 to $1,500. 
2. Air handler 
A damaged air handler will fail to provide backup and force air to the heat pump system leading to a faulty heat pump. The air handler repair costs around $80 to $450.
3. Air filters 
This part does not fail too often, but when it does, the repair may cost you $80 to $150 for standard filters, and $150 to $350 for high-efficiency filters. 
Home heating repair costs are expensive. Fortunately, with a home warranty plan, you can save yourself from out-of-pocket expenses. 
How can a home warranty help you?
A home warranty is a service contract that protects you from the repair or replacement costs of covered items. The plans are available in monthly, bi-annual, and annual options. They can be renewed post expiration.
During the period, if your home heating system breaks down, your warranty provider will take care of the repair needs and expenses. All you have to pay is the service call fee, of average $50 to $100. A home warranty can help you save hundreds of dollars. If you haven't purchased a home warranty plan, buy one now!