Is home warranty the same as homeowners' insurance?
PUBLISHED: March 24, 2020
•
4 MINS READ
When you invest in a home, you want to make sure that your investment is protected. Homeowners' insurance and home warranty are the best ways to protect your budget & home. Most often, people think homeowners' insurance is similar to a home warranty. Although the core principle of these two is similar, they are quite different from each other. While homeowners insurance and home warranties help you shield your home, they do not offer the same type of protection.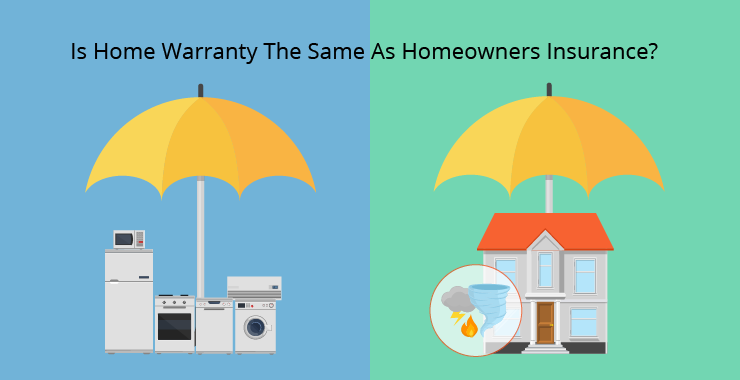 What is a home warranty? 
A home warranty is a service contract that protects a range of home appliances like dishwasher, refrigerator, stove, washer, dryer, etc. and systems such as plumbing, electrical, & heating systems, etc. which fail over time due to normal wear & tear.
Most of the warranty providers offer various home warranty plans that are proportionate to the levels of coverage. For example, a basic plan may have limited coverage and more expensive plans may cover more home appliances & systems. For instance, some home warranty plans may cover only appliances, some only systems, and some other both appliances & systems with add-on. 
Home warranties do not cover everything. For instance, a home warranty plan doesn't cover misuse or neglect, nor cover cosmetic issues or damage. It doesn't cover any changes or modifications when new, replacement equipment gets installed. Also, they may deny claim if there exists pre-existing conditions, that is an appliance or system that was broken before the coverage began. 
The home warranty companies collaborate with licensed and insured contractors to provide niche repair or replacement services. When your appliance or system breaks down, you can file a claim and arrange for a service through your home warranty provider. You need not pay the repair or replacement bill but only the service call fee to the technician.
Home warranty plans can usually be canceled or renewed as per the company policies. Most of the companies have monthly fees, and no long-term contacts or obligations but some home warranty companies may demand contact or long-term obligations. 
Further Reading – Is A home Warranty Worth It?
What is a homeowner's insurance?
A homeowner's insurance policy protects the structure of your home against damage from severe weather conditions, fire, storms, accidents, vandalism, and more. If your home is damaged due to any of the covered hazards, your homeowners' insurance provider will cover the repair costs incurred by you. When you file an insurance claim, you must pay a specific deductible cost. The higher the deductible, the lower is your premium.
The homeowners' insurance may also cover your personal belongings if they are destroyed or stolen. It can also protect you if a lawsuit arises from someone injured on your property and may cover living expenses if your home becomes inhospitable due to any hazardous accidents, such as a fire break-in. 
The homeowners' insurance has coverage limits and limitations. It does not cover all types of hazards, such as earthquakes or floods. If you want to protect your home from such natural calamities, you will need to buy special earthquake insurance or flood insurance.
Homeowners insurance covers only your home and not the home devices that break due to normal wear or stop working overtime. Also, it does not cover the device repair cost that may arise due to improper installation or maintenance. 
Home warranty vs homeowners insurance
Is home warranty the same as homeowners insurance is undoubtedly the most common question among the homeowners. Both homeowners insurance and home warranty aim to protect homeowners' pockets from expensive bills. However, the aspects they cover differ from each other. Let us have a look at the difference between the home warranty and homeowners' insurance:
| | |
| --- | --- |
| Home warranty  | Homeowners insurance  |
| Can be purchased when buying a new home or to protect the existing | Required by a mortgage lender |
| Covers breakdown or malfunction of major home appliances and systems | Protects home from fire accidents, theft or other damages |
| Covers repair or replacement costs of covered items | Pays for repairing your home or personal belongings |
| Must pay a service call fee on each claim | Must meet a deductible on each claim |
| Does not cover appliances & systems with pre-existing conditions | Does not cover the home from natural calamities like flood and earthquake  |
Now that you got the answer to your question, choose your home protection carefully. Investing in a home warranty is a great way to protect your home appliances and systems that are not covered under homeowners' insurance. However, it is wiser to know what is covered and not covered under the home warranty plans before purchasing one.