A Quick Guide To Home Warranty
Home is where thy heart is, and there is no greater pleasure than coming back to the place where you belong. But a leaky tap or a broken air conditioner can ruin it all. Buying a home is a huge investment and maintaining it is  equally taxing. Appliance breakdown or plumbing issues not only burn a hole in your pocket but also ruins your peace of mind. Home warranty can be the tool that can make your life hassle free.
What Is a Home Warranty Plan?
Home warranty is a service contract that promises to repair or replace damaged appliances and systems, provided it meets the terms and conditions of the deal.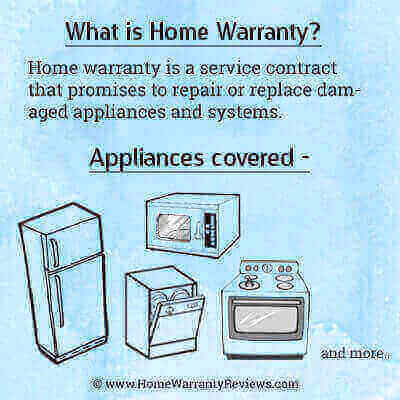 A warranty differs from a general homeowner's insurance policy in that it covers repairs and replacements of faulty appliances or systems whereas homeowner's insurance covers your home and its contents from uncertain events  such as loss, theft, and destruction. Home warranty is different from a manufacturer's warranty as well.
Should You Buy A Home Warranty?
If your appliances and systems are no longer under the manufacturer's warranty or you just want the added peace of mind, then yes a home warranty could save you money in the long run and cover the maintenance that your home insurance does not.
What is covered?
In home warranty, coverage depends on the value of purchase. In this case, the more the merrier. The coverage groups the appliances into different categories. The following are usually covered in a first-tier or second-tier plan offered by home warranty companies. For a complete list, check what is covered in a home service contract article.
Major appliances
These generally include appliances such as an oven, refrigerator, dishwasher, garbage disposal, microwave, washing machine, clothes dryer and ceiling fans.
Heating and cooling systems
These usually include furnaces, air conditioners, heat pumps and ductwork. However, portable air conditioners and heaters are not always covered.
Plumbing
It includes indoor pipes and drains, faucets, swimming pools and hot tubs.
Electrical systems
Covers electrical panels, wiring, garage door openers and door bells.
Are you a homeowner? a home buyer? a seller? or a real estate professional? It does not matter which end of the deal you are at. Home warranty is bound to benefit all.
Homeowner And Buyer Benefits
A perfect home protected by a home warranty is like a cherry on the icing. It provides peace of mind to the homeowner who otherwise might not be able to meet unexpected repair bills when one has already invested a lot on a house. The benefits of a home warranty plan include:                                                                                                           
Cash flow protection on unexpected repair and replacement of appliances.
One call and a nominal fee, the issue is sorted.
No need to screen and follow up with contractors and other professionals.
Most major systems and appliances are covered under the standard plan.
Provides ongoing home protection, renewable year after year.
Seller Benefits
A property with a home warranty can generate greater demand. Homes listed with a home warranty are more attractive to potential buyers, and tend to sell faster and often fetch a good price. The benefits of a home warranty for a seller are:-
Appliance protection plan as an incentive to attract buyers.
Minimal cost premium not paid until closing.
Budget/cash flow protection on unexpected repairs.
Reduced after sale worries. This means, if a breakdown happens after closing the deal, buyers will call the warranty company not the seller.
Real Estate Professionals Benefits
A home warranty is a very important aspect of the real estate transaction providing many benefits during the marketing period, while the home is under contract and after the close of sale:-
Homes with home warranties tend to sell faster and closer to the asking price – minimizing marketing efforts.
Reduced after sale hassles – when a buyer experiences a breakdown, they call the warranty company, not the agent.
Satisfied clients will generate increased repeat/referral business.
How Do I Select A Home Warranty Plan?
A number of different companies offer home warranty plans. Regardless of who pays for the policy, the buyers should review the coverage from various companies and select the one which suits the best. Read the fine print carefully to spot coverage limitations and exclusions. Be sure to get a home warranty plan that covers "pre-existing conditions" which were not known to the sellers or their agent. Pre-existing defects that were known are excluded from coverage.
Possible Exclusions In A Home Warranty Plan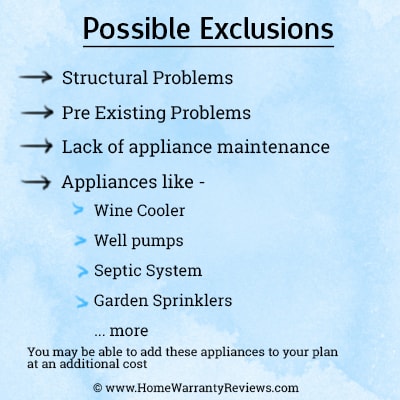 A home warranty can cover almost all your household appliances and systems, as long as you are prepared to pay for a high level of coverage. Warranties generally do not cover things such as permit fees or hauling fees, nor cosmetic structures that are part of your appliances that can easily be replaced, such as: oven rotisseries, broiling and baking attachments, refrigerator shelves and bins and water filtering devices. Here is a list of possible exclusions which you need to be careful about.
 Structural Problems
Warranties do not cover any structural problems in your home, such as a crack in the basement wall or a leaky roof.
Pre-existing Problems
Even for the things that are covered, a home warranty company will not usually agree to repair or replace appliances or systems that had pre-existing problems at the time when you obtained the warranty.
Lack of Maintenance
The company may not be willing to repair items that were improperly maintained or installed or that violate building codes.
Hidden charges
Take note of any extra fees. Some home warranty contracts charge extra fees in addition to the deductible, including service fees and missed appointment fees.
Limited number of claims
Improper previous repairs, pre-existing problems and more are excluded from coverage. Also, some companies may limit the number of claims you can file.
The pain of finding a repair person or replacing your appliances can be avoided with a home warranty plan. It can free you from the financial burden of expensive repairs and replacements. But, we provide you reviews on companies by many homeowners, homebuyers and real estate professionals. This will aid your efforts to choose the right company suiting your needs. Want to receive quotes from a list of companies? Just provide your zip code and address and the job is done! This means no waste of time in signing up.
Like any other insurance, home warranty is also bound by clauses, therefore read the fine print and make yourself aware about the hidden clauses to make best use of the deal.
---