Home Warranty Guide: What is a Home Warranty?
PUBLISHED: March 19, 2007
•
6 MINS READ
Home warranties ensure that you enjoy peace of mind right through the year without heavy out of pocket expenses. Whether it's a leaky tap or a broken air conditioner, a home warranty will repair or even replace items that cannot be fixed. Buying a home is a huge investment and maintaining it is equally taxing.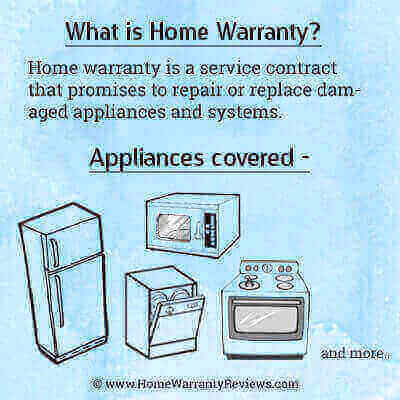 So, What is a Home Warranty Plan?
A home warranty is a service contract that promises to repair or replace damaged appliances and systems, provided it meets the terms and conditions of the deal.
When it comes to home warranties, a basic plan would cost anywhere between $350 to $500 a year. These warranties typically cover plumbing, kitchen appliances, water heater, heating, and electrical components. Other things that could include are the sump pump, whirlpool tub, ceiling repairs, and exhaust fans.
But for another $100 to $300, you can get an enhanced plan which has added coverage for a washer and dryer, air conditioning system, refrigerator and garage door opener. Other coverage also provides servicing for pools and septic systems.
Usually, home warranties do not cover problems that are found at the time of a home inspection or repairs that crop up due to improper maintenance. There are other factors that could also surprise you.
It may make you feel that unless you have a brand new home with warranties for newly installed appliances and systems then there is no guarantee for repair and replacement if something stops working. This is why homeowners buy a home warranty to safeguard them from these kinds of risks.
A warranty differs from a general homeowner's insurance policy in that it covers repairs and replacements of faulty appliances or systems whereas homeowner's insurance covers your home and its contents from uncertain events such as loss, theft, and destruction. A home warranty is different from a manufacturer's warranty as well.
9 Things to Consider When Buying a Home Warranty
One method for a buyer of a pre-owned home to protect themselves against any sort of risk of costly repairs is to avail a home warranty. But, there are a few things that you should consider about home warranties:
1. Home Warranties are not Homeowner's Insurance
These homeowner's insurance generally protects the structure of the home and the possessions inside your home. Home warranties on the other hand cover appliances and systems.
For instance, a home warranty would cover repairs to your furnace, hot water heater or electrical system.
But a homeowner's insurance would cover repairs of damage to your home. This would be from theft, fire, natural disasters and they also cover injuries caused by these types of incidents.
2. Home Warranties are not All-Inclusive
Though home warranties include HVAC, electrical and plumbing, it may not cover everything that you might consider a system or appliance.
This depends primarily on the specific policy. For example, some basic policies cover septic while others don't. You need to talk to your warranty issuer to make sure that you're getting the coverage that you need.
3. Cover the Unknown
If there are any existing issues with your appliances and systems then it should be found during the home inspection. They need to be addressed prior to you taking ownership of the home based on terms negotiated for the repairs and replacements.
Warranty companies consider the problems identified as "known conditions" and often don't cover them. Home warranties cover "unknown conditions." These are issues that have been revealed through a normal home inspection or one that develops after you move in.

4. Not Expensive
Usually, home warranties range from $350 to $500 every year. Normally, it's based on you to purchase a policy. Sellers also include policies with added incentives during the time of sale of the home. Real estate agents give homebuyers a home warranty after the home is purchased and have moved in.
5. Read the Fine Print
There are several companies which offer home warranties. You should ask your agent for guidance on how to go about it. But, you should be sure to read the entire policy before you sign up and confirm what's covered, up to what level, and the steps involved when you need to file a claim.

6. Great for first-timers
Home warranties are sure to provide you with peace of mind for first-time home buyers that are unfamiliar with home maintenance and repairs. This also includes buyers of high mileage homes during the first year.
7. Pay for Repairs
There's no flat rate for unlimited repairs. You would have to pay for the cost of a deductible anywhere from $50 to $125, and separate deductible applies for each appliance that needs a repair.
At times, you would spend that money only to find out that you need to hire an outside contractor because warranties oftentimes do not cover high-efficiency or specialty systems that are found in newer homes.
8. Already be Covered for Some Things
Normally, if you buy new appliances then the manufacturer's warranty comes with them and this generally covers replacement and repair for about a year.
Unless you have a secret love for spending money on services that you do not use then this would eliminate the need to pay for a second home warranty to cover repairs. Most warranties cover appliance repairs and not a replacement.
9. Connect with a Repairman
The warranty will not pay for you to call any repair service. It will perform only services performed by companies that the warranty firm has a contract with. This means that you cannot work with a repair service that you have used before or have a relationship with.
You would have to forget about timeliness. Warranty companies have a limited number of contractors and a limited number of appointments that they can perform. Sometimes based on having to serve thousands of members, a home warranty company repair firm would take up to two to four weeks to complete a repair in the busy season.
Should You Buy A Home Warranty?
If your appliances and systems are no longer under the manufacturer's warranty or you just want the added peace of mind, then yes a home warranty could save you money in the long run and cover the maintenance that your home insurance does not.
In a home warranty, coverage depends on the value of the purchase. In this case, the more the merrier. The coverage groups appliances into different categories. The following are usually covered in a first-tier or second-tier plan offered by home warranty companies. For a complete list, check what is covered in a home service contract article.
Major appliances
These generally include appliances such as an oven, refrigerator, dishwasher, garbage disposal, microwave, washing machine, clothes dryer, and ceiling fans.
Heating and cooling systems
These usually include furnaces, air conditioners, heat pumps, and ductwork. However, portable air conditioners and heaters are not always covered.
Plumbing
It includes indoor pipes and drains, faucets, swimming pools, and hot tubs.
Electrical systems
Covers electrical panels, wiring, garage door openers, and doorbells.
Are you a homeowner? a home buyer? a seller? or a real estate professional? It does not matter which end of the deal you are at. A home warranty is bound to benefit all.
Homeowner And Buyer Benefits
A perfect home protected by a home warranty is like a cherry on the icing. It provides peace of mind to the homeowner who otherwise might not be able to meet unexpected repair bills when one has already invested a lot on a house.The benefits of a home warranty plan include:
Cash flow protection on unexpected repair and replacement of appliances.
One call and a nominal fee, the issue is sorted.
No need to screen and follow up with contractors and other professionals.
Most major systems and appliances are covered under the standard plan.
Provides ongoing home protection, renewable year after year.
Seller Benefits
A property with a home warranty can generate greater demand. Homes listed with a home warranty are more attractive to potential buyers and tend to sell faster and often fetch a good price. The benefits of a home warranty for a seller are:-
Appliance protection plan as an incentive to attract buyers.
Minimal cost premium not paid until closing.
Budget/cash flow protection on unexpected repairs.
Reduced after sale worries. This means, if a breakdown happens after closing the deal, buyers will call the warranty company, not the seller.
Real Estate Professionals Benefits
A home warranty is a very important aspect of the real estate transaction providing many benefits during the marketing period, while the home is under contract and after the close of sale:-
Homes with home warranties tend to sell faster and closer to the asking price – minimizing marketing efforts.
Reduced after sale hassles – when a buyer experiences a breakdown, they call the warranty company, not the agent.
Satisfied clients will generate increased repeat/referral business.
For a seller, a home warranty will ensure that your home appliances would be safeguarded and this would be given as an incentive to home buyers. There are real estate agents that buy home warranties to clients to thank them for the gift of purchasing a new home.
While buyers feel that a home warranty offers them the confidence that their home would be protected from damage. At the same time, there are some homeowners that decide to set aside some savings to cover home repairs and replacements.
The best way to determine if you need a home warranty is by using the Home Maintenance Calculator. With the home maintenance calculator, in under 5 minutes, you'll know how a home warranty is beneficial.
You will learn that home warranties do not burn a hole in your pocket. Also, you can review all the unique conditions that your home may have and compare multiple home warranties and get free quotes. A home warranty is great if you have expensive components near or past their life expectancy.
Pros of Home Warranties
Buyers that purchase a previously owned home inherit used appliances and system with the usual amount of wear and tear based on usage and how old it is. A home warranty would be able to cover the cost of things that break down.
For example, in case a fire destroys your boiler then you can get a portion of the $10,000 replacement from the home warranty company.
Some of the other pros of a home warranty include, the flat rate will save you money, give you peace of mind, fix things in due course of time, avoid debt on major expenses, flat service calls and protection that fits your needs.
Cons of Home Warranties
There is a wide gap for many homeowners between what the customer expects and what the plans could deliver. You should know that before buying a home warranty, you need to carefully read the contract and understand what it actually covers and what it does not. For instance, some home warranties do not provide home warranty coverage if:

Appliances were not maintained

The appliances were not installed correctly

There's too much wear and tear on the appliance
You should not assume that the policy has a faulty component. This is because the warranty company might insist on repairing it instead. You cannot call your favorite service provider. This is because home warranties require you to use a contracted servicer.
The warranty will not cover the entire cost and in some cases, it will cover just a fraction of the repair cost. There are also exclusions and limitations. Perhaps the refrigerator is covered, but the ice maker is excluded. The claims may be rejected due to pre-existing problems or insufficient maintenance. You should learn who will perform the repair work. You should learn about who does the repair work.
What To Expect In A New Home Warranty?
Well, when it comes to home warranties, they may be procured by individuals buying a new or used home, realtors and persons selling their homes or investors. The terms and conditions of the coverage are based on the contract but basic home warranties usually cover the parts and labor on or for the replacement of covered home systems and equipment.
A number of different companies offer home warranty plans. Regardless of who pays for the policy, the buyers should review the coverage from various companies and select the one which suits the best. Read the fine print carefully to spot coverage limitations and exclusions. Be sure to get a home warranty plan that covers "pre-existing conditions" which were not known to the sellers or their agent. Pre-existing defects that were known are excluded from coverage.
Possible Exclusions In A Home Warranty Plan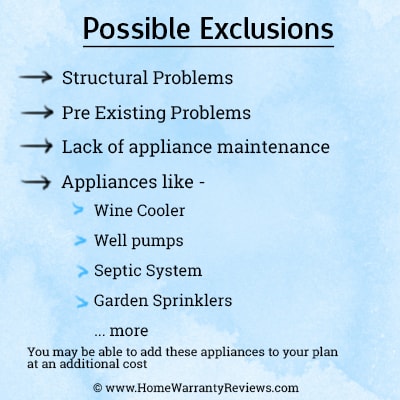 A home warranty can cover almost all your household appliances and systems, as long as you are prepared to pay for a high level of coverage.
Warranties generally do not cover things like permit fees or hauling fees, nor cosmetic structures that are part of your appliances that can easily be replaced, such as oven rotisseries, broiling and baking attachments, refrigerator shelves and bins and water filtering devices. Here is a list of possible exclusions which you need to be careful about:
Structural Problems
Warranties do not cover any structural problems in your home, such as a crack in the basement wall or a leaky roof.
Pre-existing Problems
Even for the things that are covered, a home warranty company will not usually agree to repair or replace appliances or systems that had pre-existing problems at the time when you obtained the warranty.
Lack of Maintenance
The company may not be willing to repair items that were improperly maintained or installed or that violate building codes.
Hidden Charges
Take note of any extra fees. Some home warranty contracts charge extra fees in addition to the deductible, including service fees and missed appointment fees.
Limited Number of Claims
Improper previous repairs, pre-existing problems and more are excluded from coverage. Also, some companies may limit the number of claims you can file.
The pain of finding a repair person or replacing your appliances can be avoided with a home warranty plan. It can free you from the financial burden of expensive repairs and replacements.
But, we provide you reviews on companies by many homeowners, homebuyers and real estate professionals. This will aid your efforts to choose the right company suiting your needs.
Want to receive quotes from a list of companies? Just provide your zip code and address and the job is done! This means no waste of time in signing up.
Like any other insurance, a home warranty is also bound by clauses, therefore read the fine print and make yourself aware of the hidden clauses to make the best use of the deal.
The Final Outcome
While a home warranty does not cover all aspects. It will help you have peace of mind. It is important that the homeowner readers the home warranty contract and takes into consideration what they are signing and whether they are getting a good deal on what they are signing off on.
For the home seller, real estate agents and homebuyer they would feel more relaxed after doing extensive research on getting the best home warranty plan. A home warranty will make sure that most of your appliances and systems are covered from damage all year round.
Make sure that you take a look at the home warranty companies that have won awards and recognition. This will give you a fair idea of which are the best home warranty companies in the market.