Should you buy an annual home warranty plan?
PUBLISHED: April 13, 2020
•
4 MINS READ
Home appliances and systems are not designed to work forever. They may break down due to normal wear and tear, and fixing them can be expensive. Fortunately, you can ease the worries of costly repair and replacement bills with home warranty plans. Home warranties are of different types: monthly, bi-annual, and annual plans. Each type of plan has benefits and drawbacks. In this article, we will guide you through the pros and cons of buying an annual home warranty plan.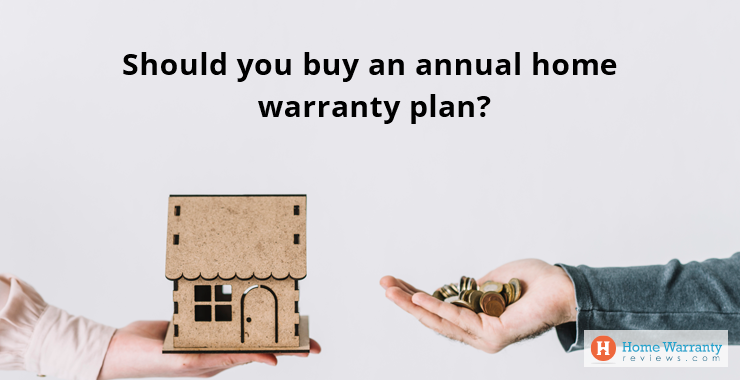 What is a home warranty plan?
A home warranty plan is a service contract that protects homeowners from repairs or replacements of covered appliances and systems such as built-in microwave, refrigerator, air conditioning & heating systems, garbage disposal, clothes dryer, dishwasher, etc. 
Why does a home warranty matter?
Home warranty plans can save vast amounts of money on repairs or replacements of appliances and systems. For instance, the price for repairing a refrigerator may range from $250 to $500. The diagnosis charge of $50 to $90 and labor charges of $100 to $200 add to the repair cost. But with a home warranty, you only have to pay the service trade fee.
Also, you need not worry about the quality of service, as home warranty companies will assign only a licensed and skilled contractor to fix your unit. 
Types of home warranty plans
As stated earlier, home warranty plans are available in monthly, bi-annual, and annual options. The monthly plan gives you an option to receive the services and make the payments monthly. Under this option, you have the flexibility to decide when you want to be covered, and when not. 
Under the semi-annual plan, you will be covered for six months. The payment can be made at all at once or monthly. On the other hand, the annual policy covers you for 12 months. The company may give you an option to make the complete payment at once or every month. 
About annual home warranty plan
The price of a warranty varies with the provider, state, and also depends on the items covered. Usually, an annual home warranty plan can cost between $300 to $600. While a few companies would require you to make the payment all at once, many others may give you the option of breaking it into monthly payments or paying the annual deductible upfront.
Also, you have to pay a service call fee when you file a claim. The fee includes diagnosis and labor costs and can range from $50 to $100.
Benefits of an annual home warranty plan
Yearly home warranties have several advantages. Some of them include: 
1. Long-term coverage 
A yearly home warranty plan protects you for 12 months. During this period, the company takes care of all your repairs or replacements costs. 
2. Prolonged niche services 
You can ease the worries of looking for a skilled technician each time when your item fails and enjoy the best services of the licensed contractor assigned by your company. 
3. Discounts
Some warranty companies may provide discounts or offers to their annual home warranty plan customers. 
Drawbacks of an annual home warranty plan
1. Contracts
Some providers may require you to sign a contract. During the course, you may not be given an option to cancel the plan. If you do get the option, it may involve a considerable amount of cancelation fees and other conditions. Also, if you are dissatisfied with their service, it can be difficult for you to switch the company. 
2. Unused policy 
The annual plan covers you for one year. During the period, your appliances and systems may not break down. If one or two fail and require repairs that cost only a few dollars, the policy may go unused, and you may feel that you have wasted your money. 
A home warranty may cost you $300 to $600 yearly, but they can cover items worth $20,000 odd and protect you from expensive repairs.