Disclaimer
We maintain complete transparency with the readers on our website. The company rankings on our site are independent of any marketing relationships that we may hold with a home warranty company. We may receive compensation for receiving quotes or placing advertisements. However, this does not affect a company's rankings. Companies are ranked solely on the basis of consumer reviews and ratings received from home warranty users.
*The lead information obtained will be sent to the respective companies as selected by the readers. However, the lead will be shared with a similar company if the selected company either doesn't participate in Leads Program or doesn't respond.
Home /
Home Maintenance
Home Warranty Guides
Real Estate /
Should You Get A Home Warranty For Rental Property?

Last updated: January 19th, 2023
Best Home Warranties For Rental Property
PUBLISHED: SEP 24, 2021 • 6 MINS READ
The extra income from renting out your property can be a nice financial cushion, maybe even enough to sustain living. But, if the home systems and appliances often need repairs, you will get stuck with a hefty bill. In such situations, getting a home warranty for your rental property can protect your budget from the unexpected repair and replacement costs of major home systems and appliances.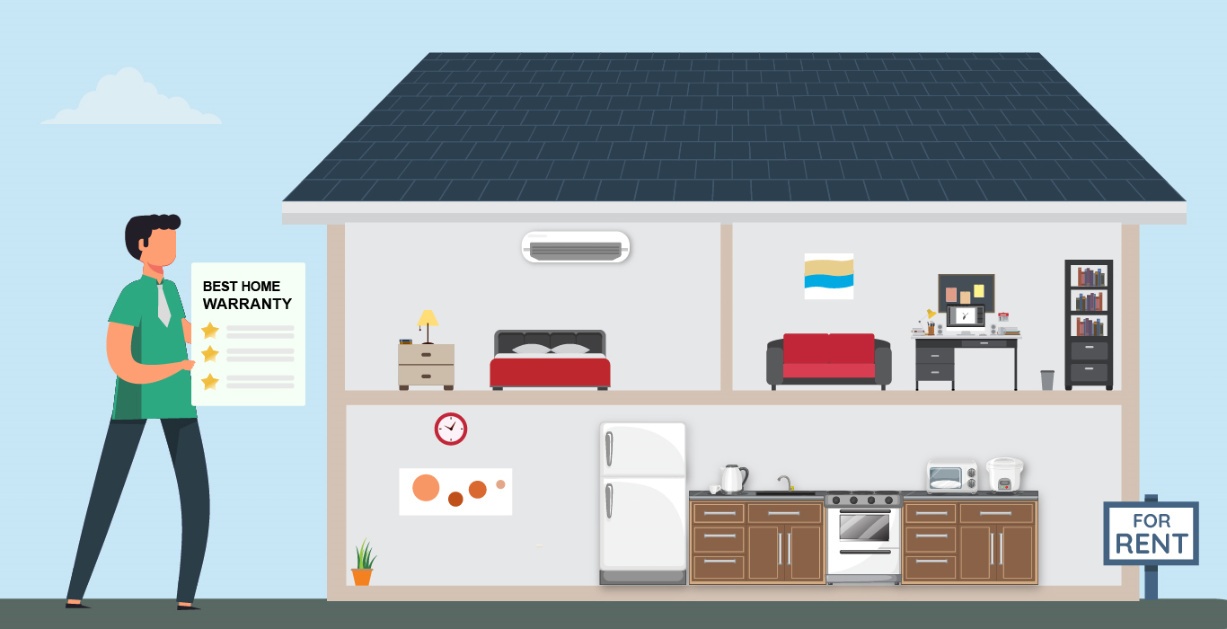 However, there are several things to consider while deciding to get a home warranty for your rental property. In this article, we'll go over some of the benefits of a home warranty, its coverage, cost, and the top companies in the market.
Top 5 Home Warranty Companies For Rentals
There are various home warranty companies that offer plans tocover the major home systems and applianceslike HVAC and electrical systems, refrigerators, washers, etc. They also give an add-on option for covering less critical devices like pools, septic pumps, etc.
It can be hard to decide on one when there are many choices, so we have listed the top home warranties for rental homes below.
Should Landlords Buy A Home Warranty For Tenants?
As a landlord, getting a home warranty makes it more convenient to manage your responsibilities. Therepair costsof home systems and appliances may vary from case to case and put a strain on your budget. And if your lease holds the tenant responsible for the repairs, they may not be happy with high retail costs.
You may be off the hook with newer appliances as they may be covered by a manufacturer's appliance warranty. However, don't forget to see what that coverage entails. In cases where a manufacturer's warranty isn't applicable, additional warranty coverage helps.Home warranty coverageusually lasts for one year, which is ideal for landlords. Hence, with a home warranty, landlords can assess their appliances and systems at the time of move-in and move-out.
It can also be a hassle to arrange for trustworthy repair technicians to visit the property if you don't live nearby. A home warranty company has a network of vetted and qualified service contractors and sends them when a claim is made. This helps save money on maintenance and makes the tenants happy to live in your property.
What Does A Home Warranty Cover For Rental Properties?
When purchasing a home warranty, you need to make sure that it covers all the critical home systems and appliances comprehensively.
Here is a list of the things that a home warranty plan can cover:
Appliances
Air Conditioning/Cooling Heating
Plumbing System (including stoppages)
Ductwork
Electrical System (interior)
Instant Hot or Cold Water
Dispenser
Smoke Detector
Doorbells
Central Vacuum System
Garbage Disposal
Rekeying
Ceiling & Exhaust Fans
Systems
Refrigerator
Range
Oven
Cooktop
Clothes Washer & Dryer
Dishwasher
Microwave
Trash Compactor
Ice Maker
Garage Door Opener
Built-in Food Center
Water Sensor
Additional
Spa
Roof Leak
Septic system
Stand Alone Freezer
Second air conditioner
Second fridge/freezer
Swimming Pool- pump and others
Additional spa
Ornamental Fountain Motor
Wet bar fridge
Code Upgrades
Water Filtration System
Booster Pump
External Plumbing
Solar Hot Water
System/Equipment
HVAC Tune-up Services
The coverage varies from one policy to another, based on the size of the property, and location. Generally, not everything in the item is covered by the policy. Therefore, it's always a good idea to carefully read the policy before committing, so you won't be surprised by the exclusions.
Check out our guide onhome warranty coveragefor the full picture.
How Much Does A Home Warranty For Rental Properties Cost?
The cost of home warranties for rental properties varies based on the type of the home, desired coverage, state of residence, optional add-on choices, and other factors.
We have compiled a list of the top home warranty companies for rental properties. It includes monthly premiums, deductible pricing, and discounts to make your decision easier. Submit a quote request for more details.
How Does A Home Warranty Work For Rental Properties?
The process of purchasing a home warranty for a rental home is similar to that for a residential home. After purchasing a home warranty, there is usually a waiting period of 30 days before coverage begins. Thereafter, you can follow the steps below to file a claim when any covered item stops working:
Contact the company's customer service over the phone or byfiling a claimonline.
Next, the warranty provider will verify if the broken device is covered under the warranty plan.
If yes, then the warranty provider will assign a service contractor to fix the issue.
The service contractor will send a technician, who will contact the landlord to arrange an appointment.
The technician will inspect the faulty device at the home and notify the diagnosis to the provider of the warranty.
If the malfunction is eligible and can be repaired, it will be done. If the problem is beyond repair and the company approves, they will replace the faulty device or provide cash equivalent of the depreciated value.
You have to pay aTrade Service CallFee for each service request.
How Do Landlords Benefit From Home Warranties?
If something breaks down in a rental property, the landlord is responsible for repairing or replacing it unless the damage was caused by the tenant. However, even the most careful tenant may experience problems that can be very expensive to fix as the devices age and wear out. With a home warranty plan, landlords don't have to worry much about out-of-pocket expenses.
Here are the advantages of purchasing a home warranty for rental homes –
1.
Peace Of Mind
Even if the landlords live far from the rental property, they can have peace of mind because of the home warranty. The plan reduces costs and provides access to skilled technicians with a simple phone call.
2.
Increase Home Value
Most tenants prefer to rent a property where the items are functional and one that doesn't have issues cropping up constantly. With a warranty, landlords can gain an edge in the market and find a tenant sooner.
3.
Service From Licensed Skilled Technicians
When a system or appliance breaks down, landlords don't need to hunt for an insured technician. All you need to do is file a claim. Landlords will be assigned a licensed and skilled technician by your home warranty company.
Isn't Homeowners Insurance Enough For Rental Properties?
Homeowner's insurance is a policy that covers structural property and personal belongings. It also protects you from the liability of accidents at home or the effects of disasters, or thefts.
But, a home warranty is a service contract that covers unexpected repair and replacement costs. Major home systems and appliances such as, plumbing systems, electrical systems, and other peripherals that may fail due to age and natural wear and tear are covered.
Hence, just homeowners insurance might not be insufficient to cover all potential expenses accruing to rental homes. We recommend you getboth of these servicesfor comprehensive protection of your rental properties.
What Should You Consider Before Buying A Home Warranty For Rental Properties?
There are a plethora ofhome warranty plansavailable. You should, however, ask yourselves the following questions before choosing one:
What will the landlord's home warranty cover?
Landlord's home warranty should cover the major home systems and appliances. Always make sure you know details of what your plan covers and what it doesn't. Check with your warranty provider if you can choose only the appliances and systems you want to be covered and create a customized plan.
Who pays for the service call fee?
A service call fee must be paid when filing a claim. It is important to decide ahead of time whether you or the tenant will be responsible for paying the fee.
Is The Home Warranty Company Reputed?
To get reliable service, choose a company with a reputation for providing high-quality service. Avoid fraudulent companies by checking for licenses, transparency, industry experience, and customer reviews.
Are You Getting The Best Deal?
Compare thepriceandcoverageof different plans to ensure you are getting maximum protection at a minimum cost.
Coverage Limits
Home warranty plans generally have coverage caps, the maximum liability the company is accepting. If the tenant uses the item more often, then they may break down faster. Hence, it is always better for you to choose a plan offering coverage caps accordingly.
Are Home Warranties Worth It For Landlords?
A home warranty plan helps the landlords from losing money on undesirable expenses like expensive items that need to be fixed or even replaced, especially if the rental property has older items. Besides providing peace of mind to the landlords from the inevitable stress of wear and tear, it can also betax-deductible.
However, before purchasing a rental home warranty, make sure to read the details on the sample contract thoroughly. By purchasing a good plan, you can save money in the long run.
FREQUENTLY ASKED QUESTIONS (FAQs)
Q.
Can I deduct the cost of my rental home warranty while filing taxes?
A.
If you have a rental property, you can deduct the cost of a home warranty while filing taxes. Aside from the annual premium, the service fee you pay is also considered as an operating expense, so you can deduct them both from your income taxes.
Q.
Can a renter buy a home warranty?
A.
No, renters cannot buy a home warranty; a home warranty must be purchased by the landlord at the rental property to protect the home systems and appliances. If you're a tenant, you can request the property owner to purchase a home warranty.
Q.
Do home warranty companies offer emergency services?
A.
Some home warranty companies offer emergency services. You may need to pay extra to get the services. You can contact your service provider for specific details about emergency services. Also, make sure to read the company brochure to know all the terms and conditions.
Q.
Does American Home Shield Cover Rental Properties?
A.
Yes,American Home Shieldprovides a coverage plan for rental properties. They have three plans and have a waiting period of 30 days.
Q.
I have a home warranty in place for my rental property? Do I need to hire a property manager too?
A.
Though having a property manager for your rental property is not required, you can hire one. A home warranty plan will only cover the rental property's interior items. A home warranty is not really connected to property management.
A property manager is responsible for the day-to-day operations. They can get repairs and ongoing maintenance done, and oversee security, and upkeep of the rental properties.
If you have multiple rental properties and do not have the time to maintain them and to manage the tenants, then you should hire a property manager.
Q.
What types of homes does a home warranty cover?
A.
A home warranty can be purchased for a single-family home, a multi-family home, a number of duplexes, and a condo.
Q.
Can I get a home warranty for investment rental property?
A.
Yes, you can get a home warranty for the rental property purchased for investment purposes. Home warranty premiums can be tax-deductible on income-producing properties.
Q.
Who is responsible for appliances in a rental property?
A.
Landlords are responsible for keeping the major appliances and systems in a rental property in good working condition and making the renters' homes liveable. However, landlords aren't responsible for items that tenants may bring with them, such as washers or dryers.
Top home warranty Companies
https://www.homewarrantyreviews.com/wp-content/themes/HWR-2020