Top 10 Reasons Why Home Warranties Are Essential
PUBLISHED: April 24, 2020
•
4 MINS READ
The last thing a homeowner wants is for appliances and systems to malfunction. Home items are unfortunately prone to breakdowns, especially when they are old, and fixing them can be quite expensive. That is when home warranties come to the rescue. A home warranty is a service contract that protects homeowners against expensive fixes of the covered appliances and systems. This article will walk you through why home warranties are essential.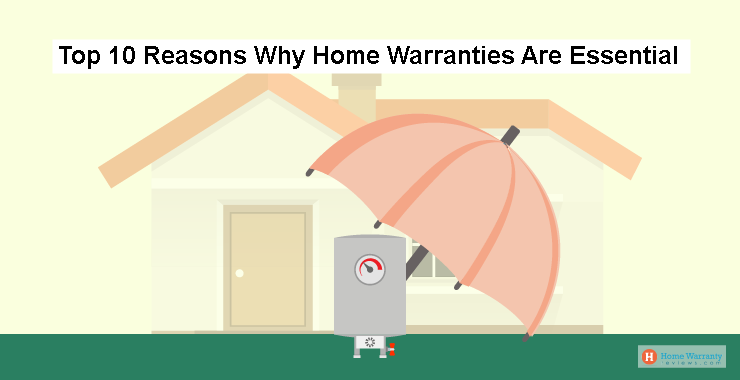 What does a home warranty plan cover?
The coverage depends on the warranty plan and the provider. In general, a home warranty plan protects appliances and systems such as refrigerators, air conditioning, built-in microwave ovens, garage door openers, water heaters, electrical systems, plumbing systems, and many more. Some companies have extended coverage options at additional cost. 
Why are home warranties essential?
Home warranty plans offer several benefits. Here's a list of top reasons why home warranties are essential. 
1. Saves money on repairs or replacements
One of the significant reasons for buying a home warranty is that it helps you save huge amounts of money on replacement or repair costs. For example, repair costs of refrigerators may amount to about $250 to $650, depending on the model and complexity of the issue. Also, there would be diagnosis fees and labor charges. 
But with a home warranty plan, you can save hundreds of dollars on repairs. Your provider will take care of the repair costs, and you are responsible for paying only a service call fee of about $50 to $100. 
2. Access to licensed contractors
With a home warranty plan, you need not go in search of skilled and licensed contractors. The warranty companies will have a network of contractors nationwide. When you file a claim, they will assign you a qualified contractor who will offer you quality services. 
3. Guarantees peace of mind 
Knowing that your warranty provider protects your home items and pocket in addition to providing a qualified contractor, you can have peace of mind. 
4. Adds value to the home
A home warranty plan considerably increases the value of your home. If you are planning to sell your home, a warranty plan will help you attract buyers more quickly.
5. Attract tenants 
People often look for homes that are protected. If you have a rental property, then a home warranty plan will help you attract potential tenants faster than when you don't have one.
6. Allows you to run home items constantly
Appliances and systems like refrigerators, air conditioners, etc. are prone to damage when they run continuously in extreme weather conditions. If the items are covered, you can run the systems all day without having to worry about any breakdowns. 
7. Eases the process of repairs 
With home warranties, repairing broken home items is an easy process. When an appliance or system breaks down, all you have to do is contact the home warranty provider and file a claim. The company will immediately assign a technician to fix the issue. You need not make multiple phone calls or follow up the service request.
8. Helps in price negotiations
A home warranty plan will help you negotiate better prices when you sell your home. It discourages downward cost negotiation and helps you get optimum rates in the market. 
9. Protects from legal liability 
Since only insured and licensed contractors assigned by the warranty company will work on your faulty home item, you will not have to face any legal liability in case of any undesired events. 
10. No hidden charges 
With a home warranty plan, you need not worry about any hidden charges or extra charges. You will have to pay only the cost of the plan, and a standard service call fee when you file a claim.
Aspects to consider before buying a home warranty plan
Warranty plans are worth it, provided you choose a reputable home warranty company and invest in the right plan. You must consider several factors before purchasing a suitable home warranty plan. These include, but not limited to:
Does the plan cover major appliances and systems at a minimum price?

Does the warranty company have a cancellation and refund policy?

Will the company allow you to choose your preferred technician?

Does the warranty provider require any maintenance records or inspect homes?

Does the provider have any coverage limitations and exclusions?
You can purchase a home warranty at any time, whether you are moving into a new property, or living in an older home or own a rental property. A warranty can help you protect your home items and thereby your pocket.