Top 5 Mistakes Homeowners Make While Shopping Home Warranties
PUBLISHED: August 29, 2016
•
6 MINS READ
Premium Home Warranties or a Deductible Home Warranties? Should I include a Home Warranty contract or not? These are just some of the many questions that you are to deal with before purchasing a home.
Buying Home Warranty Intelligently
You may have done a CIA level inspection of your home-to-be, but sometimes despite it, there is no telling when, why or how a machine will break down and force you to interrupt your everyday chores. Isn't it a nightmare when you are forced to wait for days to simply wash your clothes or dishes? We don't want a piling heap of clothes in our living rooms or even a stinking kitchen for that matter. Because with today's employment demands it is hard and even close to impossible to manage work alongside home chores. So without your appliances to lend you a hand, you may never catch up on your housework.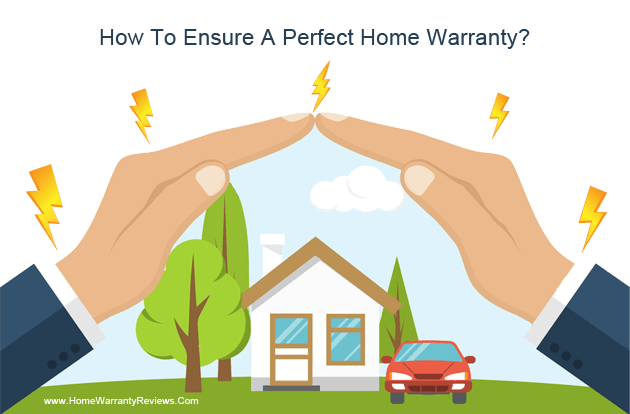 So what happens if they break down?! The effective solution would be to use a home warranty contract to ensure a quick and reliable way to fix them in time, without coming in between your everyday schedules.
Buying Home Warranties are one such intelligent solution to your problems. Given how crucial it is, we want to cover all the mistakes people usually make while buying Home Warranties. In giving you a heads up, we hope to help avoid frustration, as well as cover all topics before an actual machine crisis ensues.
Here is a list of mistakes a consumer might make when choosing a Home Service Contract-
# 1 – Assuming Home Warranties Are Covered While Buying Properties
When purchasing a home, make sure you are buying from a builder who has covered the Home Warranty costs. While some states make the payment of warranty compulsory, otherwise, builders don't usually cover the Warranty prices along with the price of the property/home. And in the states where it is compulsory, the home builders register with their respective regulator, thus escaping the need to make sure your warranty is paid. However, this is how it works only in the states where payment of warranty is compulsory. Hence, always make sure your builder is charging you the warranty along with the price of your home. If not, you may be falsely charged while not really availing a Home Warranty contract.
# 2 – Skipping The Inspection Of Your Home-To-Be
Not inspecting can be one of the first and worst mistakes you will ever make while buying a home. It should be obvious that home sellers have a tendency to hide defects within the property! Hence, always schedule a home inspection before purchasing a home which could avoid multiple costs later. If you are unfamiliar with the way a machine works or are ill-equipped to do so, rely on someone observant and knowledgeable in this aspect. Hence, with your own interests at heart, an inspection before moving in, i.e., at least prior to a month, have the home and its appliances inspected thoroughly.
If not the first time, do hire a professional Home Inspector before your warranty plan expires. Hence 12 or 24 months into use, some of the appliances might be showing signs of defect which are unrecognizable for a normal person. This will reduce the risk of ever having to spend either for labor and material costs since the defects would've been repaired when it has started to show the first signs. Also, since this will cover all the upcoming four seasons, we recommend you always hire a professional Home Inspector, at the expiration of your Warranty term if not at the time of delivery.
# 3 – Not Reviewing Your Home Warranty Contract
This can lead to disasters in terms of price, be it manual labor or material cost. Some Warranty companies don't cover all the peripheral prices which are mentioned in the contract, which is why not reviewing a contract can lead to miscommunication between the buyers and the builders. While most plans cover all the appliances within, some might not cover the external structures. And if the model contract doesn't cover the conventional structures, you can contact the contractor to add coverage to other appliances of your wish.
# 4 – Not Choosing The Right Plan
Since the market is flooded with hundreds of home warranty companies and hence, a mind-numbing number of Home Warranty Plans to pick from, it is all the more difficult to choose a Home Warranty plan that suits your home best.
It should be obvious that a Home Warranty plan used for a newly built home won't necessarily be the right pick for a property that is a decade old. From HomeWarrantyReviews, you can use our Complaint Resolution Program (CRP) to complain or highlight a company based on your previous experience and also compare Home Warranty companies. This will give you a better insight as to which company could be the right pick for you. Since the CRP complaints can be reviewed by the companies themselves, they can immediately rectify it. Also don't forget to read our reviews, checking out our Home Warranty Appliance Maintenance Calculator in order to make the right choice.
# 5 – Not Researching Home Warranty Companies
Sometimes after using our Home Appliance Maintenance Calculator, you might find that Home Maintenance cost could be more without a Home Warranty or vice-versa. Using an unbiased guide on Home Warranty plans which is not sponsored by any Home Warranty company, in particular, can help you give a balanced view without misleading you to purchase from a company. For such an unbiased opinion, it is always important to do your own research to evaluate your needs and costs before buying.
Our Home Warranty Appliance Maintenance Calculator calculates as well as compare the costs of repairing with and without a Home Warranty contract. This will hence give you a complete picture regarding whether or not you should buy a certain plan or a certain part of the plan.
Is That It When It Comes To Home Warranties?
Yes and No. As a leading platform for all of your home warranty needs, including getting your fresh quotes in a jiffy to using our knowledge resource of a wealth of articles and the free tools like that of a home maintenance calculator, we always create value for our readers.

So we always advise our readers to be cautious of not reading the fine print in the home warranty contracts, and we're also against having predetermined opinions on certain companies or not researching enough on the new companies who've joined a long list of companies and who yearn to provide a quality service at your doorstep.

Go ahead and give our features a shot!