Top 5 Trusted Places To Buy The Home Warranties
PUBLISHED: September 30, 2020
•
5 MINS READ
Home warranties cover major appliances and systems and protect homeowners from the unexpected repair or replacement costs. Today, several companies claim to offer the best home warranty plans. But not all stand by their words. In this article, we have listed popular and trusted places to buy the home warranties. Have a look at them!
But first, let's quickly learn what do home warranties cover and how they work.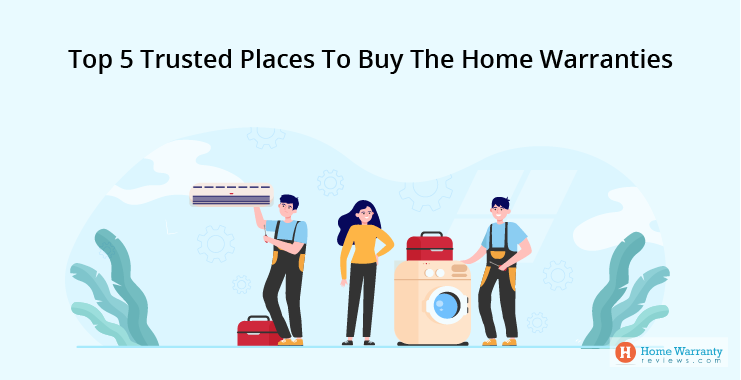 What Do Home Warranty Plans Cover? 
Home warranties cover parts and components of a wide range of home systems and appliances against normal wear and tear. The coverage may vary from company to company. Usually, warranty plans shield the following home devices. 
Appliances Covered 
Kitchen Refrigerators

Dishwasher 

Clothes washer

Clothes dryer 

Ranges/ Cooktops/ Ovens 

Garage Door Opener

Built-in Microwave 

Trash Compactor 
Systems Covered 
Air Conditioning and Ductwork

Heating Systems and Ductwork 

Plumbing Systems

Electrical Systems 

Ceiling and Exhaust Fans 

Garbage Disposal 

Water Heater 

Central Vacuum 

Instant Hot/ Cold Water Dispenser 
Additional Coverage 
Some companies also cover items such as pool/ spa equipment, septic tank, sump pump, well pump, etc. at additional costs.   
How Do Home Warranties Work?
As a homeowner you are required to sign a contract that lasts for a year. The policy will come into effect immediately or after a waiting period, depending on the company. When an appliance or system breaks down, you must first file a claim with your provider. 
The company will verify if the faulty device is covered under your plan. If yes, it will assign you a licensed, local, and insured contractor who will contact you to schedule a mutually agreed appointment. 
The contractor will arrive at your home and inspect the faulty device. He will then report the issue to the warranty company, which will then determine if your policy covers the issue. If covered, it will approve the claim. 
The contract will then repair the broken device. But if it is beyond repair or the repair cost is more than a replacement, the contractor will replace the device upon obtaining approval from the warranty provider. 
5 Trusted Places To The Buy Home Warranties
Some of the trusted places to buy home warranties are:
1. American Home Shield 
Established in 1971, American Home Shield is the industry leader in offering top-notch home warranty plans. Since its inception, the company has served more than 1.8 million happy customers. 
American Home Shield is committed to customer satisfaction. Today, it has a network of more than 15,000 licensed and insured contractors who provide unmatched services across the nation. 
The company offers three plans, namely, the System Plan, Appliance Plan, and Combo Plan. The System Plan covers all major systems, whereas the Appliance Plan protects a wide range of appliances. On the other hand, the Combo Plan shields devices covered under System and Appliance plans. It also offers an Add-on coverage option to protect additional home devices. 
2. ServicePlus Home Warranty 
ServicePlus Home Warranty is a leading home warranty company committed to providing exceptional services at affordable prices. The company offers exciting discounts and offers to its customers. 
ServicePlus Home Warranty caters to homeowners, home buyers and sellers, and real estate professionals. It has a vast network of pre-screened and licensed professionals who offer services 24 hours a day, 7 days a week, 365 days a year. 
ServicePlus Home Warranty offers three plans: Gold, Platinum, and Optional Coverage. The Gold plan covers basic appliances and systems, whereas the Platinum plan covers a wide range of home devices. On the other hand, the Optional plan covers additional items and can be purchased alongside Gold or Platinum plans. 
3. Select Home Warranty
Founded in 2012, Select Home Warranty is a popular company known for providing exceptional customer services. The company offers plans for homeowners, home buyers, and sellers. The key feature of its plans is free roof coverage and 30 days of cancelation policy. 
Select Home Warranty offers three plans: the Bronze Care, Gold Care, and Platinum Care. The company offers discounts and offers on all three plans.  
The Bronze Care protects major appliances, whereas Gold Care shields home systems. On the other hand, Platinum Care covers all appliances and systems covered under the Gold and Bronze Care. 
4. Choice Home Warranty
Choice Home Warranty is one of the popular companies known for providing comprehensive coverage at competitive prices. Since its inception, the company has handled more than 3,000,000 service requests and covered more than 1,000,000 homes across the United States. 
The company works only with licensed and skilled technicians who provide high-quality services regardless of location and time. 
Choice offers three home warranty plans, namely, Basic Plan, Total Plan, and Optional Coverage. The Basic Plan covers major appliances and systems, whereas the Total Plan covers items protected under the basic plan and few additional devices. The Optional Coverage, which can be purchased alongside Basic or Total Plan, shields extra items but at additional cost. 
5. AHW Home Warranty 
AHW Home Warranty is one of the leading companies in the home warranty industry. Having been in the business for a decade, the company is known for allowing homeowners to choose a technician of their choice. 
The company offers three plans: the System Plan, Appliance Plan, and Combo Plan. It also offers Optional Coverage alongside the three plans. 
Final Words 
Now that you know the most trusted places to buy home warranties, get yourself a policy, and stay protected. However, before purchasing, make sure you read the contract thoroughly and check for the customer reviews. HomeWarrantyReviews.com lists genuine customer feedback to help homeowners like you understand the quality of popular home warranty companies' services.