What Do Home Warranties Cover For Rental Properties?
PUBLISHED: September 9, 2020
•
6 MINS READ
Home warranty plans don't just protect homeowners, home buyers, and sellers, but also landlords. Yes, you read that right! Warranties cover rental properties and protect landlords from unexpected and expensive repair or replacement costs. But what do home warranties cover for rental properties? 
In this detailed article, we will tell you about home warranty coverage for rental properties and the benefits of buying a warranty plan for rental properties.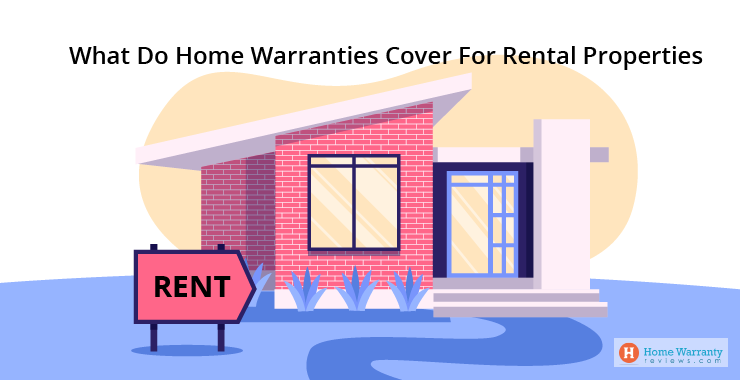 What Are Home Warranty Plans For Landlords?
Home warranty plans for landlords are policies that protect major appliances and systems in rental properties. These plans usually last for one year and operate similar to homeowners' policies. For instance, like a homeowners' policy, a landlords' home warranty coverage can be canceled or renewed upon expiration. 
Home warranty plans for rental properties protect all types of homes, including single-family homes, townhouses, or multi-family. However, the coverage may vary from company to company, size of the property, and location.  
These policies will have maximum limits for appliance and systems repair and replacement, which will be outlined in the contract. Therefore, it is a must for landlords to thoroughly read the fine print before purchasing a home warranty for their rentals. 
What Does A Home Warranty For Rentals Include?
Home warranties for rental properties cover a range of appliances and systems. Some of them include, but not limited to:
Appliances 
Refrigerators 

Built-in microwave ovens 

Dishwasher 

Clothes washers 

Clothes dryers 

Ranges/ Cooktops/ Ovens

Garage door openers 

Trash compactor 

Built-in food centers 
Systems 
Air conditioning

Electrical systems

Heating systems

Plumbing systems 

Garbage disposal 

Water heaters 

Doorbells 

Smoke detectors 

Central vacuums 

Ceiling and exhaust fans 
Some home warranty companies may also give an option to cover extra items like the sump pump, septic tank, pool and spa equipment, etc. but at additional cost.
Note – The coverage for appliances and systems listed above may vary with companies. 
How Much Do Home Warranties Cover For Rental Properties Cost?
The cost of a home warranty policy for rental properties varies from company to company and depends on other aspects like:
Age of the property 

Location of the property

Type of plan chosen 

Size of the property

Condition of the appliances and systems
However, on average, the price ranges from $300 to $600 annually. $100 or $200 may add up to the premium if one opts for additional coverage. 
In addition to the premium, landlords (or tenants in some cases) are required to pay service call fee or trade fee, which ranges from $70 to $125.  Note that the premiums can be paid monthly, bi-annually, or annually depending on the company policy. 
How Does A Home Warranty For Rentals Work?
Home warranty for rentals works similar to homeowners' warranty. Here's how it works:
Step 1 – When an appliance or system is broken, and a claim is filed, the warranty provider will verify if the broken device is indeed covered under the warranty plan. If yes, the company will assign a licensed and local technician to fix the issue.
Step 2 – The technician will contact the landlord (or tenant in some cases) and fix a mutually agreed appointment. 
Step 3 – The technician will visit the home, inspect the faulty device, and report it to the warranty provider. The company will then determine if the broken component or part is protected or not. If yes, the company will approve the claim.
Step 4 – The technician will repair the broken home device. However, if the device is beyond repair, and the company approves, the technician will replace the faulty device. Note that the replaced device will be of the same standard as the original.  
Step 5 – The technician will collect service call fees from the landlord or tenant. The company will then follow up to check if the customer is satisfied with the service. 
Note
1. Some companies do not cover pre-existing conditions. If the appliance or system malfunctioned before the purchase of a home warranty plan, then it must be fixed before the contract begins.
2. Most companies will have 30 waiting periods, during which one cannot file an initial claim.
Aspects To Consider When Buying A Home Warranty Coverage For Rental Properties
There are several factors that a landlord must consider before buying a home warranty plan. Some of them include:
1. Inclusions And Exclusions – Every home warranty plan will have inclusions and exclusions. One should check if the warranty plan covers all the major appliances and systems he or she wishes to protect.
2. Licensed And Insured Technicians – With licensed technicians, one need not worry about the quality of services and legal liabilities in case of an unfortunate event. 
3. Terms And Conditions – It is a must to read the fine print of the contract to be aware of all the terms and conditions. Also, one should check if the company has any hidden conditions. This can be achieved by reading customer feedback. 
There are many websites that list genuine customer reviews, one such being HomeWarrantyReviews.com. You can check the website to know what customers have to say about various home warranty companies. 
Top 3 Companies Offering Best Plans For Landlords
Many companies offer home warranty plans for rentals. Here, we have listed popular companies offering the best and affordable plans in the market.
1. American Home Shield
American Home Shields is the industry leader in offering top-notch home warranty plans. The company offers warranties for rentals that are attached to primary residence and are under 750 square feet.
2. Choice Home Warranty
Choice Home Warranty is another popular company offering reliable warranty plans. The company covers all kinds of homes, including single-family homes, townhouses, condos, etc. Choice is known for its higher coverage limit, affordable plans, and customer satisfaction.
3. Total Home Protection
Total Home Protection is known for their affordable home warranty coverage for rental properties. They protect any kind of homes, including condos, single-family dwellings, etc. 
Closing Thoughts
Rental properties protected by home warranty plans can not only save one from undesirable expenses but also attract tenants that offer best deals. Another added advantage is that home warranty on rentals is tax deductible. So if you have a rental property, buy a home warranty and get benefited!