What Does A One Year Home Warranty Cover?
PUBLISHED: October 9, 2020
•
6 MINS READ
A home warranty can optimize the protection of your household appliances. In the event of a system or appliance breaking down, a home warranty plan can arrange the repair or replacement of the item. If you are wondering what that is, what does a one year home warranty cover, how it works, which company should you go for, you should read this article.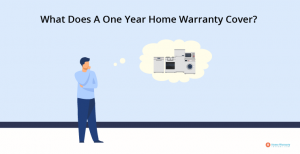 What is Home Warranty?
A home warranty is a contractual service that is drawn to ensure protection for home systems and appliances. For instance, when you find water leaking out of one of your sink's pipes or dishwasher, a home warranty covering both of these items can arrange for the repair or replacement of both. 
A home warranty plan is different from a homeowner's insurance as it is regarded as a consumer product and acts as an extra source of protection to your household items. A key difference between a homeowner's insurance and a home warranty is that the insurance comes into effect in case of unpredicted problems like wind, hail, fire, theft, or vandalism. 
An essential component of any household these days, a home warranty plan offers the services of highly qualified technicians to fix your devices whenever required. It can reduce the costs associated with the repairs and replacements of appliances in your home. 
What Does A One Year Home Warranty Cover?
Equipping yourself with a home warranty plan can buy you some peace of mind, especially when the covered products are old and aren't eligible for the manufacturer's warranty. A home warranty provides protection for the items listed in the service contract. This plan can reduce the cost of repairing or replacing expensive items that you did not consider making a household budget.
Home Warranty Coverage
The National Home Service Contract Association (NHSCA) states that there are standard coverages for household systems and appliances that are provided by most of the home warranty companies.
Systems –

Heating

Water Heater

Ductwork

Electrical

Interior Plumbing

Ceiling Fans
Appliances – 
Dishwasher

Garbage Disposal

Air Conditioning

Refrigerator

Oven, cooktop, range

Washing Machine and Dryer
Optional Add-Ons – 
Guest Unit

Pool and Spas

Electronic Extended Warranty

Septic Pump
It should be noted, however, that these items' coverage will depend on the plan you choose. Home warranty companies offer different plans designed to suit everyone's needs. The plans are classified on the basis of what items are included in it.
Basic Plans
This plan offers coverage for the major systems and appliances in your home. A basic plan is an ideal choice for homeowners who want limited coverage. An annual cost of a basic combo plan could range from $530-$720.
Specific Plans
This plan allows you to opt for coverage of certain appliances or systems. Specific warranty plans can be used to cover items that are past the manufacturer's warranty date. These plans are charged in accordance with the devices covered in the plan. 
Comprehensive Plans
This plan can be used to cover both systems and appliances extensively. Comprehensive plans tend to include trash compactors, motors, pumps, ceiling fans, and other appliances or systems that are not generally included in basic plans. An annual comprehensive plan costs $400-$700.
Optional Coverage Plans
This plan provides coverage for extra items that are not a part of a standard warranty like a septic tank, well pump, etc. In most cases, you might also need to take optional coverage if you have more than one refrigerator as a standard home warranty covers only the primary refrigerator in the kitchen. This also applies to any other additional items in your home.
Pricing
Home warranty companies set certain limitations on how much they pay for the diagnosis and replacement or repair of items in the plan. The limit differs for each item. Choice Home Warranty, for example, does not pay more than $1,500 per item when it comes to hot water, glycol, or steam-circulating heating systems. The limit is $500 for ductwork, plumbing systems, and electrical systems. Although this is the regular reimbursement cap for heating systems among the warranty companies, it can range from $1,000 – $3,500.
Some companies offer different payment rates for each item, such as $1,000 for a built-in microwave or $500 for a garage door opener. Other companies, however, set a general ceiling for all appliances ranging up to $3,500 per item.  
What You Should Know Before Choosing A Plan
It is important to remember that a home warranty has limits on how much of the repair or replacement costs it covers. It also depends on the quality, age, and condition of the appliances and systems at your home.
Some companies cover items that have pre-existing conditions while others don't. It is wise to check which devices are covered under your plan of choice and whether they require it. Apart from the annual or monthly premium of the warranty, you should also check the service call amount that you need to pay when you place a request for repair. The policy also states the time it takes for a company to fix your system or appliance. 
You should read and understand the terms and conditions of the policy thoroughly before determining if the particular plan benefits you.
Is A Home Warranty Worth It?
Home Warranties may not be an all-encompassing solution to your household repairs. They do not provide repairs or replacements for furnishings, or even high-end product ranges like sub-zero. 
Home Warranty Plans are a worthwhile investment if you want protection for the appliances and systems at your home. They also help when unanticipated expenditures arise in the form of a broken system or appliance. In essence, home warranties provide an added layer of protection to your household devices and can grant you some peace of mind. 
How Do You Decide?
It can be hard to research every aspect of a home warranty plan on different online platforms. Reading the reviews of homeowners who opted for home warranties can be of help. They can help you understand if the services of each company can meet your needs. HomeWarrantyReviews.com provides reviews, ratings, and comparisons of all the home warranty companies to make your decision easier.