Which Is The Best Home Warranty Company In New York?
PUBLISHED: April 20, 2020
•
4 MINS READ
A home warranty plan can be an optimal solution if you own a New York home but don't have the budget for monthly repairs or replacements of your home items. With a plethora of home warranty providers, choosing the best home warranty company in New York is easier said than done. To help you with your search, we have listed the top home warranty companies in New York.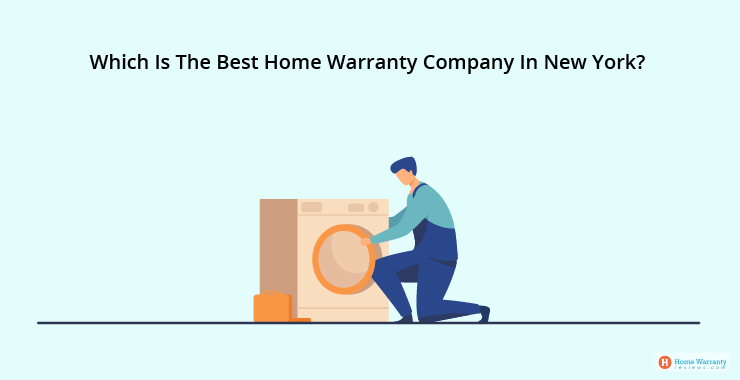 What do home warranties cover?
Home warranties are a service contract that protects homeowners from costly repairs or replacements of covered appliances and systems. Some of the most commonly covered items include air conditioning, built-in microwave, refrigerators, water heater, dishwasher, clothes washer, and dryer, to name a few. Some warranty providers may also give the option to cover pool/spa equipment, sump pumps, septic systems, etc. at additional cost. 
Why should you buy a home warranty plan in New York?
There are several reasons why you should purchase a home warranty in New York. Some of them include:
You live in a state with extreme weather conditions

Your home is located close to the coastline

You own a rental property and want to attract potential tenants at a faster rate

Your appliances and systems are not covered by manufacturer's warranty

Your home items are over 4 years old
What is the cost of home warranty plans in New York?
The cost of home warranty plans usually ranges from $350 to $600 annually. If you want to cover additional items, about $100 to $200 will add up to the cost of your standard plan per year. In addition, you will also have to pay the service call fee of about $50 to $200, and deductibles, if any. 
How to choose the best home warranty company in New York?
There are several factors that you must consider when choosing a home warranty provider. Some of them include:
1. Customer reviews
One of the significant factors to consider is customer feedback. Choose a company that has positive and authentic customer reviews.  
2. Prices
Compare the prices of the home warranty plans. Make sure the company offers maximum coverage at minimum cost. Also, check if the company includes any deductibles.
3. Customized plans
Select a home warranty company that offers you the flexibility to choose the appliances and systems you want to be covered and to personalize your plan. 
4. Coverage options
Determine if the home warranty company provides complete or partial coverage. Under partial coverage, the company may include only a few parts and components of appliances and systems.
5. Long-term contract
Find out if your preferred home warranty provider demands any long-term obligations or contracts. If yes, determine whether they have cancelation and refund policies. 
6. Network of contractors 
Check if your desired home warranty company has licensed, insured, and local contractors who offer 24/7 services.
7. Licensed company 
Select a licensed home warranty company. You can determine if the company is licensed or not, either by going through their website or contacting license agencies. 
Best home warranty companies in New York
If you are still finding it challenging to choose the best company, then don't worry. Based on customer reviews, we have listed a few of the best home warranty companies in New York.
The Home Service Club
The Home Service Club is the nation's leading warranty provider. The company aims at protecting homeowners from expensive repairs or replacements expenses. The Home Service Club does not require any home inspection or maintenance records and has 90 days guarantee on repairs.
American Home Shield
American Home Shield has been in the industry for 45+ years and has catered to 1.8 million customers. The company has a network of 15,000 contractors and has a presence nationwide. American Home Shield offers plans not only to homeowners but also real estate professionals. 
2-10 Home Buyers Warranty
2-10 Home Buyers Warranty is a leading warranty provider in the United States. With 40 years of experience in the industry, the company has protected more than 6 million homes. They offer warranty plans to homeowners and real estate professionals at competitive rates. 
Home warranty plans are worth the investment, provided you choose the right company and plan. If you haven't purchased a home warranty yet, buy yourself one and stay protected.